Bolivia Declares Israel a 'Terrorist State' for Defending Itself; South American Countries Pull Ambassadors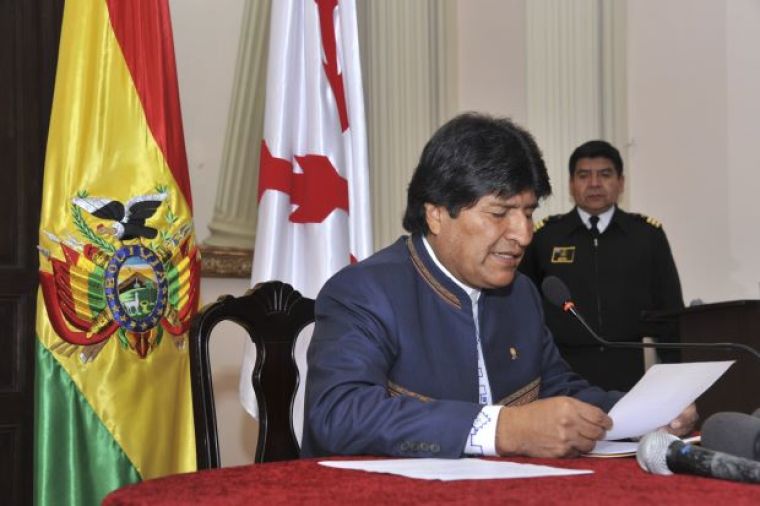 Bolivia has officially declared Israel a "terrorist state," while several South American countries have pulled their ambassadors from Israel in protest of the ongoing war with militant Islamist group Hamas in Gaza. Israel's military has announced that it will continue fighting, however, until it destroys the terrorist tunnels it says are used by Hamas to attack soldiers and civilians inside Israel.
Bolivian President Evo Morales declared Israel a "terrorist state" Wednesday, placing it in a "group 3" category of countries and requiring Israeli nationals to obtain visas before traveling to Bolivia, something which was not previously needed.
Morales broke off diplomatic relations with the Jewish state in 2009, and asserts in regards to the Gaza conflict that "Israel does not respect the principles or purposes of the United Nations charter nor the Universal Declaration of Human Rights," according to Bolivian daily Página Siete.
USA Today reported that several South American countries, including Brazil, Chile, Ecuador and Peru, have recalled their ambassadors from Israel in protest over the Gaza war, where close to 1,300 people have been killed.
But Israel has blamed the mounting civilian death toll on Hamas, accusing the militant group of launching rocket attacks into Israel and hiding in residential areas in Gaza.
Fox News reported that Israel's military is calling up 16,000 reservists in its mission to destroy the tunnels it says are used to attack Israeli citizens.
"We have neutralized dozens of terror tunnels and we are committed to complete this mission, with or without a cease-fire," Prime Minister Benjamin Netanyahu said. "Therefore I will not agree to any offer that does not allow the military to complete this important mission for the security of the people of Israel."
Israel had in previous weeks agreed to separate cease-fire proposals, one brokered by Egypt and another one by U.S. Secretary of State John Kerry, but Hamas has declared there will be no peace in the region until an economic blockade on Gaza is lifted.
U.N. Security Council's demands for an "immediate and unconditional" cease-fire in Gaza earlier this week have gone unanswered, and several U.N. shelters and schools have been hit by shells.
A Catholic school, along with the parish priest's office and other church facilities were partially destroyed on Tuesday after an Israeli bombardment targeted a home a few meters away from the parish.
Parish priest Jorge Hernandez, who along with three nuns had been taken care of 29 disabled children and nine elderly women, said that they survived the bombing, but condemned the ongoing "absurd" war.
"After destroying the neighborhood of Shujayeh, now Zeitun is being targeted. Everything happens around us. The Hamas militants continue to fire rockets and then hide in the alleys. And we cannot do anything," Hernandez said. "We cannot evacuate, it is impossible with children. Their families live here. It is more dangerous to go out than stay here. We try to stay in safer places, always on the ground floor."
Palestinian authorities claimed on Wednesday that another U.N. school was struck by Israeli tank shells, killing 15 people and injuring 90 others.
U.S. President Barack Obama has backed Israel's right to defend itself, but expressed concern with the mounting civilian deaths.
"The President underscored the United States' strong condemnation of Hamas' rocket and tunnel attacks against Israel and reaffirmed Israel's right to defend itself. The President also reiterated the United States' serious and growing concern about the rising number of Palestinian civilian deaths and the loss of Israeli lives, as well as the worsening humanitarian situation in Gaza," a readout from a phone conversation between Obama and Netanyahu earlier in July said.
"The President underscored the enduring importance of ensuring Israel's security, protecting civilians, alleviating Gaza's humanitarian crisis, and enacting a sustainable ceasefire that both allows Palestinians in Gaza to lead normal lives and addresses Gaza's long-term development and economic needs, while strengthening the Palestinian Authority," the readout added.