Bono Says God's Love Filled Void in His Heart After Mother's Death (Video)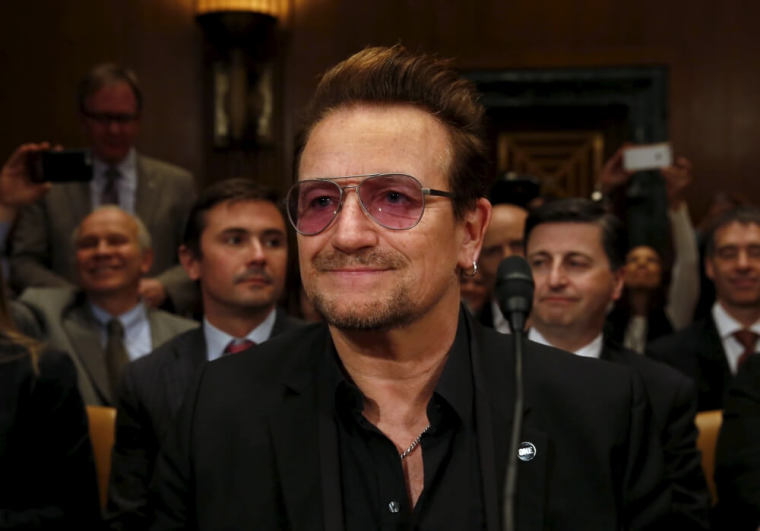 Legendary rocker Bono from the band U2 says it was God's love and Christ's victory over death that helped him after his mother died when he was a teenager.
In part 5 of a video series with David Taylor, a theology and culture professor at Fuller Theological Seminary in Pasadena, California, the U2 frontman discussed mortality, his pilgrimage to Jerusalem, and removing his trademark colorful sunglasses.
"Bono & David Taylor: Beyond the Psalms," features previously unreleased footage of Bono reflecting on the Psalms, art, and faith. The series was released to commemorate one year since FULLER studio was launched.
"I became an artist through the portal of grief," Bono told Taylor. "My mother died at her own father's gravesite. As he was being lowered into the ground she had an aneurysm. I was 14."
Bono sadly expressed that his mother left him at a tender age but revealed that he's grateful that she left him "an artist."
"I began the journey trying to fill the hole in my heart with music, with my mates, my band mates. Finally, the only thing that can fill it is God's love, it's a big hole but luckily it's a big love," the 57 year old said.
He said a wound never quite closes after someone dies but it was a family pilgrimage to Jerusalem that really changed the impact his mother's death had on him.
"I went to Golgotha and I went to the site where death died," he said, talking about the victory Jesus Christ had over death when hanging on the cross.
"I don't really believe in it [death] anymore, so it has no power over me as it had when I was 14 years old. It's unpleasant for the people we leave behind or if we're left behind, but it isn't unpleasant for the soul to now find it's true meaning," he added.
Bono alluded to the point that without having a true revelation of what took place in calvary, people will usually view death through colored glasses.
"A large part of psychology is fear of death. So, if you have that dealt with I think you can get on with life a bit easier," the "Beautiful Day" singer asserted.
In the video series Bono also discusses "unlocking" artists of faith, the relationship between Christ's ministry and themes of justice in the Psalms, and the "brutal honesty" of the Psalms.
To find additional resources on the Psalms project with Bono visit FULLER studio.
Follow Jeannie Law on Twitter:
@jlawcp