Brain-Eating Parasite Warning: Florida Issues Warning After 12-Year-Old Falls Ill (VIDEO)
A brain-eating parasite has sparked a warning to be given to swimmers by the Florida Department of Health, after a 12-year-old was left fighting for his life after contracting a rare amoeba.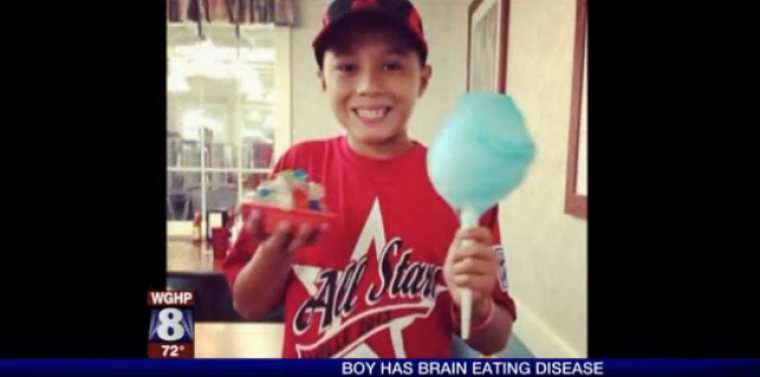 High water temperatures and low water levels are providing the perfect conditions for the amoeba to breed, and could cause serious health issues if contracted by those who go into contact with infected waters.
The amoeba is called Naegleria fowleri, and has caused officials to tell the public to be "wary when swimming, jumping or diving in freshwater."
Zachary Reyna, 12, was reportedly kneeboarding with friends in a water-filled ditch by his house on August 3. However, after that he apparently slept through the entire next day, sparking serious concerns for his parents who have said he is usually a very active and energetic boy.
The parents took him to hospital where he was diagnosed with primary amoebic meningoencephalitis, and underwent brain surgery, according to WBBH.
The young boy is currently in a very serious condition and is being treated in the intensive care unit at the Miami Children's Hospital.
The Centers for Disease Control and Prevention has released the same anti-amoeba drug used to treat 12-year-old Kali Hardig recently in Arkansas. That drug allowed the young girl to become only the third person in the last 50 years to survive the deadly parasite.
That case has given Reyna's family hope that the drug can also help him pull through his current condition.
His brother, Brandon Villarreal, told WBBH, "He's strong. He's really, really strong."
Between 2001 and 2010 there were only 32 reported cases of Naegleria fowleri in the United States, according to the CDC, with most cases appearing in the Southeast.