Senior British lawmaker urges CofE to back same-sex marriage at General Synod
Calvin Robinson asks if Penny Mordaunt has asked the Catholic Church, Muslim imams to support gay marriage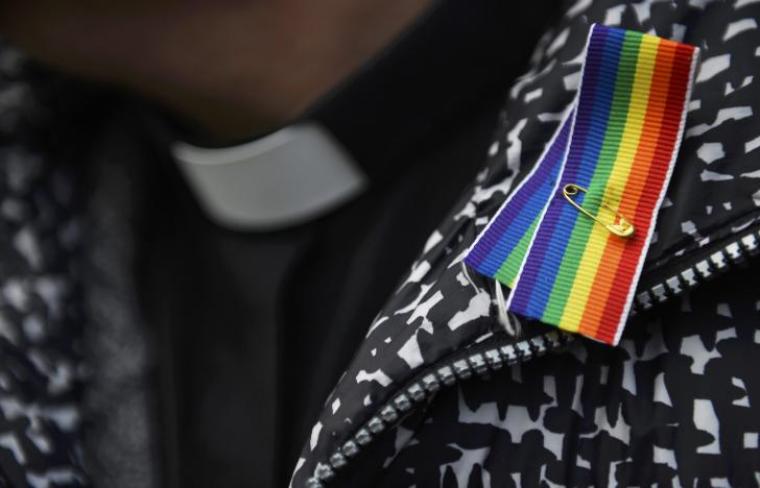 One of the most powerful voices in the British government is urging the Church of England to change its doctrinal teaching on same-sex marriage.
Penny Mordaunt, the leader of the British House of Commons, tweeted an image of a letter Monday in which she called on her local bishop to "back reform" and permit parishes and clergy to "conduct weddings for same-sex couples or, at a minimum, enable authorized blessings."
I have written to the Bishop of Portsmouth in advance of February's General Synod regarding discussions on how the Church will move forward on the issue of same sex relationships. I hope they will back reform. pic.twitter.com/MqGWhgmxjS

— Penny Mordaunt (@PennyMordaunt) January 16, 2023
She tweeted: "I have written to the Bishop of Portsmouth in advance of February's General Synod regarding discussions on how the Church will move forward on the issue of same sex relationships. I hope they will back reform."
In her letter to the Rev. Jonathan Frost, the bishop of Portsmouth, Mordaunt referred to her time as a minister in the British Armed Forces in which she "enabled such ceremonies to take place in non-shared churches." 
While the issue is expected to be taken up next month at the church's parliament, known as the General Synod, Mordaunt wrote that she fears "if it is not resolved.....the matter will continue to fester and detract from the positive contribution the Church of England makes to our society."
Mordaunt also warned about what she described as "pain and trauma" experienced by the LGBT community. 
"It is also important to recognize the pain and trauma this continues to cause many [LGBT] people who are left feeling that they are treated as second class citizens within our society," she wrote.
In response to the letter, Calvin Robinson, a former CoE minister, questioned whether it was appropriate for a political figure to wade into matters of the church.
Robinson tweeted: "Has @PennyMordaunt written to the Catholic Church and the Muslim Council, too? Should a cabinet member be politicizing matters of faith?"
Mordaunt's letter was timed to coincide with a scheduled all-day meeting Tuesday, where bishops are expected to decide on a recommendation to present to the General Synod, according to The Guardian.
Last November, a Church of England bishop released an essay arguing that clergy within the denomination should be allowed to bless same-sex unions.
In the essay titled "Together in Love and Faith," Rt. Rev. Steven Croft, the bishop of Oxford, argued that the Church of England should remove its prohibition on blessing same-sex unions, but stopped short of citing church infallibility. 
"I confirm my affection and respect for those who will want to argue, in good conscience, against change and potential provision for such change. I also make no claim whatsoever to infallibility: I may be wrong, either in the detail or in the overall argument," wrote Croft.
Despite formerly ascribing to a biblical view on the issue, Croft argued that there were "fruits and benefits of same-sex partnerships" that the Church could benefit from, adding that the current stance of the denomination created "hurt and pain" for the LGBT community.
Vaughn Roberts, a theologically Evangelical same-sex attracted clergyman who Croft dialogued with in advance of announcing his views, wrote an essay in disagreement with Croft's push for the floundering denomination to support and advocate for same-sex marriage.
One point of content put forth by Roberts was his belief that the bishop had failed to adequately engage with same-sex attracted Christians who had chosen celibacy over homosexual romance.
"There is a reference to one meeting with some same-sex attracted Christians, who hold to the traditional teaching of the Church, but there is no evidence of any greater engagement with what is a significant group," wrote Roberts.
"The deep pain they feel at being undermined by church leaders who are, in effect, telling them that their efforts to remain godly are unnecessary, needs to be recognized, along with any wider engagement with the experience of LGBTQ+ people in our churches."
Roberts acknowledged that there are "examples of long-term same-sex relationships," yet cautioned that this "does not mean, however, that the relationships are morally good in every aspect, or that the positive fruit is necessarily a result of them being sexual."
"Bishop Steven is certainly right in recognizing the missional challenge caused by these cultural shifts, but there is, of course, nothing new in the Church experiencing such dissonance within and hostility from its surrounding culture," he added.