Built Under Wealthy Patronage This Medieval-Inspired Church Is an Unexpected Suburban Discovery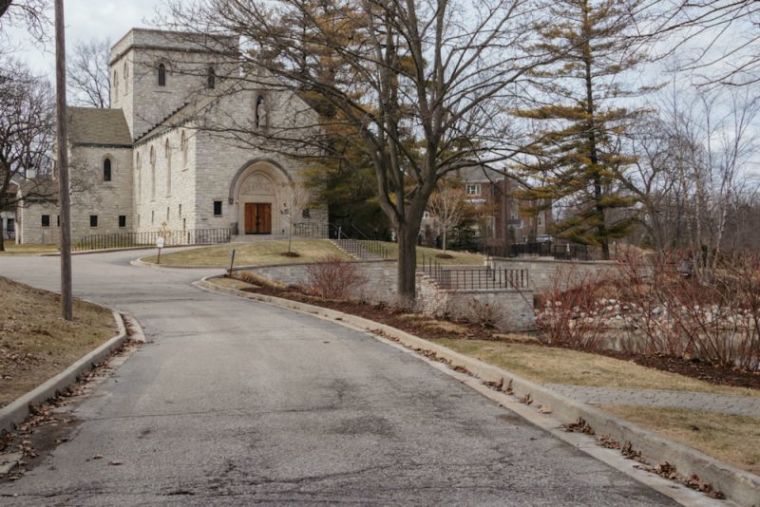 At first glance you might think this church was in France, at least if you ignored its location facing a somewhat busy artery in the wealthy Detroit suburb of Bloomfield Hills.
The church, now the chapel-of-ease for St. Hugo of the Hills, a parish in the Roman Catholic Archdiocese of Detroit, isn't nearly as old as it looks.
Built in the 1930s under the patronage of Theodore and Alice MacManus, architect Arthur des Rosier is said to have used France's Cluny Abbey as inspiration for the Gothic-style church.
To this day, it holds the distinction as the archdiocese's only church built entirely with private funds ($275,000 in 1936 dollars). Another historical distinction of St. Hugo is the papal dispensation given by Pious XI allowing the McManuses to be buried in the crypt. This effectively gave them the modern-day status of medieval lords of the manor, the nobles whose patronage of parish life (aka good works) was remembered by way of the memorials and effigies found in old European churches.
The driveway off Opdyke Road leads to the original church, which is built in the traditional cruciform shape out of stone quarried from Wisconsin. The dominating feature is a bold 56-foot-tall central tower, although the statue of St. Hugo perched over the tympanum and plain wooden doors at the west front is notable.
Today, the parish worships across the large paved parking lot in a horrendously ugly building that isn't dissimilar from other post-Vatican II churches.
However, the original church remains a popular choice — and understandably so — for weddings. Also on the 38-acre grounds are an active convent and parochial school.
If you go
Bloomfield Hills, about 18 miles north of downtown Detroit in Oakland County, is easily accessible by car.
St. Hugo of the Hills is open daily, though it is best to visit after regularly scheduled services when the old parish church is guaranteed to be open. Mass is celebrated Monday through Friday at 6:10 a.m. and again at 8:30 a.m. Monday through Saturday.
Spires and Crosses, a travel column exclusive to The Christian Post, is published every week. Follow @dennislennox on Twitter.
Dennis Lennox writes about travel, politics and religious affairs. He has been published in the Financial Times, Independent, The Detroit News, Toronto Sun and other publications. Follow
@dennislennox
on Twitter.