Calif. Pastors Arrested for Preaching Outside DMV, Face Trespassing Charges in Court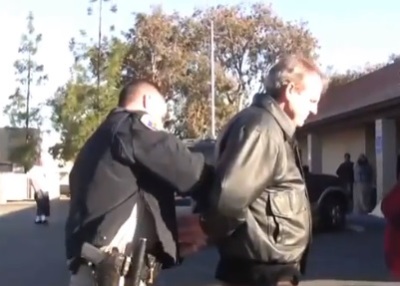 Two church leaders in Hemet, Calif. are currently facing court hearings for reading bible verses in front of a closed DMV in February 2011.
The pastors are being accused by Riverside County District Attorney Paul Zellerbach of trespassing for failing to obtain a permit before gathering on state-owned property. The charges came after the two church leaders filed a federal lawsuit against the California Highway Patrol for violating their First Amendment rights.
Pastor Brett Anthony Coronado, 42, of Reconciled Christian Fellowship in Hemet, and Mark Allen Mackey, 59, a Calvary Chapel Hemet church elder, gathered in front of the Hemet DMV in February 2011 before opening hours to read aloud bible verses. The men were reportedly standing 40 feet from the entrance of the DMV as Hemet residents gathered outside, waiting for the establishment to open.
The men were told by a security guard to leave the premises, and when they refused, they were arrested by CHP officer Darren Meyer. A YouTube video documenting the incident shows Meyer telling the pastors that they were "impeding on an open business."
"You can preach on a street corner, but you're not allowed to preach here because this is a captive audience," Meyer told Mackey, referring to those standing in line, waiting for the DMV to open. "You can preach on your own property," Meyer added.
Attorney Robert Tyler with Advocates for Faith & Freedom, the group defending the two pastors in their criminal lawsuit, told CBS that his clients are constitutionally protected to express their faith on public property, that property being the parking lot of the DMV.
"We believe that these men were exercising their First Amendment right of Free Speech," Tyler said. "These men were simply sharing their faith on public property, and we will defend their constitutional right to do so."
Constitutional attorney Dan Conaway previously told Fox News regarding the case that Mackey did not have a right to preach in front of the DMV because those waiting in line in front of the building did not have the choice to stop listening.
"He's creating an intimidating situation for people who simply want to get their drivers licenses renewed," Conaway told Fox, adding that it's legal to preach in public as long as your listeners are able to leave."He does not have the right to intimidate others and force them to listen and impede their ability to do normal business activities such as going to the DMV."
The two pastors filed a federal civil liberties lawsuit against Officer Meyer and the CHP for violating their First Amendment rights to free speech, their Fourth Amendment rights, and their 14th Amendment rights. The complaint seeks unspecified damages and an injunction.
U.S. District Judge Dolly M. Gee determined in September 2011 that court proceedings regarding the pastors' civil liberties lawsuit could not continue until their criminal lawsuit, filed by District Attorney Zellerbach, is completed. Zellerbach charged the men with "trespassing" on state property shortly after they filed their civil liberties lawsuit. The men are in court this week regarding their criminal lawsuit.
If found guilty of the misdemeanor of trespassing, the pastors could face 90 days in jail or a fine if $400 each, or both.