Pastor, church members hit and tackled shooter at Calif. church luncheon as he attempted to reload
1 killed, 4 critically injured at Presbyterian church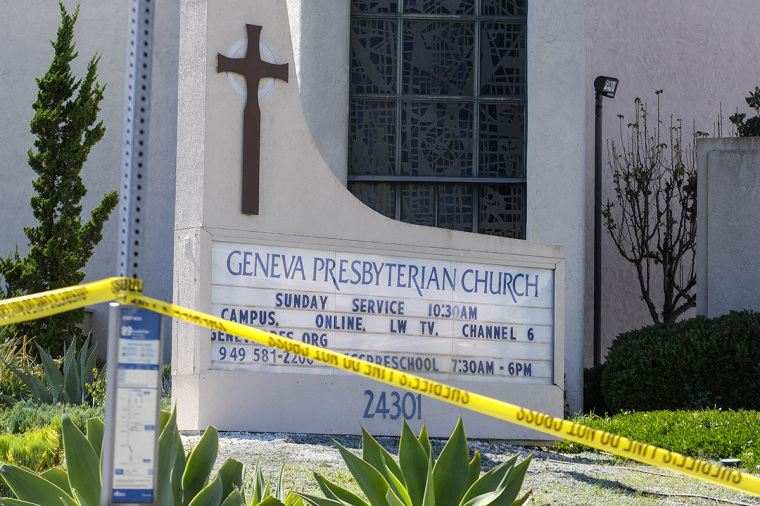 The pastor of a California Presbyterian church hit a gunman with a chair as the shooter paused to reload his gun after killing one member and injuring four others during the church's lunch reception following the Sunday worship service. Church members then grabbed and hog-tied the gunman to stop the attack, which the police described as "exceptional heroism and bravery."
About 40 congregants of the Taiwanese Geneva Presbyterian Church in Laguna Woods, Orange County, had finished their lunch after the morning service on Sunday when an Asian man in his 60s carrying two handguns started shooting the church members, the Los Angeles Times reported.
As the gunman paused briefly to reload his gun, Pastor Billy Chang picked up a chair and hit him with it, after which church members grabbed and hog-tied his legs with an electrical cord, the LA Times said, adding that the shooter had already killed a man in his 40s and injured four others — three men between the ages of 66 and 92, and an 86-year-old woman, all Asian.
The church members had organized the lunch to honor a former pastor of the Taiwanese congregation.
Yorba Linda Councilwoman Peggy Huang, who has family members belonging to the church, told the Orange County Register, "There is a lot of grief and disbelief among the congregation. This was supposed to be a joyous occasion."
The gunman could have taken more lives as he had sealed the doors to prevent the churchgoers from escaping.
"That group of churchgoers displayed what we believe is exceptional heroism and bravery," Undersheriff Jeff Hallock was quoted as saying. "It's safe to say that had they not intervened, this situation could have been much worse."
A congregant was quoted as saying that many church members have military backgrounds.
Police arrested the suspect, who is not believed to be from the area, and recovered two commercially available handguns from the scene, but his motive remains unclear as of early Monday.
The Taiwanese congregants were from a Presbyterian church in Irvine that has been holding services at the Geneva church for 10 years.
"No one should have to fear going to their place of worship. Our thoughts are with the victims, community, and all those impacted by this tragic event," Gov. Gavin Newsom's office wrote on Twitter.
Laguna Woods Mayor Pro Tem Cynthia Conners told CNN that someone from the Orange County Human Rights Commission would be brought in to ensure that "the Asian members of our community feel as safe as all the other members of our community, although I would have to say I think we all feel a little less safe today."
Taiwan's government responded to the shooting, saying its office in Los Angeles had activated emergency response plans.
"The Ministry of Foreign Affairs sends our deepest condolences to the victims and their families. We will keep in touch with the family members of the victims to understand their needs, and provide all necessary help," Ministry of Foreign Affairs spokesperson Joanne Ou said.
Some church members have started an online petition to raise $100,000 for the affected families.
"We are heartbroken by the senseless violence and are reaching out to the internet for help," the petition says.
"Our small Taiwanese congregation has put out love and kindness into the surrounding community for generations. During this time, our church, the victims, and their families need to focus on recovering from this tragedy. Please help us by giving to this campaign, of which 100% of the proceeds will go to ITPC and the families of the victims to aid in their journey of healing."
The shooting in Southern California comes the day after a heavily armed 18-year-old man opened fire at a grocery store in a predominantly black neighborhood in Buffalo, New York, killing 10 people, including at least two Christians, and wounding three others in what the FBI described as a racially motivated hate crime.
The self-described white supremacist shooter livestreamed the massacre before surrendering to police.