California's Sanctuary Cities 'a Little Picture of Hell,' Franklin Graham Says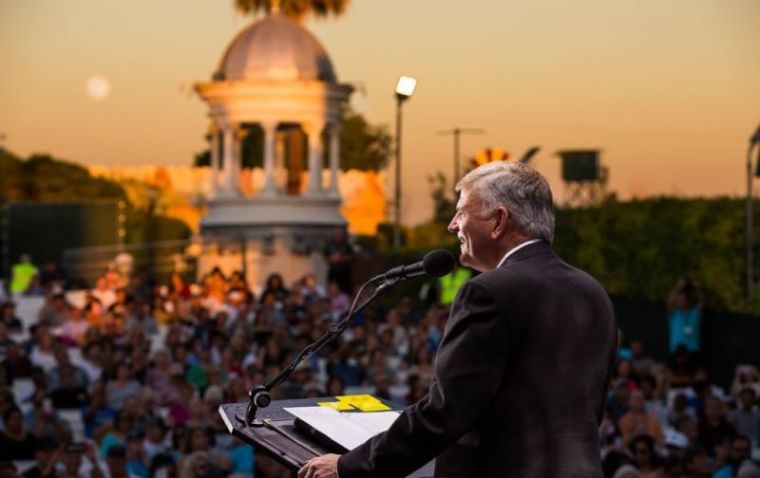 While defending his Decision America California Tour during a radio interview on Tuesday, leading evangelist Franklin Graham decried California as a "sinking" state and even stated that sanctuary cities like San Francisco are a "little picture of Hell."
Graham, who is is in a middle of a 10-city tour through the Golden State to call on Christians to run for local public offices and seats on their boards of education, was asked Tuesday during a radio interview to respond to a recent New York Times article titled "The Evangelical Fight to Win Back California."
In a front page article, Graham was quoted as calling on Christians in Pasadena to take a stand against their state's "blue wall." Graham was also quoted as saying that "progressive" is "just another word for godless."
Speaking with conservative pundit Todd Starnes for his Fox News program, Graham was told that the New York Times is making his California tour out to be some sort of "political crusade" before the 2018 midterm elections rather than an evangelistic event.
However, Graham stressed that he is not working with either the Republican or the Democratic Party in this tour.
"I haven't talked to anybody in the parties," Graham responded. "We are staying out of the politics part of it but I do want Christians to vote and I want them to ask God before they vote, who they should vote. But, I don't think the Christians should be silent. The Christian voice needs to be heard."
"So, I am sure the New York Times thinks this is political," he added. "They can think whatever they want to think. I want people to vote. That is so important that we do that and not just vote, but encourage Christians to run for office. We need Christian legislators. We need Christian mayors. We need Christians on the city council."
Although Graham says that he is staying out of the politics side of the discussion, he told Starnes that the type of Christians he desires to see run for office are those who uphold biblical principles when it comes key social issues such as marriage and abortion.
"When I say Christians, I mean Christians who are willing to take a stand for biblical truth for what the Bible has to say about marriage, what the Bible has to say about the sanctity of life and are willing to stand behind God's principles and take a bullet for that," Graham explained. "What I mean by take a bullet is when they get criticized or attacked for their political views, that they just stand there smile and take it and not budge. We need Christians to take a stand and take a hit if need be."
Graham claimed that Christians need to act to save their state because "California is sinking."
In addition to Graham's opposition to the state's quick embrace of the liberal agenda pertaining to LGBT and abortion issues, Graham also took issue with the state's policies on sanctuary cities and the protection of undocumented immigrants. 
"People are leaving the state. The tax base is eroding. They are turning their once beautiful cities into sanctuary cities, which are just a little picture of Hell," Graham said. "Just go to San Francisco and go to this once-beautiful city and see what has happened to it."
As previously reported, Graham's tour began on May 20 with a rally in Escondido and goes through several key swing districts for the U.S. House of Representatives months before the 2018 midterm election in November. The tour will end with an event in Redding on June 5. 
"I am just wanting the churches to realize that they don't have to take this and that churches can be the voice and they can be the ones that turn the state back to God and turn it back into a beautiful state," Graham added.
Graham said that he is also calling on pastors to get more involved as political activists in their communities and said that pastors should be encouraging their congregants to run for local offices and actively fundraise for their congregants' campaigns.
"I want to see churches responsible for getting control of the education in their state through the school boards," Graham said. "If every Bible-believing church in California put up a candidate for the school boards, you could get the school boards and the education back in the state for 10 years."
"I am not telling them how to vote. I am not telling them what party to belong to," Graham continued. "Get out there and vote and be a spokesperson for God's standards and for moral issues that we face everyday politically."
Graham was asked by Starnes what he thought of being referred to in The New York Times article as an "Evangelical Paul Revere," a reference to the American Revolutionary War hero known for informing people when the British were coming.
"That is what I want to do," Graham said. "I want to try to wake the church up before it is too late."
Although Graham says that he is not telling people how to vote, a board member for Graham's Samaritan's Purse told The New York Times after the rally in Pasadena that "only as we change the heart of the people of California can California go red again."