Franklin Graham Takes Fight to 'Godless' Progressives in California With New Tour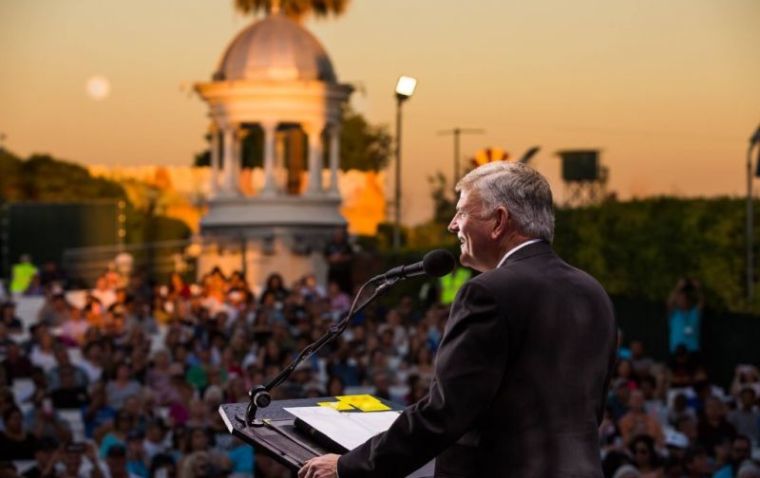 The Reverend Franklin Graham has revived his Decision America Tour, focusing on the state of California ahead of this year's midterm elections. 
Begun on May 20 at an event in Escondido, thousands attended Graham's stop at Fresno on Monday, where the head of the Billy Graham Evangelistic Association led attendees in prayer.
The tour goes through or near several key swing districts for the U.S. House. The New York Times' Elizabeth Dias followed Graham on part of the tour. Graham urged a gathering of pastors to oppose the "blue wall" of California, Dias reported, a reference to the Democrat Party control in the state. 
"Progressive? That's just another word for godless," Graham reportedly said.  
In a separate interview, however, Graham claimed it doesn't matter which political party Christians support. 
"I think Christians need to vote for politicians that are going to stand for biblical values, regardless of what party they are in. It has nothing to do with whether you are a Republican or Democrat," Graham told Alex Murashko of Together LA.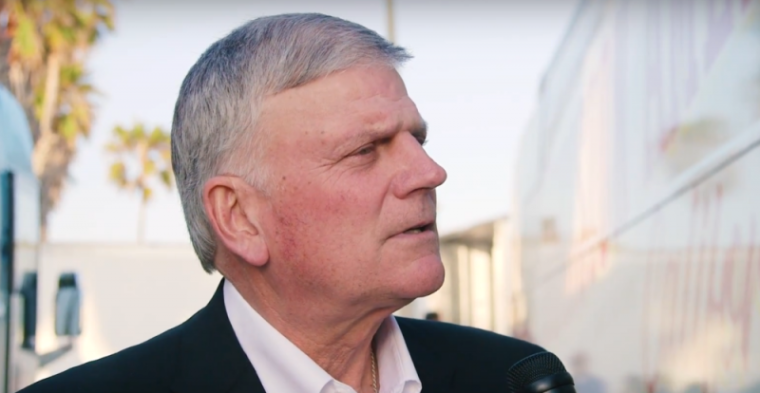 Christians should vote on the issues of abortion and homosexuality, Graham added: "And I think it's important that Christians get engaged in politics and what I mean by politics is that they vote and vote for leaders that they feel best represent Christian positions. Life. Sanctity of life is important. Homosexuality is an issue."
Graham also encouraged evangelicals in California to run for office. If all the school boards in California were controlled by evangelicals, he said, "It would turn this state around. It can be done." 
Graham explained in a Facebook message posted to his official page on Monday evening that they lifted up prayers for both Democratic Governor Jerry Brown and Republican President Donald Trump, among others.
"I shared with the crowd that they could be reborn — not through religion, but through a personal relationship with Jesus Christ," stated Graham.
"If you will confess your sins, believe that Jesus took your sins to the cross, shed His blood to pay the penalty for your sins, died, was buried, and God raised Him to life — you can be saved. Your eternity can be secure with God in Heaven."
On Tuesday, Graham is scheduled to preach in Modesto at the Stanislaus County Fairgrounds, the city where his father the late Reverend Billy Graham and other evangelical leaders agreed to what was called "the Modesto Manifesto."
"It documented their commitment to several guidelines that they felt would help them represent the Lord well and not make mistakes that they had seen other evangelists make that could damage the ministry," noted Graham in a Facebook post from Tuesday.
"One was that the ministry would be transparent regarding finances; another was that that they wouldn't criticize the church; one was that they would not exaggerate about ministry work, and one was that they would not travel, eat, or meet alone with a woman other than their wife."
Last month, Graham announced that he was going to do a "Decision America" tour of the state of California from mid-May until June 5.
"At a time when people across America are filled with fear, uncertainty and anger, Franklin Graham wants Californians to join him in prayer — asking God to use his miraculous power to heal the political, racial and cultural divisions that are plaguing our country," stated the BGEA.
In addition to Graham preaching at the free events, music will be led by accomplished contemporary Christian musician Jeremy Camp.
Graham first did a "Decision America" tour in 2016, traveling to the capitals of all 50 states to preach the Gospel and call upon evangelicals to vote in the upcoming presidential election.
"They didn't come to hear me. They came to pray because they know this country is in trouble. They know that only God can fix it," explained Graham in an interview with The Christian Post in 2016.
Some have been critical of Graham's tour. For example, an interfaith group of clergy based in Pasadena held a press conference last week in response to Graham's event in that city, taking issue with past comments Graham has made about Islam and the LGBT community.
In a May 18 letter to Pasadena City leaders, All Saints Church in Pasadena Rector Mike Kinman said that Graham's "speech is not in alignment with the values of the City of Pasadena."
"It is regretful that the world famous, iconic, public space of the Rose Bowl would be utilized to advance a message of divisiveness and condemnation," wrote Kinman.
"We hope that the City of Pasadena would do everything in its power to fight discrimination, bigotry, and bias while promoting equality, dignity and respect of ALL people."