Franklin Graham's 'Decision America' Tour: 8,200 Unite in Prayer at Virginia's Capitol Ahead of Election
Presidential Election Isn't About Trump or Clinton, It's About the Supreme Court, Says Graham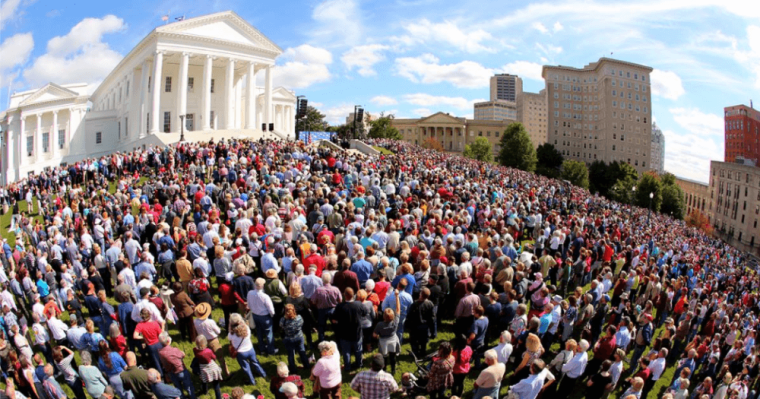 RICHMOND, Va. — Thousands of Christians converged on Virginia's capitol grounds Wednesday to pray for the nation at a rally held by the Rev. Franklin Graham and to declare that they will be voting for biblical principles in the upcoming Nov. 8 election.
According to organizers, approximately 8,200 people crowded the steep hill of the capitol grounds, singing and joining hands in prayer, as Graham held the second-to-last stop on his nationwide Decision America Tour.
In an interview with The Christian Post, Graham expressed amazement at the turnout for the hour-long rally, saying the numbers of attendees was "just incredible" and impressive "to have this many people come out here in the middle of a work day to pray."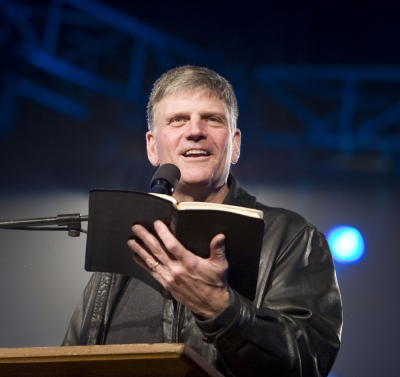 "They didn't come to hear me. They came to pray because they know this country is in trouble. They know that only God can fix it," said Graham.
Opening the gathering was a guitarist who sang various Christian and patriotic songs, including classic hymns like "How Great Thou Art" and "Victory in Jesus."
Attendees often sang along with the musician, as volunteers handed out miniature American and Christian flags, as well as stickers with the statement "I'm a Christian. I'm Voting."
Graham gave his message during the noon hour, touching on such topics as the need to be civically involved and to pray, and that both Democrats and Republicans have negatively contributed to the current status of the nation.
"Ladies and gentlemen, our country's in trouble. You know that. And there's no party or individual that can fix it," said Graham to those gathered for the event.
"I have no hope in the Democratic Party. Before you Republicans start doing back flips, I have zero hope in the Republican Party. The only hope for this country is God."
At the direction of Graham, those gathered held hands and prayed on various matters. First, they prayed aloud for forgiveness for the sins of the nation. Stated examples by Graham included slavery, legalized abortion, legalized same-sex marriage, and not doing more to help the poor.
After that, Graham had attendees pray silently for forgiveness of their own sins and the sins of any family members. Finally, attendees prayed for their elected officials, including Governor Terry McAuliffe.
"The most important thing that, ladies and gentlemen, we can do here today at this capitol here in Virginia is to pray," explained Graham to those gathered.
"God hears prayer, God answers prayer. God gives us prayer. … We have an opportunity to go right before the throne of Almighty God today and take our requests to Him."
Graham's remarks calling for Christians to vote come at a time when the country is faced with two controversial nominees in Democrat Hillary Clinton and Republican Donald Trump.
Evangelicals have been turned off by Clinton's socially liberal views and corruption and by Trump's remarks on women and minorities.
When asked by CP how anyone can vote on biblical principles with such options, Graham replied that the election was about more than the nominees themselves.
"First of all, when it comes to the presidential election, it's not about emails that are lost, it's not about crude and vulgar language. That's not what this vote is about. It's about the Supreme Court," said Graham.
"You have to choose for yourself, I'm not going to tell you who to vote for. But you just have to look at the two candidates and what they stand for."