Franklin Graham: 'Hold Your Nose' and Vote for Candidate 'Christians Will at Least Have a Voice With'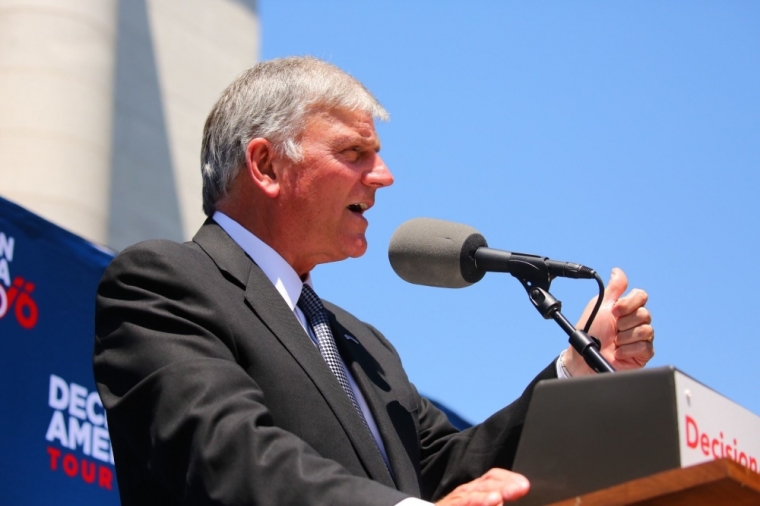 Since Rev. Franklin Graham knows that many Christians feel that they don't have good options this presidential election season, he's advising that they support the candidate most likely to listen to their concerns.
"You're just going to have to ask yourself which of the two [presumptive nominees] do you think we as Christians will at least have a voice with?" the evangelist said to a crowd of about 5,000 assembled on the Capitol grounds in Olympia, Washington on Wednesday as part of his "Decision America" tour, according to The Seattle Times.
While Graham, president and CEO of the Billy Graham Evangelistic Association and Samaritan's Purse, has made it clear that he has "zero faith" in either the Democratic or Republican parties, he encouraged attendees to vote, despite their disdain for either of the presumptive major party presidential candidates.
"You have to make that choice," he said. "Now, you might have to hold your nose."
Rev. Graham recently attended presumptive Republican presidential nominee Donald Trump's closed-door meeting with over 900 pastors and political leaders in New York in June where Graham gave an opening prayer and remarks, The Christian Post has reported.
At that event, Graham said that all leaders are sinners, noting that biblical figures like Moses and King David were flawed people. Graham also maintained that his remarks and presence at the meeting was not an endorsement of Trump.
During the Washington state stop of his "Decision America" tour on Wednesday, Graham kept his political neutrality, not endorsing either presumptive presidential nominee, instead saying to the crowd, "You can figure that out."
Instead, the evangelist prayed for America, attendees, the state, as well as its leadership and workers. He also identified what he felt were currently the biggest threats to the nation, which included crime, racism, secularism, abortion, and gay marriage.
During his tour stop in Madison, Wisconsin in June, Graham said the massacre at a gay nightclub in Orlando, Florida -- the deadliest mass shooting in U.S. history -- was a "symptom" of the country's spiritual condition.
During the Madison prayer rally, Graham said that America brought the mass shooting upon itself because it has become a "godless nation."