Canadian Christian Pastors, Leaders Unite for Women's Privacy Rights, Biblical Sexuality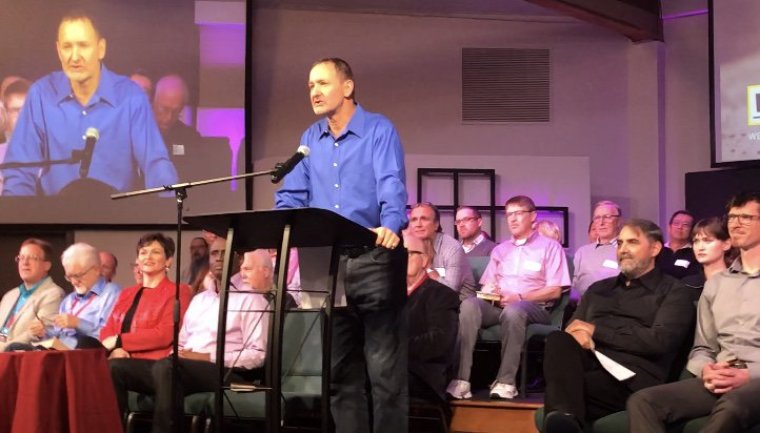 Two hundred Canadian evangelical pastors and 1,000 Christian leaders are uniting to affirm their commitment to contend for biblical orthodoxy on sexuality and to protect children from sexual and gender radicalism in schools.
What is being called the West Coast Christian Accord was unveiled Thursday in British Columbia, a 14-point document designed to provide a theological framework from which to push back against radical sex activism in public schools through curriculum that is called SOGI123. 
The signatories intend to ask Rob Flemming, the BC Minister of Education, to stop the use of all SOGI-related resources in schools. The pastors and leaders who put the document  together unveiled it after 21 days of fasting and prayer.
"Jesus Christ taught that mankind was created by God in their binary form: Matt. 19:4 states 'Have ye not read, that He which made them at the beginning made them male and female.' There is thus both an inherent equality and diversity within this order. Women have value, not only because they are the equal of men but also because they are different-and thus that difference is good," said pastor Paul Dirks at the document's unveiling. 
It has been translated into Hindi, Punjabi, Spanish, and Chinese and is intended to unite like-minded leaders and churches in coalition centered on an orthodox statement of faith about the authority of Scripture on gender identity and human sexuality.
The WCCA initially began last fall when pastors across the province began to meet and share stories about what was happening in schools and the effort continued to grow as more horror stories emerged about children being bullied by their teachers who were pushing SOGI123. Concern grew as churches began to be targeted and some received threats.
Those who signed are disturbed how the curriculum sexualizes children. Some have pointed out that in the educational resources that are used for kindergarten and first grade it is explained that ones private parts can feel good to self-touch. In the lessons kids are urged to draw genitals on pictures and name them out loud.
At the unveiling, one leader recounted a story where at the end of the school year an 8-year-old girl from Richmond, BC was interviewed in the hallways of her school. A teacher came into the class to tell them about SOGI and taught them that if you want to be a girl you can be a girl.
"If you want to be a boy you can be a boy, because you can choose to be whatever you want to be," the girl recounted the teacher saying.
She asked the teacher, "Why do we have to change?" and the teacher replied: "Because you can be whatever you want to be."
Part of the inspiration for other pastors like Paul Dirks, who leads New West Community Church, to sign onto the WCCA was his activism for women's privacy rights. Dirks testified in the Canadian Senate in 2017 against bill C-16 — which added "gender expression" and "gender identity" as protected categories to both the Canadian Human Rights Act and the Criminal Code dealing with hate propaganda — arguing that sexual violence and voyeurism was on the rise against women in girls as a direct result of this kind of policy approach. He is the founder of the Woman Means Something campaign and has documented what has happened in Target stores in the U.S. and Canada since they opened their restrooms and changing rooms on the basis of gender identity.
As part of his efforts against C-16, "I put out a poster that called attention to the fact that women can't have rights if you can no longer define the word 'woman,'" Dirks told CP in a Friday interview.
"The response was extremely hostile, resulting in personal slander and a protest against our church on a Sunday morning. Although we represented Christ well by putting out coffee and donuts for the protesters and had conversation, listening to their concerns, it illustrates the climate of intimidation Christians face."
He went on to explain that with the WCCA pastors are saying publicly that the church will not be silent as girls' privacy rights are being trampled, young people are being sterilized with transgender hormones and mutilated with permanent surgeries that the medical literature shows are unsafe and destructive, and as sexual behaviors are celebrated.
"I am greatly encouraged by the number and diversity of the churches represented in this coalition. It is unifying the church across denominational and ethnic lines. More than anything else, I suspect this scares those who are pushing the SOGI agenda," Dirks said.
At a Saturday rally outside the provincial legislature in Victoria, Christian broadcaster and blogger Laura-Lynn Tyler Thompson, who was one of the accord's signatories, told those in attendance that cancelling SOGI does not mean opponents want gay, lesbian, bisexual and transsexual or queer students harassed.
"We don't want them to be bullied. All we are saying is that we don't want you confusing our kids," Thompson said.