Candace Cameron Bure Slams Critics Attacking From Both Sides of the Christian Debate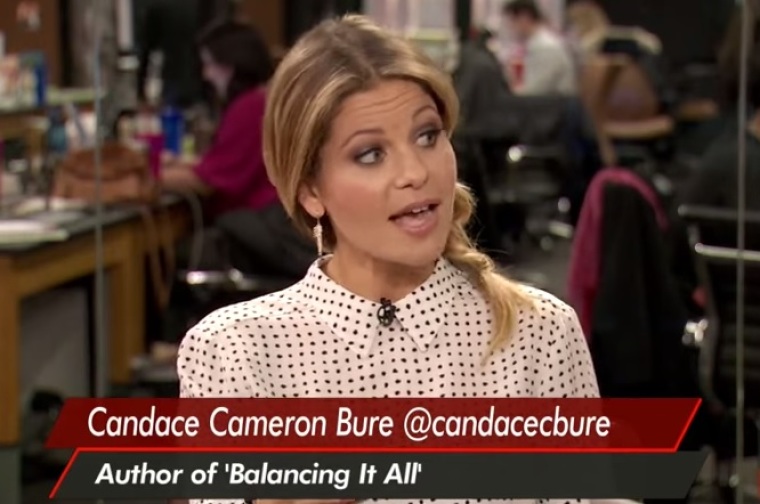 Since Candace Cameron Bure re-emerged in mainstream media, she has suffered a great deal of criticism, if not for her Christian conservative views than for not being Christian enough. The actress recently addressed her critics with a firm Instagram post telling everyone to stop the negativity.
"This is getting ridiculous!! STOP having religious debates about me and my family on my comments thread after EVERY single photo I post when they have nothing to do with the picture!" she exclaimed with a picture of a cartoon girl saying, "C'mon."
Bure's social media pages are constantly being bombarded with comments about her faith. She is either praised for her beliefs or bashed. Both reactions usually causing full-on debates on her message boards.
"If someone makes a rude or negative comment, ignore it! You're feeding and driving the negativity. This is NOT productive or respectful conversation. And I'm talking to BOTH sides! It's getting old and downright ugly. This does not represent Jesus well. Let's encourage one another as well as take the debates to a private page. Please and thank you," she continued.
Bure's followers took well to the actress' message. Some telling the mother of three to pay no mind to the negative comments and shrug it off, while several others talked about how they share her same religious views.
Much of the recent negative attention came after she starrred in "Fuller House," where season one debut on Netflix Feb 26., with 13 episodes reuniting most of the original "Full House" cast. Bure is the main star this time around. The sitcom spin-off recieved a lot of heat from evangelicals who were hoping Bure's Christian values would keep the show "family-friendly" but they were not happy with the adult content.
In the past, Bure has addressed critics who've bashed her for not being their idea of "Christian enough."
"'I'm too religious, I'm not Godly enough, I'm too thin now, I'm not very humble, I've had too much plastic surgery, My brother Kirk is a better Christian than me, I'm too worldly, I'm too conservative, I'm not modest enough, I'm a show-off.' Those are just a few of the types of comments I get no matter what I share, what photo I post or what I say," Bure said in a blog posted in 2014.
But when she first returned to the entertainment scene, fans were delighted with her modest attire on "Dancing with the Stars" Season 18. "The View" co-host also regularly argues from a conservative standpoint on the hit ABC daytime talk show for which she regularly receives praises from her Christian fans.
Despite the recent backlash, Bure does not seem to be slowing down. "Fuller House" was just renewed for a second season, and she is the newest advice columnists for J-14 Magazine along with her daughter Natasha.