Captured ISIS Suicide Bomber Reveals There Are Many Foreigners Fighting; UN Reveals 'Acts of Inhumanity on Unimaginable Scale'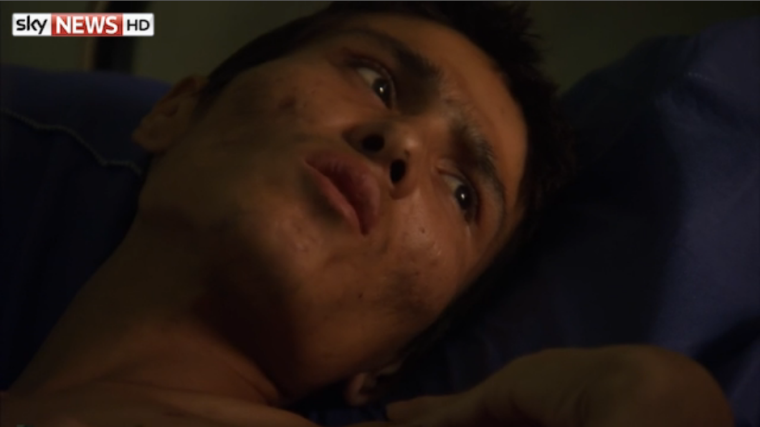 A 23-year-old Islamic State suicide bomber who botched his attempt to take his own life because his bomb only partially detonated, says the terrorist group has members from all over the world. The United Nations Deputy Human Rights Commissioner Flavia Pansieri said Monday that ISIS terrorist have committed "serious violations of international human rights and humanitarian law," such as targeted killings, forced conversions, abductions, slavery, sexual and physical abuse and torture.
According to Sky News, the bomber, Horr Jaffer from Chechnya, is being treated at a wing of Sulaymaniah's military hospital in Iraq and is under 24-hour security.
"There are nations from all over the world there. There is British amongst them. They are from Asian countries, Europe and America. From everywhere," the captured militant told Sky News.
Jaffer was captured in the southern Kurdish town of Jalula, Iraq, when he attempted to drive a bomb-rigged car into a Kurdish checkpoint. The bomb went off early killing four people and injuring many others. He tried to escape but was caught.
Now injured and stuck in the hospital, the young man who had so desperately wanted to die wants to live and revealed how he joined the Islamic State after his mother, father and six family members were killed. The Kurds believe his father and brothers were professional jihadists.
"I want to be a martyr. I decided after they killed my family," Jaffer explained. "They didn't tell me anything about what I was doing or where I was. I just had to press the button."
When asked if he regretted what he did, he explained that he did not mean it and said he just wanted to live a normal life.
Kurdish military officials say western countries have every right to be worried about the Islamic State threat.
"It is almost like super-terrorism and this is the frontline," Bafle Talabani, the British-born founder of the Kurds' elite Counter Terrorism Group, told Sky News. "It is more aggressive, more merciless, more brutal. This is the front of the war on terror. If we don't stop this here they will come for the West, for England, for Europe or the United States. They need to be stopped."
In a special session on Iraq held in Geneva, Switzerland, Monday, United Nations Deputy Human Rights Commissioner Flavia Pansieri explained that Islamic State forces were wreaking havoc in that country, particularly on the children of religious communities.
"OHCHR human rights officers in Iraq continue to gather strong evidence that serious violations of international human rights and humanitarian law have been committed in areas under the control of ISIL and associated groups. This includes targeted killings, forced conversions, abductions, slavery, sexual and physical abuse and torture, and the besieging of entire communities on the basis of ethnic, religious or sectarian affiliation. Mosques, shrines, churches, and other religious sites and places of cultural significance have also been deliberately destroyed," she said.
"The effect of the ongoing conflict on the children of Iraq has been catastrophic. Many have become direct victims of the conflict, while others have been subjected to physical and sexual abuse whose scars may remain with them throughout their lives. Children belonging to ethnic and religious communities targeted by ISIL have endured particularly extensive violations of their rights," she explained.
"In the course of numerous interviews conducted by OHCHR staff in camps for internally displaced, families have reported forced recruitment by ISIL of boys as young as 15. Some of these boys who subsequently managed to escape told their families that they had been positioned on front-lines during military operations, to shield ISIL fighters. Others said that they had been forced to donate blood for treatment of injured fighters. Child soldiers have been posted at illegal checkpoints set up by ISIL, and also by other armed groups operating in Baghdad and other areas," she said.
Pansieri also highlighted large scale executions of civilians and security forces.
"My Office has also received reports of executions or ill-treatment of hors de combat soldiers, police officers, and prisoners of war, including air force recruits and Army conscripts, in complete breach of international humanitarian norms," she noted.
"On 12 June, following an ISIL attack on an Iraqi Air Force base near Tikrit, over 1,500 young conscripts went missing. Many bodies were subsequently found in the Dijla River; they had clearly been executed. Videos viewed by OHCHR staff, which have been confirmed by witness and survivor reports, show the systematic shooting of hundreds of handcuffed men in civilian clothes, some of them wearing military uniforms under their tracksuits," Pansieri added.
"I urge the international community to act to support the government of Iraq, including the government of the Kurdistan region, in its efforts to provide humanitarian assistance to civilians in need, wherever they are located. And to ensure the protection and needs of those who have been displaced as a result of the violence and persecution," she concluded.
According to the BBC, the UN Human Rights Council adopted a resolution that will send a team to investigate whether war crimes and crimes against humanity are being committed in Iraq.
"We are facing a terrorist monster," Iraqi Human Rights Minister Mohammed Shia al-Sudani told the emergency session in Geneva.