Careful, your evil is showing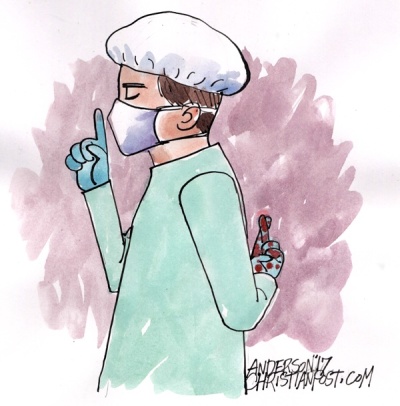 A few weeks ago, the Students for Life chapter at Saint Louis University set up a memorial designed to commemorate lives lost to abortion: 1,000 flags arranged in the shape of a cross with each flag representing 800 abortions. Predictably, a group of leftist students who devoted themselves to inclusivity, tolerance, and compassion tried to destroy the memorial.
Because "hate speech" is abhorrent to these folks, when asked to stop tearing down the right-to-life display, they responded respectfully with phrases like "Go to hell" and much worse. Pretty par for the course, except for one exchange that stuck out to me.
"You're a disgusting misogynist, and karma is going to f******g get you," one girl screamed. "You'll see that when you die, and hopefully you f******g go to hell. You can see my pictures, you can see how pretty I am, how good of a life I have. And what do you have? You're a f*****g loser. You just really enjoy your life, 'cause I'll enjoy mine."
"And I'll f*****g keep killing babies."
Forgive them, for they know not what they do
I used to believe that the single question deciding the non-religious abortion debate was, "is the fetus a person?", with a "yes" answer ending the dispute. I also used to think that the vast majority of those having and performing abortions had been brainwashed into thinking that the unborn baby wasn't a human being.
But after revisiting my position and looking at some history, I'm not so sure.
Let's start by traveling back ten years and looking at a published article in the Journal of Medical Ethics by professors Alberto Giubilini and Francesca Minerva where the authors asserted that murdering babies was justifiable. The Journal's abstract of the article says:
Abortion is largely accepted even for reasons that do not have anything to do with the fetus' health. By showing that (1) both fetuses and newborns do not have the same moral status as actual persons, (2) the fact that both are potential persons is morally irrelevant and (3) adoption is not always in the best interest of actual people, the authors argue that what we call 'after-birth abortion' (killing a newborn) should be permissible in all the cases where abortion is, including cases where the newborn is not disabled.
Their position on whether the baby is a person is pretty clear, wouldn't you say?
Now go back another ten years and some change and you have Dr. Bernard Nathanson's book The Hand of God: A Journey from Death to Life by the Abortion Doctor Who Changed His Mind. Having performed some 75,000 abortions, Dr. Nathanson admitted he knew that he was taking a human life during an abortion saying, "Fetology makes it undeniably evident that life begins at conception and requires all the protection and safeguards that any of us enjoy."
So why did he do it? Nathanson writes, "Simple arithmetic: at $300.00 times 1.55 million abortions means an industry generating $500,000,000 annually, of which most goes into the pocket of the physician doing the abortion."
Finally, let's go back even further (another 25 years) from that point to the early 1970s and you have the institution of "water baby temples" in the Far East.
Japan, in particular, has been very aggressive in the abortion field for a long time. The women traumatized by the practice go to these temples where the departed souls of their aborted babies can supposedly be attended to for somewhere between $340 and $640. Priests also will offer prayers at $120 per baby and $40 for each additional baby that was aborted.
More examples can be given, but I think you get the point. All this tells me we know abortion is the murder of a human being, and we've known it for a long time.
It may manifest very explicitly as in the above examples or in the paper written for Planned Parenthood by Dr. William Cates in the late 1970s: "Abortion as treatment for unwanted pregnancy, the second sexually transmitted disease." Or it might be subtle as in the case of former President Barack Obama who said, "But if they [his daughters] make a mistake, I don't want them punished with a baby."
The truth is, from a moral perspective, we've not moved an inch forward in thousands of years where protecting unborn life is concerned.
In the Old Testament, we find the practice of conquering kings tearing open the stomachs of pregnant women (e.g., 2 Kings 15:16). And today, we have a culture described well by philosopher J. Budziszewski: "It is hard to see why people should object to a world in which babies are cut out of their mother's wombs with daggers, but not one in which mothers invite daggers into their wombs so that their babies may be cut out."
In the Old Testament, we find the abhorrent practice of babies being made to "pass through the fire" (e.g., 2 Kings 16:3) in order to win the favor of a false god. And today, babies are literally pulled apart during abortions via vacuum aspirations to appease those involved in and enriched by the procedure.
It used to be that, on rare occasions, someone promoting abortion would drop their guard and let slip some truth that spoke to the awful reality that Roe vs. Wade has produced. But their spiritual father (John 8:44) seemed to almost immediately whisper to them, "Careful, your evil is showing," and they'd return to the fake narrative of the unborn child not being a person.
But today, as in the case at Saint Louis University, that mask is close to being permanently discarded with their true feelings laid out now for everyone to see in loud and proud fashion.
"I'll f*****g keep killing babies."
Robin Schumacher is an accomplished software executive and Christian apologist who has written many articles, authored and contributed to several Christian books, appeared on nationally syndicated radio programs, and presented at apologetic events. He holds a BS in Business, Master's in Christian apologetics and a Ph.D. in New Testament. His latest book is, A Confident Faith: Winning people to Christ with the apologetics of the Apostle Paul.