Carly Fiorina Answers 12 Christian Post Questions for Every Presidential Candidate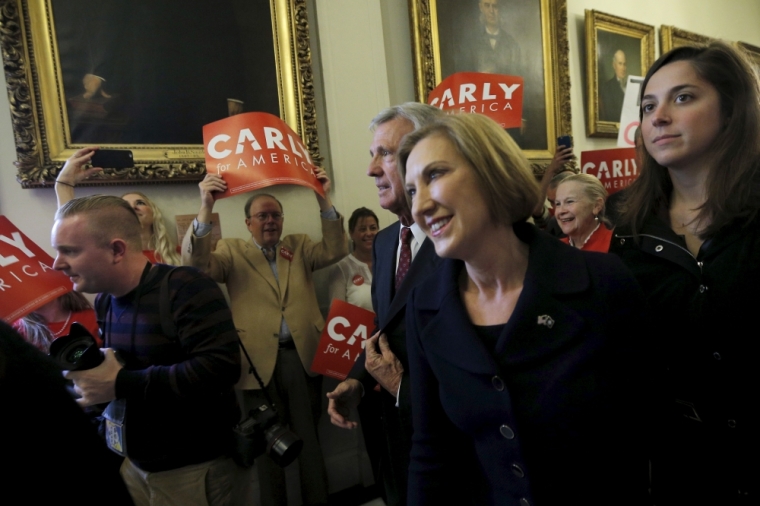 The Christian Post invited all the presidential candidates of both major parties to answer the same set of 12 questions. Here are Carly Fiorina's answers.
1. Why do you want to be president and what does your personal faith have to do with your decision?
Fiorina: I think our nation is at a pivotal point. Too many people fear that we are losing the sense of limitless possibility that has always defined this nation. Margaret Thatcher — a woman I greatly admire — once said that she was not content to manage the decline of a great nation. Neither am I. I am prepared to lead the resurgence of a great nation.
I have been tested. My faith has been tested. I have battled breast cancer. I have buried a child. Through it all, the love of my family and my personal relationship with Jesus Christ has seen me through. And on this journey my family and my faith will see me through as well. I will not falter, and I will not shrink from this fight.
We must remember that ours was intended to be a citizen government, and we must work together to restore our country and the character of our nation.
2. What is marriage, and what should be the government's interest and role in marriage?
Fiorina: I believe that marriage has a spiritual foundation because only a man and a woman can create life, which is a gift from God. So, while I believe that government should bestow benefits equally, I also believe that government must respect those — like myself — who believe that marriage has a religious foundation.
3. When a U.S. government law or action unintentionally infringes upon the religious freedom of one or some of its citizens, should the government accommodate those beliefs by providing exemptions to that law or action, and, if so, what would be your recommended standard for providing the exemption?
Fiorina: Religious liberty must be protected in this country. It's a principle upon which we were founded. Too often, we see people who are prevented from practicing their religion because of a government mandate.
We must protect the right of citizens to practice their religions freely. As president, I will support federal and state-level legislation like the Religious Freedom Restoration Acts that protect citizens and their churches from government intrusion.
4. What actions should the president take, and should urge the international community to take, to aid and protect those who are persecuted for their faith around the world?
Fiorina: The world is a more tragic and dangerous place when American isn't leading and, under this president, we have not been leading.
We need a fearless fighter in the White House — not just to win this election, but also to restore the character of our nation. We need a leader who won't be silent — as Barack Obama and Hillary Clinton have been — as millions of Christians are persecuted throughout the Middle East.
As president, I will stand up to the great human rights tests of our time — in China, Russia, and the Middle East. We must send a signal to our allies and adversaries that America is back in the leadership business.
5. Under what conditions should current unauthorized immigrants in the United States be allowed to make restitution for their crime and apply for legal status or citizenship? How would you secure the border and the workplace?
Fiorina: As president, the first thing I will do is secure the border. It will take money, manpower, and technology — but most of all, it will take political will.
Then, we need to fix our legal immigration system. I will reform our broken visa system. Nearly half of the people in this country illegally came here on legal visas and simply never left. We need to fix that.
We need an employer verification system that works so that we can hold employers accountable.
I do not support citizenship for those already here illegally. Those who cut the line and broke our laws as their first act entering this country have foregone that opportunity.