Carman Licciardello Cancer Scare; Doctor Discovers Tumor on Shoulder After 4 Years of Remission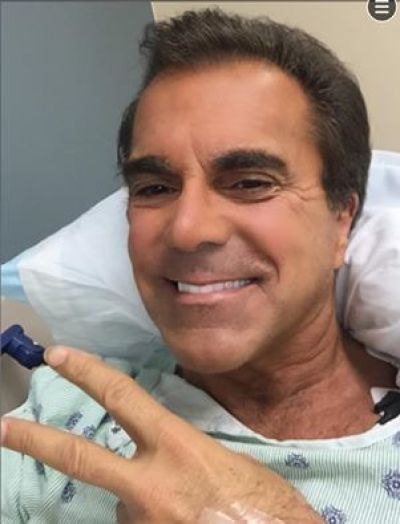 Popular Christian entertainer Carman Licciardello, mononymously known as Carman, recently overcame an intense battle with cancer. But in a recent social media post he revealed that while at a routine checkup, doctors discovered another tumor.
On February 14, 2013, Carman first shared that he had been diagnosed with myeloma cancer and given only three to four more years to live. Fortunately, the popular evangelist beat the cancer and by early 2014 he testified that medical tests indicated that he was free of cancer.
Since then, he's been in remission with no trace of cancer in his body. But he took to Facebook on March 30 with a recent concern.
"I REALLY NEED YOUR PRAYERS: After 40 years I think I know a well timed attack when I see one. I'm about to go into the studio and start recording a song about my cancer healing testimony but I needed a routine check up first. I'm a bit concerned because the Doctors gave me 3-5 years of remission time and I'm past my 4th year going into my 5th. The doctor discovered, on my shoulder, a tumor the size of a golf ball. Now I need surgery to remove it for a biopsy," he wrote.
"It's just the timing lines up with the end of my remission cycle. Maybe this could be my last recording. I just don't know at this point. Anytime I've been in this situation I've come to you all for prayer and things turned around. Well this is one of those times again.
"Ironic the title of the song is 'God is still on the throne.' So my faith is being challenged. Faith to finish this record and finish my course. I'm sure the enemy of my soul wants it cut short. So I'm asking for your love and prayers. The past couple years I've been able to lead over 5,000 people to Christ and in my heart I feel like there's a few more I still need to get to. Your prayers are effective and powerful and I'm asking for them today. Please share this with a friend. I believe someday the end of my journey will indeed come....but not yet. There's still a bit more work to do,"
Carman has always maintained that his life's goal now is to "win souls" and he recently revealed  that he was heading back into the studio in Nashville to record a new album. The 61-year-old promised to provide new content along with a few remakes of older classic songs.
The entertainer has had a string of health scares lately and along with the cancer battle he said he also suffered several heart attacks. He was rushed to the hospital in 2016 after a concert because he was suffering from chronic chest pain which was soon revealed as a heart attack.
It is not the first time he ended up in the hospital because of chest pain. On Memorial Day in 2015, the New Jersey native also spent some time in the hospital after suffering multiple heart attacks, which he detailed in a Facebook message.