Carrie Underwood Says Husband 'Stays Away' While She Writes New Album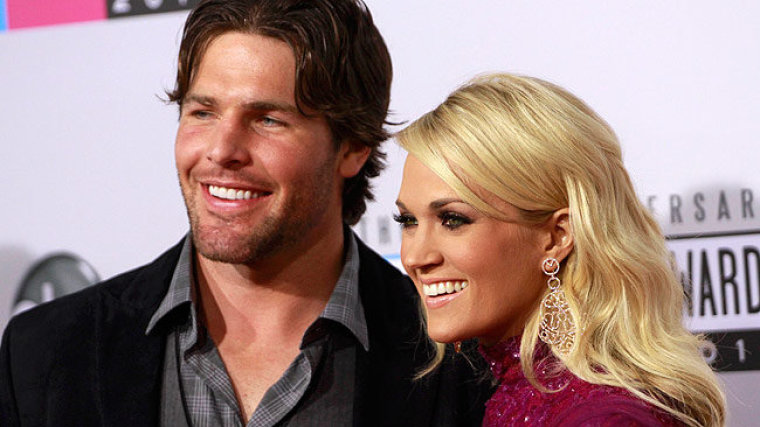 Carrie Underwood is hard at work on her upcoming fifth album, and no one knows that better than her husband, Mike Fisher.
The couple, who have been married four years, have weathered each other's grueling schedules that include two of Underwood's sold-out world tours as well as Fisher's demanding career with the National Hockey League. Fortunately, the happy couple has learned how to handle one another, taking certain measures to ensure that their marriage stays healthy.
"We actually went away a few months ago to Turks and Caicos for the Olympic break for a week or 10 days," Fisher explained while in New York City on Tuesday, April 29 at the Time 100 Gala, according to Us Weekly. "It was just awesome. It was nice to get away."
Today, Underwood is penning songs for her next studio album- and Fisher is steering clear.
"She's actually real busy going a lot of writing and stuff," the Canadian hockey star said before laughingly adding, "I've been just kind of hanging out, just kind of being home and enjoying that. I stay out of her way, I go golfing or go fishing or something."
Underwood chimed in, noting that her husband gives her space while she works.
"He stays away," the singer told Us Weekly. "That whole creative process is such a weird thing, and I've talked to other people in the music business and friends and what they do and we all kind of have our own '-isms.'"
The six-time Grammy Award-winner went on to explain that her routine for working involves lots of caffeine before she offered hints about her new album.
"I've been writing quite a bit, it's exciting," Underwood said. "It definitely has a different sound. There are some thematic things that are quite different. I love strong women. So I want things that I can get on stage and just feel empowered."
Underwood's previous albums include 2005's "Some Hearts," "Carnival Ride" in 2007, "Play On" in 2009, and 2012's hit "Blown Away."