Casting Crowns' Mark Hall: Christians Live Upside Down, Bible Heroes Never Aimed to Leave Legacy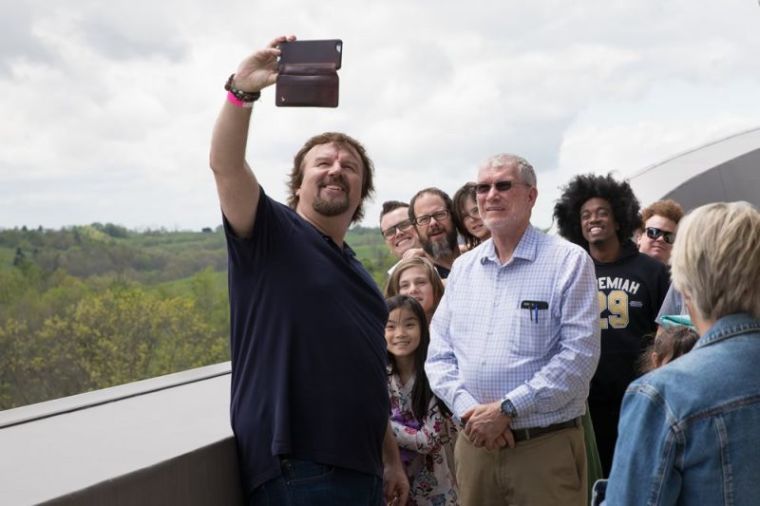 ORLANDO, Fla. — Mark Hall, frontman for the popular contemporary worship band Casting Crowns, explains why he believes many believers have forgotten to focus on living a Jesus only life.
"When you look at Scripture, it makes us look almost upside down sometimes and how we live and what we put first," Hall told The Christian Post in an interview leading up to the band's appearance at Rock the Universe 2018 at Universal Studios.
Casting Crowns released their single "Only Jesus" at the end of the summer with a message declaring that Jesus alone is the only legacy they long to leave on the Earth. When asked about the inspiration behind the emotional single, Hall explained that he once heard a preacher say, "If you want to know how upside down we are down here, gold is at the top of what our needs are — gold and money and wealth — and gold is what the street is made out of in Heaven, it's what you walk on."
"We're living in a time of making a name for ourselves, and being known, and how do we want to be remembered, and what's our legacy going to be? But when you look at Scripture, no hero of the faith ever set out to be one," Hall emphasized. "No leader ever got up and said, 'I want to be a leader today. I want to be a hero today. I want to have followers today.'"
The award-winning singer said that those spoken of in the Bible simply set out to fulfill the "will of God" every day of their lives and that was enough.
"Everyone in scripture that we pattern our life after got up every morning and said, 'You're first Jesus. What do you want? What is your will?' Not 'What is your will for my life?' Not, 'What can you do for me and how can you bless what I'm doing?' But they got up and said, 'God, what are you doing today? I want in.'"
Hall said the band is motivated by a "love for God and a their "heartbreak for people." Studying the Word of God has truly helped him put his Christian walk into perspective, he said.
The Casting Crowns frontman went on to name people in the Bible who deflected the spotlight every time people tried to elevate them. He recalled John the Baptist who said he was just a voice crying out in the wilderness, and Paul, who described himself and the chief of sinners, all the while always pointing to Jesus.
"It just reminds me that when I get up in the morning God already has a plan, and this is His story. I'm a part of His story," Hall declared. "So I've got to focus myself on Scripture and on truth so that when I get out into the world, I'm like, 'Alright God, how can I show them what you're doing?'"
He added: "I don't need to leave a legacy. I don't need to be remembered. People remembering me isn't going to help them. There's only so far I can take you. You'll just walk away going, 'Why, I can I be like that guy.' But if I do like Paul did and say, 'Here's what you need to know about me. I've got every kind of struggle and failure in my path. I got nothing going for me. You don't need to pay attention to me at all. I'll lead you the wrong way. You need to look to Jesus.' That's my reminder that Jesus is the only name to remember!'"
Hall has been a youth pastor in Georgia for many years and he often raises up young people who end up going into ministry themselves. When asked what he thought about where the future of Christianity is headed, he spoke about what's unique about Gen Xers and those who follow.
"Every generation gets dumped on a little bit, but every generation, we're all the same. We all struggle with the same things. The Bible says, 'the lust of the eyes, the lust of the flesh and the pride of life,'" he explained.
"I think what kids today need to see, is just something real. Not a Sunday morning faith but an every day, walking around faith and what that looks like," Hall continued.
The father of four said teenagers are a little skeptical because they see people who preach well but they don't do what they preach.
"It gives them a reason to not have to listen. If I can find a way to discount you, I don't have to listen to you. So for me, I think the best thing you can do for teenagers is live an authentic life and meet them where they are," Hall concluded.
Casting Crowns is finishing up a new album and Hall says each song they make comes from a Bible lesson he teaches first.
The band is also gearing up to head the "Finally Christmas Tour" with Hannah Karr. For more information, visit Casting Crowns.