Catastrophic Disaster Predicted for 2017 After 627-Y-O 'Blood Miracle' Fails to Occur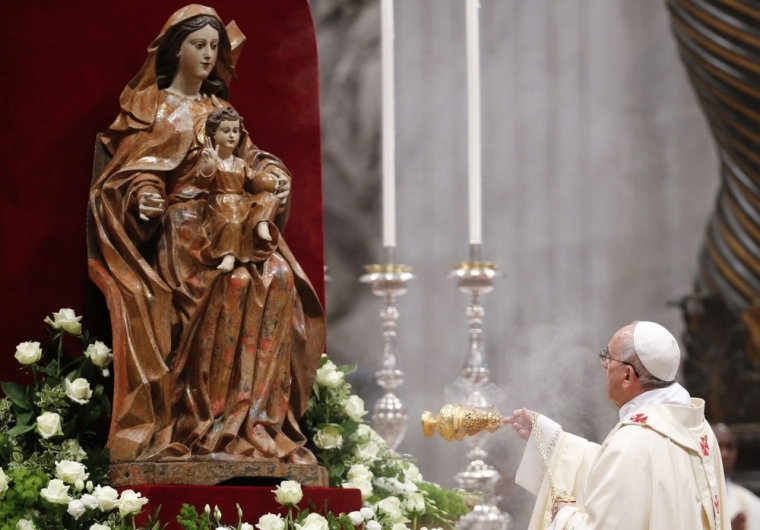 A catastrophic disaster in 2017 is being feared by some after a 627-year-old relic containing the dried blood of Saint Januarius in Naples, Italy, failed to liquefy on Friday.
The Catholic News Agency reports that the Roman Catholic tradition states that the blood of St. Januarius, a former bishop and martyr of Naples, who is believed to have been killed at the hands of Roman emperor Diocletian around 305 A.D., has been liquefying three times each year on specific dates tied to the Catholic calendar.
"During the miracle, the dried, red-colored mass confined to one side of the reliquary becomes blood that covers the entire glass," CNA reports.
"In local lore, the failure of the blood to liquify signals war, famine, disease or other disaster."
The miracle has been recorded regularly since 1389, but the blood stayed dry on Dec. 16 this year, marking one of a few times the 627-year-old cycle has been broken.
The Independent reports that the occasions the blood has failed to liquefy have heralded major calamities, such as in 1939, which was the start of World War II; and in 1980, the year of the Irpinia earthquake.
Monsignor Vincenzo De Gregorio, the abbot of the Chapel of the Treasure of San Gennaro, said that despite the bad omen, believers should continue praying.
"We must not think of disasters and calamities. We are men of faith and we must pray," De Gregorio said.
Beside the regular calendar dates, the blood has also reportedly liquified in the past in the presence of major figures, such as popes. Pope Francis visited and blessed the relic in March 2015, which reportedly caused it to partly liquify.
Cardinal Crescenzio Sepe of Naples said during Francis' visit: "It seems that St. Januarius loves the pope, because the blood is already half liquified."
The pontiff joked: "You can see that the saint only loves us a little. We have to convert more."
Reported "miracles" of "bleeding" wafers or sacramental bread used during mass have also been cited on numerous occasions in the past few years.
The Catholic Church in Poland approved in April the veneration of such a host, which some claimed began to "bleed" after it was placed in water.
Bishop Zbigniew Kiernikowski of Legnica said at the time that the wafer "has the hallmarks of a eucharistic miracle," and had been subjected to a number of tests.
The host reportedly fell to the floor on Christmas Day in 2013, and started emitting red stains after it was picked up and placed in a container of water.
"In the histopathological image, the fragments were found containing the fragmented parts of the cross striated muscle. It is most similar to the heart muscle," a medical statement by the Department of Forensic Medicine stated at the time.