Catholic Georgetown University's Elects First-Ever Muslim Student as President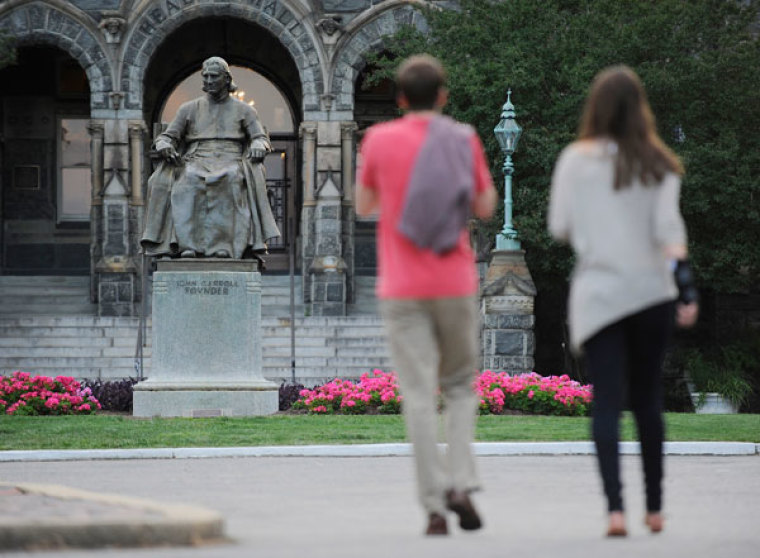 For the first time ever, a Muslim student has been elected by the Georgetown University student body to serve as the Jesuit school's student association president.
As reported by The Hoya — Georgetown's oldest student-run newspaper — Enushe Khan, a student from Dubai, will become the first Muslim to become the Georgetown University Student Association president.
Khan's activism on campus began when she was a freshman at the Washington D.C. institution and she decided to run for election to the GUSA senate after noticing that there were not enough foods allowed under Islamic dietary laws on campus.
Khan would later win that seat and lobby Georgetown Dining to bring halal and kosher foods to the campus' dining facilities.
"Food was a big issue, and that was sort of affecting my health. That was a common trend with other Muslim students as well," Khan told The Hoya. "It's something that was never a concern for Dining or Auxiliary Services until it really came up in GUSA."
Early on in her time at Georgetown, Khan also became a member of the Muslim Student Association and served as the chair of Interfaith and Service for five semesters. She helped expand interfaith programming between the MSA and the Hindu Student Association and the Jewish Student Association.
"The MSA was pretty insular and isolated from the rest of the campus ministry community, and one thing I really wanted to do was start some more programming with JSA, HSA and other groups," Khan explained.
Khan. along with GUSA Vice President-elect Chris Fisk, ran as an unopposed executive ticket and ran on a campaign slogan of "Breaking Barriers, Building Bridges," holding the promise that the GUSA will cater to all Georgetown students and not just a few select groups.
"There are very few select groups that GUSA has traditionally catered to, and that has kind of been the status quo as long as we've been here," Khan told The Hoya in an article from February. "So that's the need to break the barriers."
Khan hopes that she and Fisk can help bring minority communities on campus together so that there is "no longer a fear."
"I can speak to how the Muslim community has tended to really isolate itself in the past. You have these communities, these pockets here on campus who feel like they can't engage with the rest of the Georgetown community," Khan said. "A big thing for us is how can we work with these groups to create a Georgetown where that's no longer a fear."
In total, the Khan-Fisk ticket ran on a 23-issue platform and benefited from the help of a campaign team of over 200 people, which is one of the largest student campaign units in GUSA history. The Khan-Fisk ticket was also endorsed by The Hoya and The Georgetown Voice, another student-run newspaper.
Despite the strong campaign, only 33 percent of the undergraduate body voted in the election. The 33 percent turnout is much lower than last year's 51 percent voter turnout and is the lowest voter turnout in recent years, the Hoya reports.
Although Khan and Fisk essentially ran unopposed after an opposing ticket dropped out of the race in early February, Georgetown students Reed Howard and Courtney Maduike announced themselves as a write-in ticket in order to prevent the Khan-Fisk ticket from running without any opposition.
Maduike told The Hoya that the she feels the GUSA election system is unfavorable to GUSA outsiders.
"These GUSA elections are skewed in favor of people who are already GUSA insiders. The way that the system is set up is not welcoming or easy for students outside of this GUSA system to fairly and effectively break in and bring in more voices like so many candidates have been saying for the past however many years," Maduike said. "I think that's something important to consider moving forward: that perhaps it's the system itself that is broken, not the individuals making it so."