Catholic School Can't Deny Employment Over Gay Marriage, Mass. Court Rules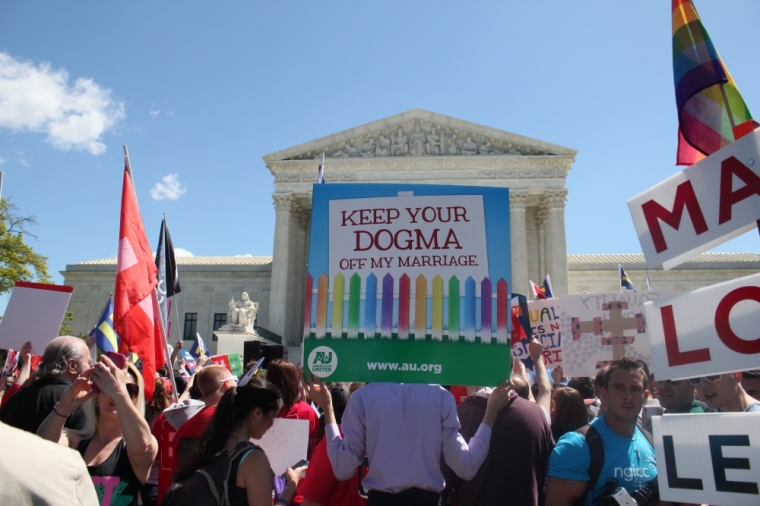 A Massachusetts state court ruled that a rescinded job offer by a Catholic school to a man in a same-sex marriage violates state discrimination laws.
Matthew Barrett filed a lawsuit in 2014 after Fontbonne Academy in Milton rescinded a job offer in 2013 as director of food services when he listed his same-sex marriage partner as his emergency contact.
A Massachusetts judge ruled in Barrett's favor, rejecting the school's religious freedom argument and its appeal to its Catholic mission and witness.
"As an educational institution, Fontbonne retains control over its mission and message. It is not forced to allow Barrett to dilute that message, where he will not be a teacher, minister or spokesman for Fontbonne and has not engaged in public advocacy of same-sex marriage," declared Norfolk Superior Court Judge Douglas Wilkins in a Wednesday ruling.
Judge Wilkins added that they did not meet the religious exclusion test because the school employs non-Catholics in some teaching roles and non-Catholics are allowed to be enrolled as students.
The judge ruled the school is liable for lost wages and damages in their decision to not hire Barrett, which will be addressed in a subsequent hearing. It is currently unclear if Fontbonne Academy will appeal the ruling, but they declared they are considering their options.
"I'm ecstatic," Barrett said following the ruling. "What happened to me was wrong, and I truly hope it doesn't happen to anyone else."
According to the Boston Globe, the ruling may be the first case in which religious freedom for a specifically religious organization was trumped by state discrimination laws.
"It is the first reported case with regards to a religious institution," Brian D. Spitz told the Boston Globe. Spitz is an employment lawyer in Ohio whose firm actively represents the LGBTQ community.
"Sexual orientation is a protected class deserving of the same level of protection as other protected classes," Spitz declared.
"If the Fontbonne Academy argued that it was against their religious tenets to hire a woman or a black person, their arguments would be ridiculed as absurd at first look."
Many conservatives and Christians have derided that fact that LGBT rights increasingly trump religious liberty. Texas Sen. Ted Cruz has argued that the 2016 presidential election is about religious liberty. Family Research Council President Tony Perkins told the Christian Post this month that religious liberty plays a significant role in the upcoming presidential election.
"America's security and prosperity will elude us as a nation unless the religious liberty of America's citizens are fully restored and protected," Perkins said.
"Religious liberty and with that liberty the future of America will be determined by this upcoming election. Bible-believing Christians cannot stand on the sidelines. We must be informed and engaged so that we might select a presidential candidate who will not just halt these attacks on religious freedom, but undo and reverse the anti-religious freedom policies implemented by the Obama administration," he said.
"The question we must ask the presidential candidates, and expect them to answer, is: 'Will you restore religious freedom, the freedom to believe, and live according to those beliefs in America?'"
Massachusetts became the first state to legalize same-sex marriage in 2014. Fontbonne Academy is a private, Catholic college-preparatory day school for girls in grades 9 through 12, located in Milton, Massachusetts.