Celebrated Christian Artist Launches 'Before I Formed You' Pro-Life Campaign
Ron DiCianni Launches Nonprofit to Promote Biblically-Inspired Painting and Save the Unborn
Award-winning artist Ron DiCianni nearly became an abortion statistic, but, as he tells it, God's direct intervention as his mother sat in a doctor's office more than 60 years ago literally saved his life. Now, the prolific Christian artist is using his craft to intervene on behalf of hundreds of thousands of unborn babies facing a similar fate with his "Before I Formed You" campaign.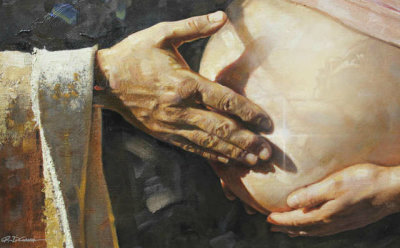 The campaign is based on DiCianni's Before I Formed You in the Womb painting and his plan is to get the Jeremiah 1:5-inspired artwork before the eyes of every person who may be considering abortion or knows someone who is, including doctors.
"I painted Before I Formed You in the Womb to make a statement. A statement that each life is precious to the One who created it, namely God. No life is an accident, and each has a purpose. As someone who was scheduled myself to be aborted, that has been my own story as well as the promise we have in Scripture," DiCianni explained in a statement made available to The Christian Post.
"There is no reason, God helping us and His Church partnering with us, that this image can not be made available to every pregnancy center, every doctor's office, every church and every sidewalk counselor to visually showcase God's sacred design in each unborn life," he added.
DiCianni's main vehicle for promoting the artwork is the Before I Formed You Foundation (a Clearly Christian endeavor) that he co-founded with his son, Grant DiCianni. The foundation, still awaiting approval of its 501(c)(3) nonprofit status, is also calling on supporters to pray for those on the front line of the pro-life movement, such as sidewalk counselors who frequent abortion clinics; share the Before I Formed You in the Womb painting; and sponsor prints, donate to the ministry and actively campaign.
In addition to receiving prints of DiCianni's pro-life painting, supporters will also receive a DVD of Ray Comfort's "180" movie that documents people changing their minds on abortion. It was Comfort, a Christian evangelist who works with actor Kirk Cameron through his Living Waters ministry, who requested that DiCianni consider creating a "clear pro-life painting." By July 2012, DiCianni had done just that, resulting in his latest piece: Before I Formed You in the Womb.
DiCianni's expansive and mixed portfolio of biblically-inspired artwork and other illustrations has earned him seven Gold Medallion Awards from the Evangelical Christian Publishers Association and seen him partner with authors like Frank Peretti and Max Lucado. In 1989, already successful in his craft but desiring to "reclaim the arts for Christ," DiCianni felt led by God to create Spiritual Warfare, which presents a father praying at the bedside of his child under moonlight. The groundbreaking painting has reportedly resulted in tens of millions of print sales all over the world. DiCianni is also know for his massive mural depicting Christ's resurrection that was commissioned by the Museum of Biblical Art in Dallas, Texas.
He has also shared his story of surviving abortion in 1951, when his parents, grandmother, aunt and brother all shared a "cramped inner city apartment" on Chicago's North side.
"My mother was not a Christian at the time, but living with them was my Pentecostal grandmother who I have to believe was praying. I'm not sure of the 'mechanics' of the process back then but my mom told me the procedure was to start with an injection. And as she sat there and waited, God spoke to her." DiCianni shared in a press statement.
"Years later my mom would tell me that the needle came within an inch of her arm when she distinctly heard the voice of God saying, 'Don't do this…I have a plan for this baby!' With a quick reaction she pushed the needle away and got up and walked out, giving me a chance to live."
More information about the Before I Formed You Foundation as well as how to sponsor a print or donate to support the ministry's efforts can be found online at www.formedyou.org.
A portfolio of DiCianni's work can be viewed at Tapestry Productions or on his website, www.rondcianni.com.
An image of Before I Formed You in the Womb is below, along with the artist's explanation of the artwork.