Chance The Rapper Rebukes Satan Before Receiving Grammy Nominations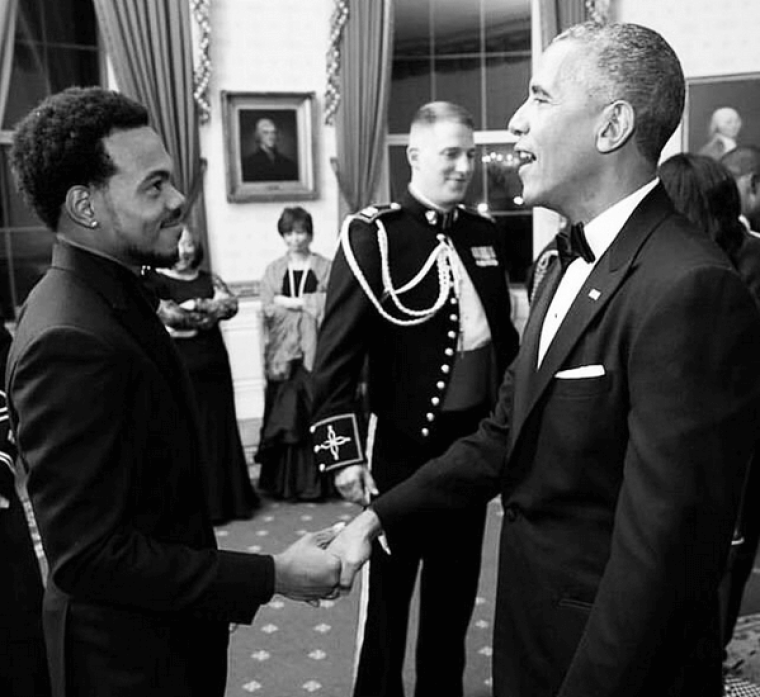 A week before Chance The Rapper received seven Grammy nominations for his hit mixtape Coloring Book that has become a favorite of the Obama family, he took to social media to rebuke Satan.
"Get thee behind me, Satan: for thou savourest not the things that be of God, but the things that be of men," the 23-year-old rapper tweeted last Wednesday, quoting a passage from Mark 8:33 and Matthew 16:23.
While it's unclear what prompted the Chicago, Illinois, emcee who was born Chancellor Bennett to share the message with over 2 million of his followers, he used the same forum to glorify God on Tuesday.
Chance's Coloring Book mixtape has made history, earning seven nominations at the 59th annual Grammy Awards.
His Grammy Award nominations are the first time a streaming-only release has been eligible to receive the honors. The rapper reacted by glorifying God.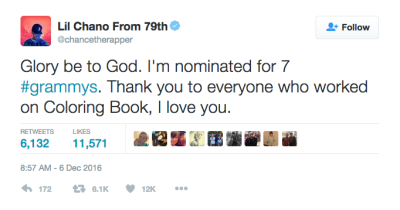 "Glory be to God. I'm nominated for 7 #grammys," he tweeted Tuesday morning. "Thank you to everyone who worked on Coloring Book, I love you."
In a previous interview with the Beats 1 radio program, the rapper spoke about feeling a sense of freedom in being able to publicly speak about God.
"I still think that God means everything to everyone, whether they understand it or not or can really see it for themselves or they find God. I know for a fact we're not pushed or promoted to speak about God with fervor," he said. "I think the new generation and the forward is all about freedom and all about the ability to do what we want. We're not free unless we can talk about God."
Although Chance doesn't shy away from publicly saying he's a Christian, he doesn't claim his music could be easily classified as gospel music either.
"I never really set out to make anything that could pretend to be new gospel or pretend to be the Gospel. It's just music from me as a Christian man ...," Chance told interviewer Zane Lowe on the Beats 1 radio program. "And in both cases I have imperfections, but there was a declaration that can be made through all the [stuff] I've been through the last few years."
Despite his imperfections, the rapper has had a solid foundation of faith that has been cemented by the prayers of his grandmother. During an interview with his hometown radio station 107.5 WGCI in November, he revealed how the prayers of his grandmother have impacted his life.
"She said, 'I don't know exactly what you're doing, but I don't like it. So I'm going to pray over you,'" he recalled on the "Chicago Morning Takeover Show." "She said very simply, 'God, I want you to take all things that are not like you from Chancellor and turn them into dust.'"