Charleston AME Church Holds Bible Study for Crowd of 100 in Basement Where 9 Christians Were Killed: 'This Territory Belongs to God,' Says Pastor Norvel Goff Sr.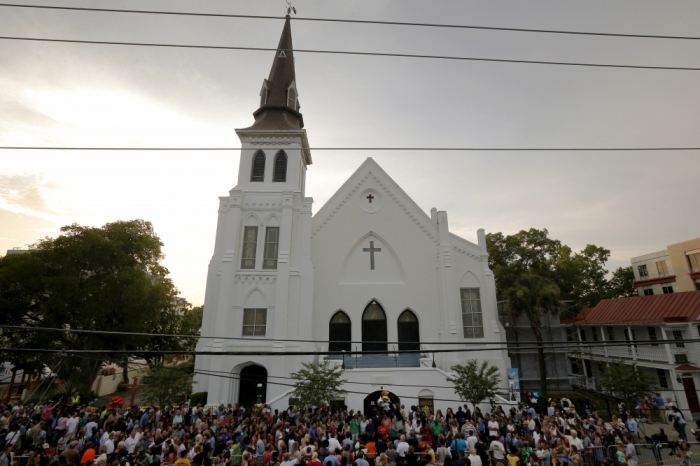 After last Wednesday night's Bible study at Emanuel AME Church in Charleston ended with nine people losing their lives in a violent act of racial hatred, over 100 worshipers gathered in the very same room just one week later to continue the church's Wednesday night tradition.
Interim pastor Norvel Goff Sr., who's standing in for slain Rev. Clementa Pinckney, said that while Wednesday night Bible studies would never be the same for members of the church, he believed that faith had brought the 100-strong crowd to the same basement room only a week later to continue worshipping the Lord.
"This territory belongs to God," Goff told the crowd at the Bible study, as quoted by CNN. "Bible study will continue. But because of what happened, we will never be the same."
"Because of our faith we have shown up once more again to declare that Jesus lives and because He lives, we can face tomorrow," Goff added.
The service began at 6 p.m., as it normally does every Wednesday, and concluded about two hours later.
CNN reported that there was still a taped-over bullet hole present in one of the ceiling tiles with police identification marks, along with a few new ceiling tiles that have replaced the ones that were destroyed during the fatal shooting rampage committed by 21-year-old Dylann Roof.
"Last week, dark powers came over Mother Emanuel," Goff explained. "But, that's alright. God in His infinite wisdom said 'that's alright. I've got the nine.'"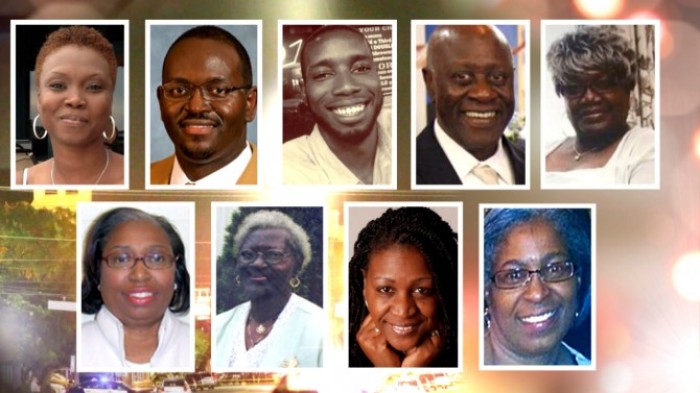 Goff's message was centered around the theme of "the power of love" and also urged those in attendance to not run from their tribulations but instead, "run to God."
"It was crowded, they had to bring in extra seating … but everybody seemed to be on the same page," Rosetta Loving, an attendee of the service, told NBC News. "He read us three different Bible verses and he discussed that the thing that stands out is love because God is a 'forgiving love.' He talked about how the city of Charleston and the people, they united, they came together. They are not like some of the other cities."
Family members of Myra Thompson, one of the victims who was killed in last week's shootings, were also present at the Bible study.
Thompson's sister, Marlene Coakley Jenkins, spoke with the media after the service concluded and was asked if going to the room where her sister and others were killed just seven nights prior brought any horrors to her mind about her sister's demise.
"No, because we didn't see the seventh night," Jenkins asserted. "We saw our sister happy and alive and then, we went in that room and that room was filled with that same life."
Jenkins added that Goff's service was "spiritual" and "uplifting."
"The sermon started in the Old Testament and he moved us through the New Testament and pretty much that is how our lives have been," Jenkins said. "We grew up in this church, so we understood Scripture, we understood our purpose for being here. We know that for everything that we did and everything that happened in that room, it just reverberated all the love that we have ever been taught as children."
As Goff preached about "the power of love," it speaks to the fact that it took an extraordinary amount of love for Christ for the family and friends of the shooting victims to tell the shooter that they forgive him for the pain he has caused during his first court appearence last week.
Roof, who sat down in the last Wednesday's Bible study for over an hour before he killed nine worshipers, was arrested last week in North Carolina and has been charged with nine counts of murder.
"I will never be able to hold her again, but I forgive you," one of the daughters of 70-year-old victim Ethel Lance, told Roof. "And have mercy on your soul. You hurt me. You hurt a lot of people but God forgives you, and I forgive you."
Anthony Thompson, who's a relative of Mya Thompson, urged Roof to "repent" for carrying out such a heinous act.
"I forgive you, my family forgives you," Thompson said. "We would like you to take this opportunity to repent. ... Do that and you'll be better off than you are right now."