'Charlottesville Declaration' Calls on Evangelicals to Condemn White Supremacy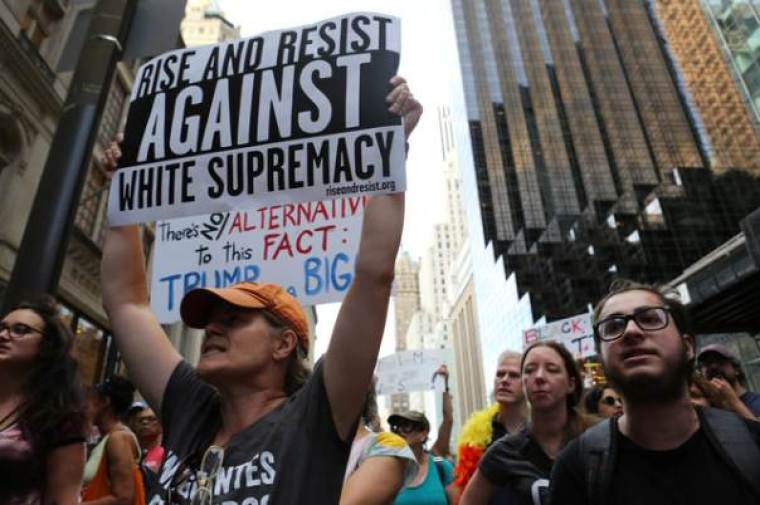 Black Christian leaders have signed onto a joint declaration calling on white evangelicals and white Christian leaders to condemn "in the strongest terms" the ideology of white supremacy.
Over 80 Christian pastors, leaders, scholars and activists have signed their names to a document called the "Charlottesville Declaration."
The document, which was published by the Reformed African American Network, was released Friday, nearly two weeks after violence erupted between white supremacist demonstrators protesting the removal of a Robert E. Lee statue and counter protesters in Charlottesville, Virginia.
"In Charlottesville the violence of white supremacy visited our nation once again; its demonic presence has not been exorcised from us. From the founding of this nation until the present hour, the idolatry of whiteness has been a pro-death spirit within our republic," the declaration states.
"It is easy for us to scapegoat the domestic terrorists who incited violence that ended in the deaths of three Americans [Lieutenant H. Jay Cullen and Trooper Berke M. M. Bates of the Virginia State Police were killed when their helicopter crashed.] We can call them extremists who do not represent American values, but upon closer examination, the ideology deployed as a weapon in Charlottesville haunts every institution of the country, including the Church."
The declaration continued by stating that it is out of a "concern for the soul of this nation" that the signatories came together to "'cry loud and spare not' against America's national sin."
"White supremacy — often called by many names including racism, white privilege, 'alt-right' and the KKK — is an insidious doctrine that in manifold ways steals, kills, and destroys the inviolable dignity of all God's children (Genesis 1:26–28). It suppresses the truth of God (Romans 1:18), and walks out of step with the true Gospel (Galatians 2:14). All that is left for an unrepentant stance toward sin is God's justice and judgement. Alas, many of the Lord's followers remain hard of heart and hearing, making God's judgement upon this nation seemingly inevitable."
The letter specifically calls out white evangelicals and "born-again disciples," stating that only a "full-throated condemnation" of white supremacist ideologies can lead to "true reconciliation."
"To this end, we call upon white leaders and members of the evangelical church to condemn in the strongest terms the white supremacist ideology that has long existed in the Church and our society," the declaration states. "Nothing less than a full-throated condemnation can lead to true reconciliation in the Lord's body. Additionally, this condemnation must not be in word only, but also in deeds that 'bring forth fruits worthy of repentance' (Luke 3:8). As Dr. [Martin Luther] King notes in Letter from Birmingham Jail, white apathy is worse than white supremacy."
The statement also calls on the black church to "urgently remember its historic role of living within the pastoral-prophetic tension in U.S. Christianity."
"We call black Christians and others back to a prophetic vocation embodied in the ministries of Lemuel Haynes, Frederick Douglass, Sojourner Truth, Maria W. Stewart, Richard Allen, Charles Price Jones, Charles Harrison Mason, Nannie Helen Burroughs, Ida B. Wells-Barnett, Mary Mcleod Bethune, Fannie Lou Hamer, Gardner C. Taylor, J. Deotis Roberts, and John Perkins," the declaration reads. "Now is the time to remind the nation and ourselves of the personal and social power of the Gospel."
The declaration was co-authored by C.J. Rhodes, the chair of the predominantly African-American National Baptist Convention USA, Inc's Commission on Ecumenical Relationships, and Jemar Tisby, the president of the Reformed African American Network.
The document was signed by prominent black Christians including: Christian rapper and word artist Propaganda (also known by his real name Jason Petty,) and Southern Baptist Rev. William Dwight McKissic Sr., the senior pastor at Cornerstone Baptist Church in Arlington, Texas.
McKissic introduced a resolution passed by the Southern Baptist Convention this summer that officially condemns "alt-right white supremacy."
In an interview with Faithfully Magazine, Tisby explained that the signatories to the declaration represent a variety of denominations.
"The tie that binds the initial signatories is a familiarity with and respect for the black church tradition — a legacy we draw upon to help us engage in today's Civil Rights movement," Tisby said.
Tisby was asked to comment on McKissic's involvement in the letter.
"For years Rev. McKissic has demonstrated an outspoken zeal for unity in the Southern Baptist Convention and the church beyond," Tisby said. "Most recently, his prophetic denunciation of the 'alt right' at the SBC's annual meeting in June made him a natural ally in the battle against white supremacy."
A number of white evangelical leaders have spoken out against white supremacy and racism following the violence in Charlottesville.
One of those leaders is evangelist Greg Laurie, senior pastor at Harvest Christian Fellowship in Riverside, California. Laurie addressed the issue during his annual SoCal Harvest revival crusade held in Anaheim last weekend before a large crowd gathered at Angel Stadium.
"For a follower of Jesus Christ, there is no place for racism, bigotry or prejudice of any kind," Laurie stressed. "I see these people carrying crosses, wearing swastikas, talking about white supremacy. There is no superior race. We are all part of the human race."
Dallas megachurch Pastor Robert Jeffress, an outspoken spiritual adviser to President Donald Trump, also condemned white supremacy and racism. In an interview with CBN News last week, Jeffress said "there has been a failure on the part of the Church, even a failure on conservative Christians in decades past, to denounce racism, to embrace segregation, which is so wrong."
"I think we did have some catching up to do but I think that in this environment, we need to say clearly, that racism is abhorrent in the eyes of God," Jeffress asserted.
Additionally, former SBC President Ronnie Floyd said that "white nationalism and white supremacism are anathema to the teachings of Christ, who called us to love and to serve our neighbor — regardless of skin color, gender or religion — to give up our life for our friends and to even love our enemies."