Chick-fil-A Ranks No. 1 as America's Favorite Fast-Food Restaurant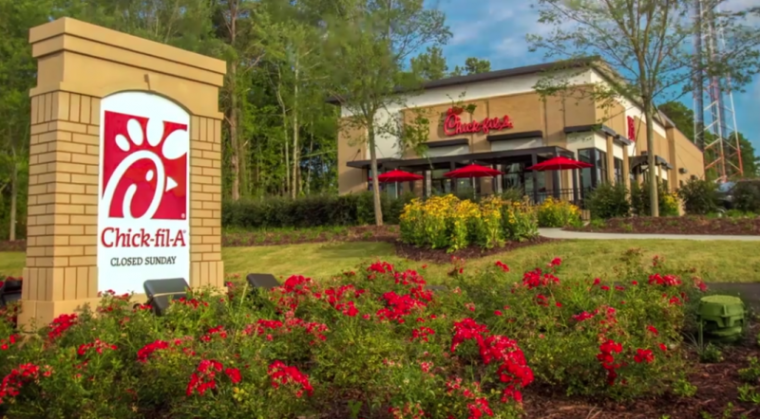 Chick-fil-A, the fast food chicken chain with Christian values, is the No. 1 fast food chain in the nation.
Even though the restaurant is closed on Sundays when most of its competitors are open, Chick-fil-A still manages to generate more revenue than its competitors, Business Insider reported Thursday.
"To determine the most popular fast-food chain in each state, Foursquare looked at which chains received the most visits on average per location in every state based on the total number of visits to each chain divided by the number of locations in that state," Business Insider noted.
Many have speculated that the company's Christian values resonate with customers and has helped it to become Americans' favorite fast-food chain. Victor Fernandez, the executive director for insights at TDn2K's Black Box Intelligence unit which collects data about restaurant sales and performance, told The New York Times "Those strong values resonate with a lot of people — and Chick-fil-A has a strong product, too, which doesn't hurt."
Business Insider previously reported that Chick-fil-A's system has increased sales for 49 consecutive years, reaching nearly $8 billion in 2016. Restaurant consultant Aaron Allen said that Chick-fil-A's religious brand makes it unique.
"Unlike any other restaurant organization we've seen, there's more religion baked into Chick-fil-A as a brand — and it works for them," Mr. Allen said.
Chick-Fil-A's Christian ties are evident in the company's mission statement which says it's purpose is "to glorify God by being a faithful steward of all that is entrusted to us and to have a positive influence on all who come into contact with Chick-fil-A."
The Chick-fil-A website notes that the business' founder, Truett Cathy, made the decision to close on Sundays in 1946 when he opened his first restaurant in Hapeville, Georgia. Having worked seven days a week in restaurants open 24 hours, Truett saw the importance of closing on Sundays so that he and his employees could set aside one day to rest and worship if they choose — a practice we uphold today."