Teens are being trafficked, prostituted outside Oakland Christian school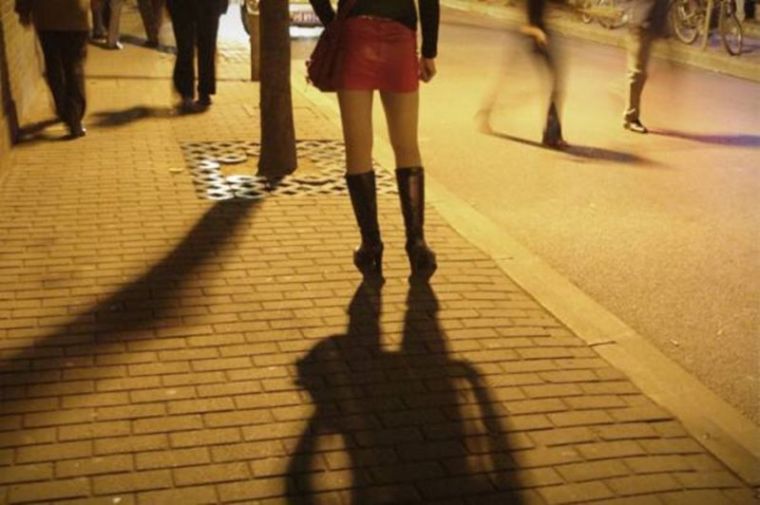 Community members are speaking out as police in Oakland say a new bill barring authorities from arresting individuals loitering with intent to sell sex is making it hard for them to crack down on prostitutes and trafficking victims selling sex outside a Catholic school. 
An Oakland community held a vigil Tuesday for human trafficking victims in response to the issue, which has raised concerns about sexual exploitation in the area, ABC 7 reports. 
Dozens prayed and lit candles outside St. Anthony's Church in East Oakland in the hopes of highlighting a potential solution to the problem. The women and teens being prostituted near the K-8 Catholic school on East 15th Street reportedly stand outside of the building all hours of the day. Community members believe many are sex trafficking victims.
On the way to the vigil, Oakland Deputy Police Chief James Beere said he spotted a teenage girl selling herself at a nearby corner. 
"So that young lady who is from southern California, who is 15 years old, is being brought down to the police department to receive wraparound services and hopefully placed in a situation where she can actually address some of the drama she has experienced," the deputy chief told the outlet Wednesday. 
Beere believes the community must do more to address the issue, noting that 169 people were arrested last year for prostitution-related crimes, and eight kids were rescued from the practice. 
"Not going to arrest our way out, have to come together. We're just one small piece in the answer to this problem," the deputy chief said. 
A church member confirmed to the outlet that the city of Oakland will set up traffic diverters on East 15th street to help resolve the problem. 
According to an ABC 7 report last week, parents and city officials are concerned that prostitutes are victims of human trafficking. Rosa Vargas, a parent whose daughter attends the school, told the outlet that pimps in the area have followed her around. 
On a Tuesday afternoon, the mother called the Oakland Police after seeing a young girl in black stilettos walking across the street from the school. Vargas claims that the women soliciting are usually scantily clad or completely naked.
"Just last week, they were blocking the entrance of the parking structure, where they were having basketball games," Vargas said, adding that the women often position themselves in front of the school gate. 
Oakland City Councilman Noel Gallo said that he receives phone calls every week from people complaining they can't get into their homes because a pimp is blocking their driveway. The councilman told the outlet that he had seen girls as young as 15 or 16 selling themselves on the street. 
"We've seen up to 20 women walking up and down this street," Gallo said. "Young, young girls." 
The Oakland Police Department said that SB 357, introduced last year by Democratic Sen. Scott Wiener and went into effect on Jan. 1, repealed a law allowing authorities to arrest individuals who appeared to be loitering with the intent to engage in prostitution, which was a misdemeanor crime. 
The senator and advocates thought that the law unfairly targeted biological men who identify as women, black and minority individuals and led to unsafe conditions for sex workers. 
GOP Assembly leader James Gallagher argues that the new law enables human trafficking. 
"California Democrats' policy of legalizing crime is creating more victims by the hour," Gallagher said in a statement. "Under Democratic rule, families and businesses are moving out, while human traffickers are moving in. It was clear from the get-go that this law would encourage and enable human trafficking, but that was apparently an acceptable result for the lawmakers who backed it."
Wiener said the law doesn't prevent officers from arresting people for prostitution. 
"The police's hands are not tied," Wiener told the media last week. "They can arrest people for soliciting, they can cite vehicles that are stopped in the middle of the street, they can arrest 'johns,' they can arrest pimps."
Wiener argues that blaming the new law is a "cop-out" considering the prostitution "problem has been around a lot longer."
"The situation on International Boulevard is unacceptable, but it is not the result of SB 357, a bill that attracted support from a broad coalition, [including] California's leading human rights organizations," Wiener told Fox News. "Activity in this area apparently began to rise over the summer, months before my bill came into effect and perfectly timed with nearby road construction that pushed sex workers out of their usual territory and into this adjacent residential area."
As The Christian Post reported, San Franciso is also attempting to find a solution regarding homeless encampments throughout the city and finding housing for people without a place to stay.
In December, U.S. Magistrate Judge Donna Ryu issued a preliminary injunction prohibiting the city from punishing homeless people for sleeping on public property and confiscating their belongings. 
Ryu criticized the city for failing to provide homeless people with shelter before clearing their encampments and said that she found the city's arguments for taking enforcement actions "wholly unconvincing." 
The judge wrote that the defendants rely on declarations of San Francisco employees who "generally walk through how the city typically conducts encampment closures, without discussing any specific closures or providing supporting data or analysis of the same." 
According to the federal judge, the injunction will remain effective "as long as there are more homeless individuals in San Francisco than there are shelter beds available."
The decision follows a lawsuit filed against the city in September by advocacy groups such as the American Civil Liberties Union (ACLU) and the Coalition on Homelessness, alleging that the city violated the rights of "unhoused people" by "punishing residents who have nowhere to go."