Chilean President Praises 11-Year-Old Rape Victim for Not Aborting Pregnancy
Chilean President Praises 11-Year-Old Rape Victim for Not Aborting Pregnancy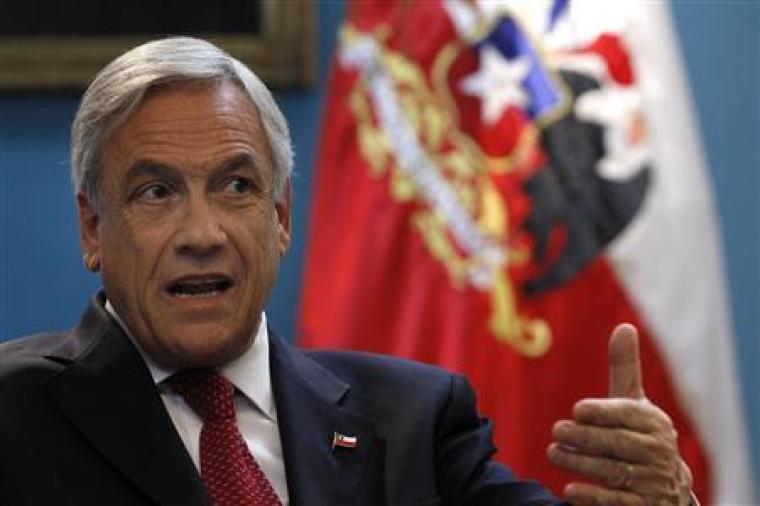 Chile's conservative president, Sebastian Pinera, stirred angry emotions in that country on Tuesday for praising an 11-year-old for her "depth and maturity" in deciding not to abort a pregnancy resulting from repeated rapings by her mother's lover.
His comments have also triggered a fiery national debate on abortion in one of Latin America's most socially conservative countries where it is illegal, even for rape or medical reasons, according to an Associated Press report. The Pinera administration is against any compromise on the abortion ban.
"I've asked the health minister to personally look after the [girl's] health," Pinera said in the report. "She's 14 weeks pregnant, and yesterday she surprised us all with words showing depth and maturity, when she said that, despite the pain caused by the man who raped her, she wanted to have and take care of her baby."
The girl who is in the fifth grade was reportedly raped over a two-year period by her mother's lover who has confessed to his crimes. The girl's mother, however, defended her partner claiming the relationship between him and her daughter was consensual.
"It will be like having a doll in my arms," said the girl whose face was hidden during an interview with local Canal 13. "I'm going to love the baby very much, even though it comes from that man who hurt me."
Divorce only became legal in Chile in 2004, making it one of the last countries in the world to allow couples to legally separate. Three bills to ease the absolute ban on abortions were also rejected by that country's Senate last year.
While Pinera argues that the country is protecting the girl's health, experts argue that her pregnancy is putting her life at risk and she is not prepared to make the decision whether to keep it or not.
"At that age the girl doesn't have a capacity of discernment, not even at age 14 would she have the mental and emotional capacity to discern this," Giorgio Agostini, a forensic psychologist who has worked on dozens of child sex abuse cases, noted.
"It's very likely that she is saying that she wants to have the baby like a living doll. We've seen this in other investigations," he added. "So what the president is saying doesn't get close to the psychological truth of an 11-year-old-girl. It's a subjective view that is not based on any scientific reasoning to support it."
Former president Michelle Bachelet favors legalizing abortion in cases of rape or risks to the health of the pregnant woman or the child. The pediatrician who spent the past several years heading the United Nations agency for women, and is the frontrunner in the Nov. 17 presidential elections also discussed the controversy in a recent interview.
"She's a girl who needs to be protected and therefore I think a therapeutic abortion, in this case because of rape, would be in order," said Bachelet to local Radio ADN.
Pinera previously expressed why he was against abortion in a 2012 newspaper column. "As a Christian I believe that life is a gift from God," he wrote in El Mercurio. "Only he has the right to give life and the right to take it away. For that reason, I support protecting life and human dignity from conception to natural death."