Chris Brown Prays for Fan Who Allegedly Vandalized Property, Threw Away His Daughter's Clothes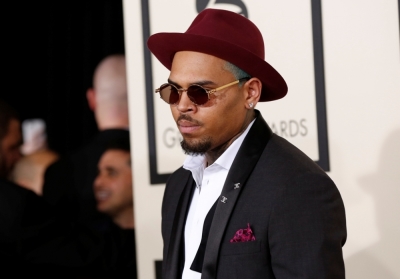 A fan of Chris Brown reportedly broke into his home Thursday and vandalized his property, but the rapper who just finished serving six years probation for physically assaulting his ex-girlfriend said he chose to pray for the woman he found naked in his bed after she allegedly trashed the belongings of his daughter and dog.
Brown, the 26-year-old R&B star, returned to his Los Angeles home Thursday where he found the words "I love you" plastered on a wall and the hinges removed from the doors where Amira Ayeb, 21, entered and reportedly left her mark. The singer gave an account of the events that took place on his Instagram page, while posting a photograph of Ayeb.
"I get home and find this crazy individual in my house. She had broken the hinges off the doors," Brown wrote in a post that has since been removed. "She found time to cook several meals. She wrote 'I love you' on the walls."
The singer went on to explain that Ayeb threw away his daughter's clothing and dog's items, while she left "all these crazy voodoo things" around his home. Despite the actions that Brown deemed "crazy," the singer said he would pray for her.
"Goes to show you how crazy people are crazy! And she painted her name on my cars," Brown exclaimed on the Instagram post. "I love my fans but this is some on some real real crazy [expletive]! I pray she will get help."
The Los Angeles County Sheriff's Department in Agoura Hills confirmed much of Brown's story, according to The Los Angeles Times. Ayeb was arrested on suspicion of burglary and vandalism, and Brown left a detailed account of what happened before taking down the perpetrator's picture from his Instagram account.
Brown has had his own share of run-ins with the law, including serving six years of probation for assaulting his ex-girlfriend, singer Rihanna, in 2009, with subsequent violent acts that followed. Most recently, a man accused the entertainer of assault during a Las Vegas basketball game but dropped charges brought against Brown earlier this month, the Las Vegas Metropolitan Police Department reports.
Now Brown may be ready to put his past behind him as a new father to 11-month-old daughter, Royalty, whom he shares with model Nia Guzman-Amey. While celebrating his 26th birthday on May 5, Brown took to Instagram to share his seemingly newfound positive outlook on life.
"We create our own outcome and destiny in life. My path has been a very blessed 26 years on this planet and I'm still learning I can only be the best I can be," Brown wrote. " Sorry enough with the rants! Thank God! I'm grateful and thankful."
Despite many of the obstacles and setbacks he has faced publicly, Brown has made it clear that his Christian faith molded him throughout the years. In 2012, the singer appeared on MTV's "This is How I Made It" program where he opened up about his humble beginnings in a church where he grew up in Tappahannock, Virginia.
"It was difficult growing up. We didn't have everything we wanted," Brown revealed on the episode that aired three years ago. "We were used to two pairs of shoes for a school year. We used to go to church every day. I was one of those kids that had more church clothes than school clothes."
The Grammy Award-winning R&B star said church taught him a lot about music and he spoke about the place of worship becoming a form of discipline for him as a child.
"Monday, Tuesday, Wednesday we had choir rehearsal and the band, the whole nine. So being able to get that music lesson was also a blessing in itself," Brown said on the show. "It was also a discipline. I think my mom knew what she was doing like, 'OK I'm going to keep you out the streets and put you in the church first.'"