Christian Adamek Commits Suicide at 15; Faced Charges for Streaking at Football Game
Christian Adamek, 15, took his own life after being arrested for streaking during a high school football game in Harvest, Alabama. Family and friends remember Adamek as a playful young man who had an energetic spirit.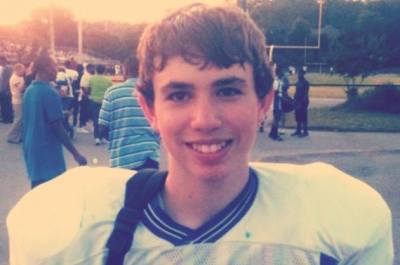 Adamek streaked across the football field during a September 27th football game against Grissom High School. While many laughed off the prank and chalked it up to youthful indiscretion, law officials were not so amused. Adamek was disciplined by the school district and faced legal action by the Madison County court system.
"There's the legal complications," Principal Michael Campbell told WHNT News. "Public lewdness and court consequences outside of school with the legal system, as well as the school consequences that the school system has set up."
According to reports, public lewdness charges in Alabama could lead to one being listed on the state's sex offender registry. Adamek also faced expulsion, according to his sister, who posted the information on Twitter.
"Our prayers and thoughts are with the family during this time of bereavement," a statement from the Madison County school district read.
Friends and family gathered together to remember Adamek's life and energy at a memorial service. They wore orange ribbons in his honor.
"Let this service bring some of that comfort we desperately need," Pastor C.W. Turner said during the memorial.
"There are two kinds of people in the world," Adamek's Boy Scout Troop master added, "ones that brighten the room when they walk in and those that don't. He was one that brightened the room when he walked in. That's what I'll always remember about Christian," David Silvernail said.
Adamek's mother, Angela, also spoke at the assembly and offered advice to all those gathered.
"Remember to smile; don't be afraid to do something goofy and remember the consequences of those actions. Ask for help when you need it. Ask for help if you think your friends need it if you don't know what to do; be quirky, be happy, be smart," she implored.
Here is a related video: