Christian Bus Driver Fired for Refusing to Drive Gay-Pride Themed Bus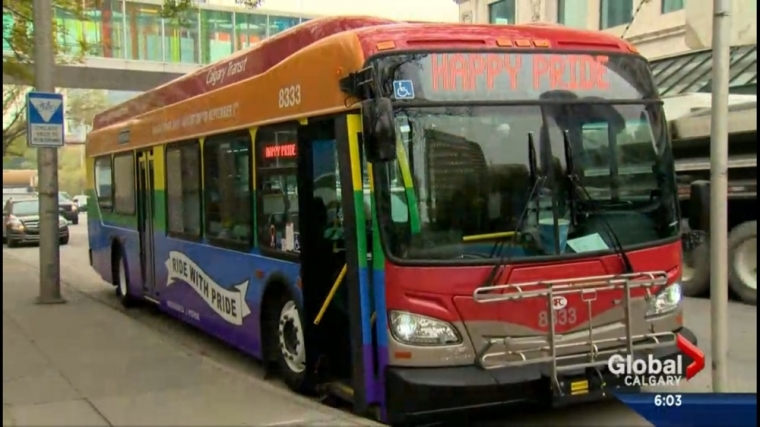 A Christian bus driver from Calgary, Canada, has been fired from his job after he refused to drive a rainbow colored bus promoting the city's gay pride event. Calgary Transit has claimed, however, that the Christian was fired for making false statements to the media, and not because of his refusal to drive the bus.
Jesse Rau said back in August that driving the gay-pride bus goes against his religious beliefs, and on Friday revealed that he had been fired from his job.
"It's something that I 100 percent expected," Rau told reporters, according to Calgary Herald.
"I expected that my job was totally on the line," he added, noting that he had been on the job for a year and was nearing the end of his probationary period. "The fact that they fired me, it's hurtful, but … I knew that was on the table."
The city of Calgary insisted in its termination letter, however, that Rau was being fired due to breaching the city's media relations policy, and not because of his beliefs.
"To be clear you are entitled to your religious beliefs and to express them freely. However, you went beyond that and made false and misleading comments during various media interviews, which resulted in undue controversy and put the reputation of the city at risk."
The letter further states that he is unsuitable for employment and the city has set his status on "do not rehire."
Rau has said he was told that any bus driver might be assigned to operate the rainbow-colored bus, while the city has claimed that they specifically told Rau he would not be assigned the route, CBC News reported.
Calgary's authorities are also claiming that Rau posted "Nazi-related content" on social media.
Rau explained, however, that the image in question, depicting a Nazi shooting a Jew holding a child in the back, is supposed to be anti-Nazi in nature.
"They didn't understand the photo," the bus driver said. "I believe we're losing our freedoms in the West."
Rau said that his opposition to driving the bus has had some effect, as Calgary Transit has decided to actually ask drivers if they want to drive the bus.
"That's awesome. That's how it should have been in the first place," the bus driver said.
Transit Director Doug Morgan insisted that all employees are expected to follow the city's media and public comments code.
"What we want to do is make sure when statements are made publicly that they reflect truthfulness in the corporation and the values put forward by the city of Calgary and council," Morgan noted.
Rau's pastor, Artur Pawlowski of the Street Church in Calgary, has said that he is expecting hundreds of people to attend a rally in support of the bus driver at Calgary City Hall on Oct. 10.