Christian Charities Take on Border Crisis' Humanitarian Needs, Serve Refugees With 'the Heart of Christ'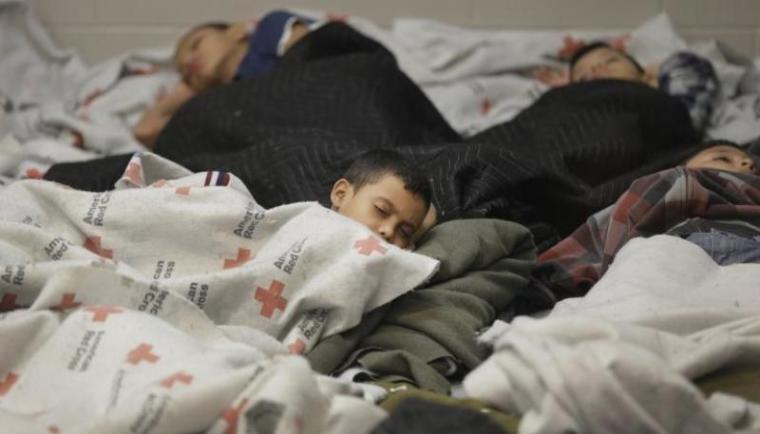 Despite the heated political debate about whether or not to deport the tens of thousands of immigrants who've entered the U.S. illegally through Texas, Christian charities operating in border states say they're serving those in need with a heart of Christ.
"The need is massive," pastor Chad Mason of Calvary Baptist Church in McAllen, told The Christian Post Saturday. "The goal is to do the best we can to serve with the heart of Christ in Matthew 25. We still have a lot of work to do."
Mason estimates that last month alone, Catholic Charities and other volunteers in McAllen helped 6,000 Central Americans who've crossed into Texas seeking refugee status for asylum in the United States.
"We started our work in April," said Mason, who explained that he first heard about the spike in people crossing the border from Border Patrol agents in December.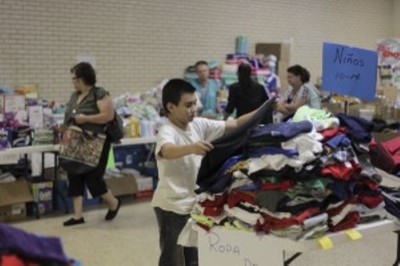 Volunteer organizations are providing food, clothing, water, meals and showers; and the Texas Baptist Men have provided a wash and dry station that has three to four washers and dryers where volunteers are laundering more than 100 towels a day. Volunteers are also collecting quarters to wash clothes and blankets for the immigrants, some of whom have lice and scabies.
Part of Mason's work has been to facilitate incoming donations to ensure they meet the most immediate needs, which he told CP are changing daily, as one need is filled another need must be met.
For those who want to help and provide donations, Mason said the best place for people to go to is South Texas Refugee Response (SouthTexasRefugees.org), that provides a way for people to volunteer, make a monetary donation, or send items, such as food, clothing and cleaning supplies.
Behind the scenes over the last few weeks, Mason said he's been talking to White House staff and Border Patrol leaders to enable churches to meet specific needs of those who are entering into the U.S. Mason told CP that he prefers to use the term "refugees," instead of what he believes are politically charged words, such as "aliens" or "illegal immigrants."
Mason asserted that the city's staff in McAllen have also been using the term "refugee," because the people are fleeing from violence and because, as he said, it's the official status that they're requesting.
Some of the illegal immigrants are given bus tickets to be reunited with family members who are already living in the U.S. For others, the Health and Human Services Department is coordinating with the Office of Refugee Resettlement to move them to other locations throughout the U.S. While many ORR sites have yet to be named, one will be located just outside McAllen, and another will be at Ft. Sill, Oklahoma.
In California, a state which is not expecting to receive any more illegal immigrants from Texas at this time, John Andrews of the Catholic Diocese of San Bernardino County, told CP that Homeland Security buses transported illegal immigrants to two area churches last Thursday.
"We've been told that we won't be receiving any more people [at St. Joseph Roman Catholic Church in Fontana as part of the Diocese of San Bernardino's cooperation with U.S. Immigration and Customs Enforcement.] At one point, we were told it would be through July in a meeting that we had with the federal authorities two weeks ago, but we understand that the situation is very fluid," Andrews said.
"They told us Thursday that there was going to be no more flights from Texas to California with migrant people, but we're just preparing ourselves. We've done it once, and we're prepared to do it again," he added.
"We had 46 people come Wednesday, and we still have three families here. But a vast majority of people have already been ministered to and helped to get on their way to see the loved one that they came to be with in the United States," continued Andrews, who added that donations to the diocese paid of the immigrants' transportation to be reunited with their families who are living in California and other states.
In response to those who are critical of Christian churches and charities that are helping those who've entered the U.S. illegally when there are U.S. citizens who are also in need, Andrews suggests looking at the border crisis as a humanitarian crisis.
"I would encourage them to view this as a humanitarian crisis. When your brother or sister presents themselves to you in their need, as we know from the parable of the Good Samaritan, then we don't pick and choose," he explained. "We don't say, 'Well, we're going to help this person in need but not that person in need. When you see a person who's presenting themselves to you and you can see clearly that they need your help, you see the Lord Jesus in them, and you help them."
"The Scriptures are full of references about that — the Old Testament, the New Testament; it's very clear how we need to respond," he asserted.
"We are treating this as a humanitarian effort and looking at this in exactly the same way we would if there was a natural disaster in our diocese. And we're saying the primary concern is these people are here in our midst and they need our help."
Andrews told CP that among those who were transported to Fontana, he heard that some illegal immigrants were from as far away as Ecuador. While he didn't meet them personally, he was told that all were grateful for the help they received from the diocese after leaving the detention center in San Diego.
"I know that they talked about the conditions that they had just come from in the detention facility in San Diego. They felt that, by comparison, this place was a paradise for them. There were toys for the children to play with, and it was nice to be able to give them a break from the trauma of their journey," he said.
Andrews added that while the Catholic Church has a definite position on the issue of immigration public policy, the diocese has not waded into the debate about whether the illegal immigrants should be allowed to stay.
"I know that they have with them paperwork they received after being processed in San Diego that allows them to legally be in the United States, pending their court hearings for asylum."