Texas Gov. Rick Perry Says Obama Administration 'Is Not Serious About Border Security'
Texas Republican Gov. Rick Perry said that with 1,000 illegal immigrants crossing the United States' southern border into Texas every day, the Obama administration is neglecting its constitutional duty to secure the nation's borders. Perry has also asserted that the administration "is not serious about border security."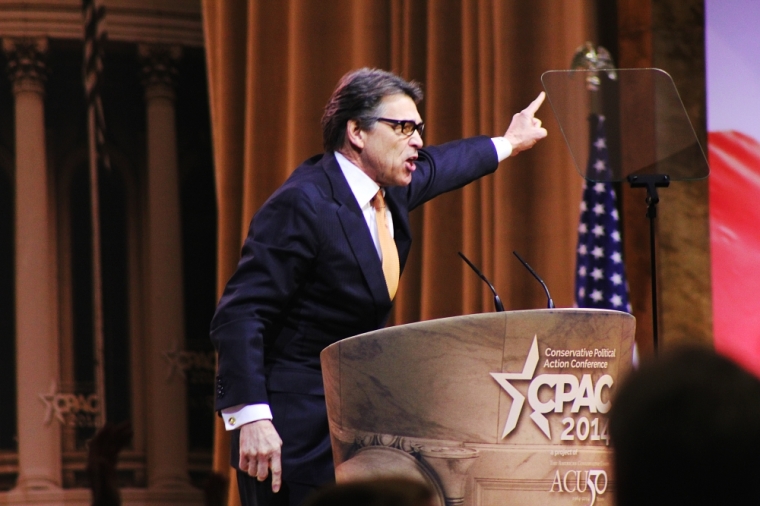 "We either have an incredibly inept administration, or they're in on it, somehow or another. I hate to be conspiratorial, but how do you move that many people from Central America across Mexico and then into the United States without there being a fairly coordinated effort?" asked Perry, who posed the question to Fox News host Sean Hannity Tuesday night.
Parry explained that with having 47,000 illegal immigrant children crossing the border since October — a number that does not include illegal adults entering into the U.S. — the state's becoming overwhelmed as facilities that are typically reserved for citizens during natural disasters are being filled to capacity.
"It is an absolute overflowing mess is what it is," Perry said. "And this is something that we brought to the attention of President Obama over two years ago, back in 2012. We flagged this and we're still waiting for a response, not just from the president but from the administration. It is a major problem — 1,000 people a day is what we're seeing apprehended at the current rate. It's an impossible number to get your hands around."
"Here's my big concern: as the governor of Texas, a state that on a very regular basis gets hit by some major events — I'm talking about hurricanes. We're going into hurricane season," he emphasized. "If we were to have a Katrina, where we have a massive inflow of people from another state, or in our own state we have to evacuate from the coast, I don't have any place to go, because the facilities we have historically had available to house our citizens in the U.S. are full of individuals who are coming in from Mexico."
During a news conference in Washington, D.C. last Thursday, U.S. Secretary of Homeland Security Jeh Johnson said the administration is discouraging parents in Central America from sending their children to the U.S. based on the hope that they will gain citizenship when Congress passes immigration reform.
"Those who cross our borders today, including children, are not eligible for an earned path to citizenship pursuant to that legislation," Johnson said according to Reuters. "I also wish to make clear that those apprehended at our border are priorities for removal. They are priorities for enforcement of our immigration laws regardless of age."
Border control agents, Immigration and Naturalization Service agents and local law enforcement are overwhelmed by the large numbers of people who are crossing the U.S.–Mexico border, said Perry, who noted in an earlier Fox News interview that illegal immigrants crossing over from Mexico into Texas aren't only coming from Central America and Mexico, but also from Middle Eastern countries, such as Syria.
"We just don't have the resources needed," he added, while lamenting that the state has already used millions of Texas taxpayers' dollars to assist with the influx of illegal immigrants.
"This is a national disaster, and this administration refuses to address the constitutional requirements to secure our border. We have put over $500 million in Texas taxpayers' money into assisting with this, and we get zero help from this administration when it comes to addressing its core responsibilities."
He continued: "The federal government has enumerated constitutional duties, and this is one of them. This administration is totally failing. The administration is not serious about border security; we have known that for a long time. Congress refuses to deal with the issue, and the American people are going to demand that we secure the border."
In order for members of Congress to have successful immigration reform, Perry asserted that the border must be secured and suggests that the INS agency be overhauled.
"If you don't reform the INS, then you are completely wasting your time."