Child Trafficking Victims Taken From Parents in Bangladesh Forced to Convert to Islam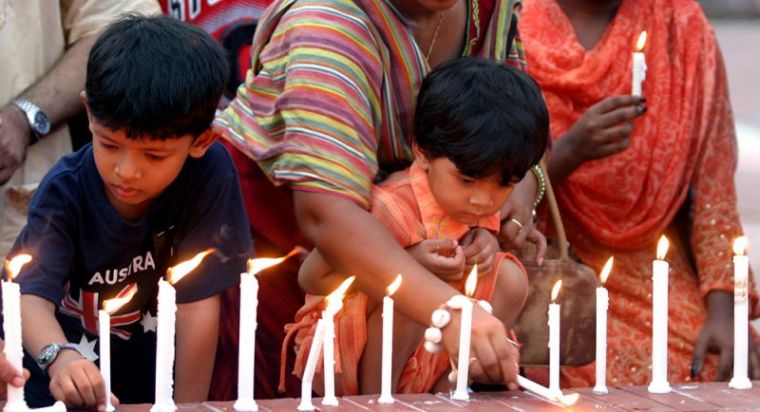 Scores of indigenous children in Bangladesh, including those from Christian and Hindu families, are being trafficked in crime rings and forcefully converted by radicals into Islam.
The Dhaka Tribune reports that police have rescued at least 72 children in the past seven years from crime rings that target underprivileged families and lure their children away with false promises of a better education and lifestyle.
In actuality, the fanatical groups convert the children into Islam without the parents' knowledge.
The poverty-stricken Christian and Hindu families are reportedly manipulated by the radical groups to send their children away, but recent arrests of criminals involved in the crime ring have exposed the true intentions of such groups.
During a police raid on Jan. 1, four children were rescued from the Betchhara locality under Roangchhari upazila, aged between 9-13 years, who were the victims of human trafficking.
The trafficking cases have been investigated for years, the report noted, with Buddhist children targeted as well.
In one major case in January 2010, 33 Buddhist children were rescued from a motel in Bandarban town, while another 16 indigenous children from Habib Residential Hotel were rescued a month later before they could be trafficked to Dhaka.
Aung Cho Mong, president of the Bandarban sadar upazila human rights commission, said if awareness is raised for how such children are trafficked, then parents will be better informed and less willing to hand over their children.
The Unrepresented Nations and Peoples Organization commented on the story, adding: "Indigenous communities in the Chittagong Hill Tracts are often already victims of land-grabbing and displacement. The forced religious conversion of young children adds yet another facet to the already severe marginalization of ethnic and religious minorities in Southeast Bangladesh."
Christians only make up around 1 percent of the Muslim-majority population in Bangladesh, though other reports, such as one by Christian Freedom International, have said that a growing number of Muslims are converting to Christianity.
"When I began my ministry in Kurigram, there was only one traditional Christian family and one Muslim background family," said Pastor Faruk al-Ahmed, a Christian convert from Islam, in July 2016. 
"Now, almost 1,500 believers from Muslim backgrounds are glorifying God in this area."
"Persecution will come more but the believers and I are ready to face it," al-Ahmed added.
Other persecution watchdog groups, such as Open Doors, have said that Christians are forced to practice their faith away from the public eye, or they could face retaliation for their worship.
"Churches, especially house churches where Muslim-background believers meet, prefer not to display any Christian symbols in order to avoid being recognized," Open Doors said.
"Sometimes, even historic or Mainline churches face opposition and restrictions in putting up a cross or other religious symbols."