Christian Convert Forgives Muslims Who Beat Him With Bat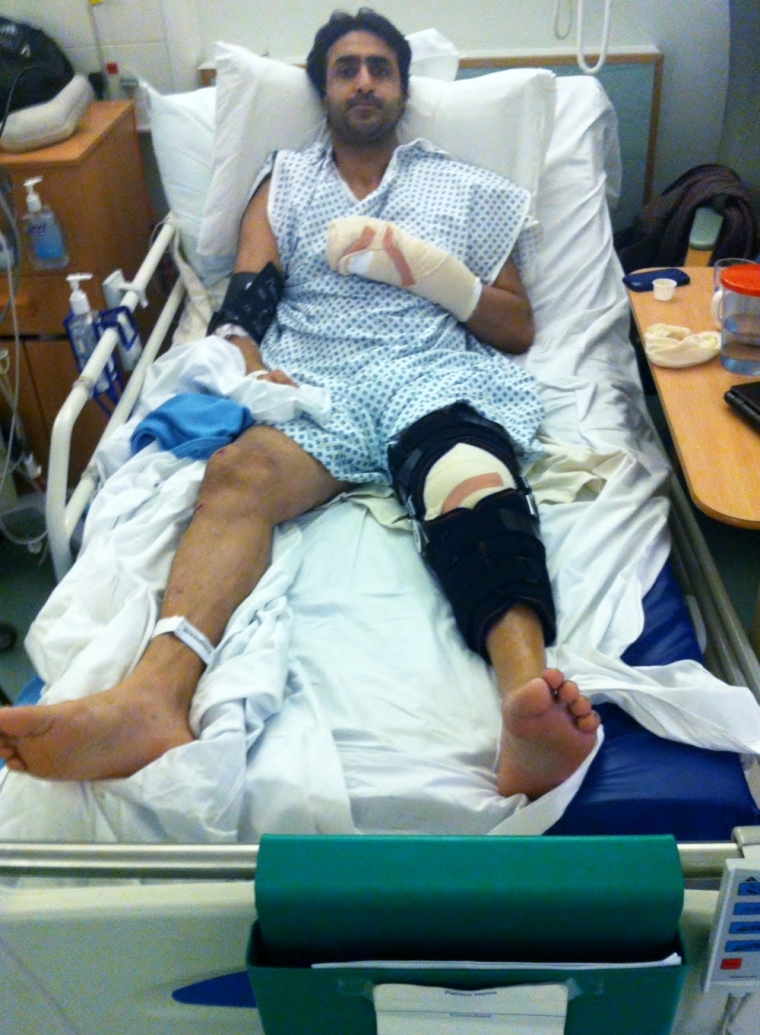 A Christian convert in England who has endured years of persecution and was hospitalized last month after being beaten by angry Muslims for converting from Islam, says he has forgiven his attackers.
Nissar Hussain, a 50-year-old who lives in Bradford, England, was attacked on Nov. 17 outside of his home by three Muslim men for apostasy, according to the British Pakistani Christian Association. Hussain had converted to Christianity in 1996, a decision that has resulted in severe persecution for him ever since.
While one assailant waited in the car, BPCA reported, two of the Muslim men attacked Hussain and beat him with punches, kicks and a cricket bat. The assault ended when a passerby noticed the altercation and chased after the attackers.
According to the British Pakistani Christian Association, a relief organization for persecuted Pakistani Christians, the beating left Hussain with a fractured kneecap, fractured hand and forced him to spend 11 days in the hospital where surgery was needed.
Although the extent of Hussain's injuries was horrific, his family said they have had to deal with this kind of persecution from Muslims since Hussein and his wife, Kubra, gave their life to Christ nearly 20 years ago.
Since converting, Hussain has been threatened, had many of his cars destroyed, had the windows of his home broken and has been the victim of several assaults.
This week, Hussain spoke at the Eden Christian Centre church in Ilford, London, during an event organized by BPCA Chairman Wilson Chowdhry. Hussain stressed that even though he is tired of being persecuted and is planning to move to a new town, Jesus has called on him to forgive all of his attackers.
"Over the years we have been called to re-exercise our faith and deep in faith we have forgiven our attackers," Hussain stated. "This is what the Lord requires of us as He forgave while He was hung on a cross. He forgave those who persecuted Him."
He continued, "I felt the Lord's presence so intimately and the Lord has come through for us in miraculous ways that we could never have imagined. Despite the recent brutal attack outside my home, I have no doubt whatsoever that the Lord was watching over me and preserved my life as it could have been fatal. I felt His warm and glowing presence throughout the ordeal and its aftermath."
Although Christian churches love to hear stories of conversion, Hussain asserted that churches in the U.K. need to do a better job of supporting the converts from Islam.
"The church has to awaken and realize that the convert's dilemma is a very grave and dire one. The church has a moral duty to support and provide comfort for those who convert to Christianity and should so with the vigor and compassion of Christ," Hussain urged. "It is essential churches do not cave in to fear and political correctness, because the Lord did not give us a spirit of fear but one of power, love and a sound mind."
Chowdhry is calling on the British government to uphold justice and protect individuals facing persecution at the hands of hardline Muslims.
"Nissar's story is one of many stories of persecution faced by converts in the UK. Britain's laws do protect against such attacks but the silence from within the Muslim community and the large number of Muslims offended by conversion, mean that existing strategies to combat such hate crime are simply not fit for purpose," Chowdhry declared. "We are calling for changes to the Race and Religious Hate Act of 2006 to incorporate apostate protection and alterations to policing practice and policy to ensure victims are better protected."
The BPCA has launched a fundraising effort to help support Hussain's quest to relocate his family.
Additionally, the BPCA has launched a petition calling on the U.K. government to "defend the rights of people in the United Kingdom to change their religion or belief without fear of persecution from any opposing individual or community."