Christian Couple Forced to Close Bakery Due to Gay Activism May Face Over $150K in Damages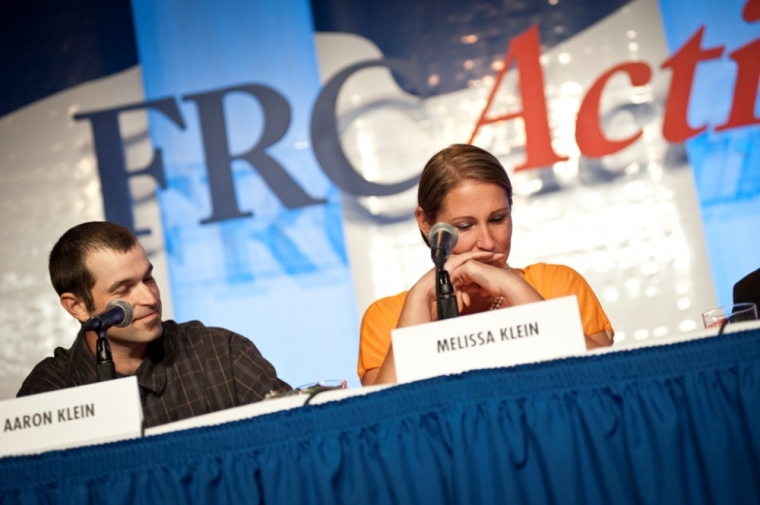 WASHINGTON — Oregon couple Aaron and Melissa Klein were forced to close their bakery after declining to bake a wedding cake for a lesbian marriage ceremony and are now facing the threat of having to pay $150,000 in damages.
Seated next to his wife at a panel on marriage at the Values Voter Summit on Friday, Aaron talked about their faith and what Melissa's bakery meant to her before they had to shut down their business.
"The boycotting, the harassment. I mean, quite frankly, they didn't just harass us they harassed the other wedding vendors that we did business with," Aaron told the audience without going into too much detail about their case due to pending litigation. "It cut off our referral system, we had to shut the shop down. … We were facing in excess of $150,000 in damages for this, just for simply standing by my First Amendment rights."
"I can't say it more forcefully," Aaron continued, "what it came down to was that [my wife] has a God-given talent to create a work of art to celebrate a union between two people."
"And to use that in a manner that would be in the face of what the Bible says it should be, I just couldn't in good conscience agree to do it," he asserted.
Last year when the Kleins came under fire for not baking a wedding cake for the lesbian couple, they cited their religious objections to homosexuality for the reason why they declined to do so.
Sweet Cakes' owners argued that they did not deny service due to the sexual orientation of the couple, noting that they had previously baked a cake for one of the women who had been a customer on a separate occasion.
Due to intense pressure from LGBT activists, Sweet Cakes closed its doors in the summer of 2013, with Aaron describing the activism as "economic terrorism."
"These people, they have literally tried to cut any business ties off through harassment," Klein said a couple months before the closure.
In her remarks during the panel discussion, Melissa started to cry as she described the lengthy process of designing and then baking a wedding cake.
"I am sorry," Melissa said, as she was consoled by her husband. "I would just feel so honored to be able to be a part of such an amazing special day."
Aaron then mentioned that when they opened the bakery, they had asked their pastor come out and officially dedicate the shop "to the glory of God."
After declining to bake the weddig cake for the same-sex wedding ceremony, the Kleins eventually had legal efforts launched against them, as a complaint filed in the Oregon's Bureau of Labor and Industries was made arguing that they violated the civil rights of the lesbian couple.
"That has now gone into the process where they have found evidence that suggests we discriminated. We're actually facing litigation at this point. Should be within the next couple of weeks as far as a court date," Klein added.
In addition to the Kleins, other members of the panel included Rep. Vicky Hartzler, R-Mo., National Religious Broadcasters CEO Jerry Johnson, and Eric Teetsel, executive director of the Manhattan Declaration.
Peter Sprigg, senior fellow for policy studies at the Family Research Council, gave some introductory remarks and moderated the panel discussion.
"The institution of marriage has been under stress for at least two generations now. The sexual revolution took sexual relations out of the sacred precincts of the marital bedroom and into any bedroom," Sprigg said.
"The severing of the once powerful bonds which linked sex and procreation to marriage has now reached its culmination in the effort to change the very definition of marriage itself."