Christian Democracy Activist Tortured With Cross-Shaped Staples in Hong Kong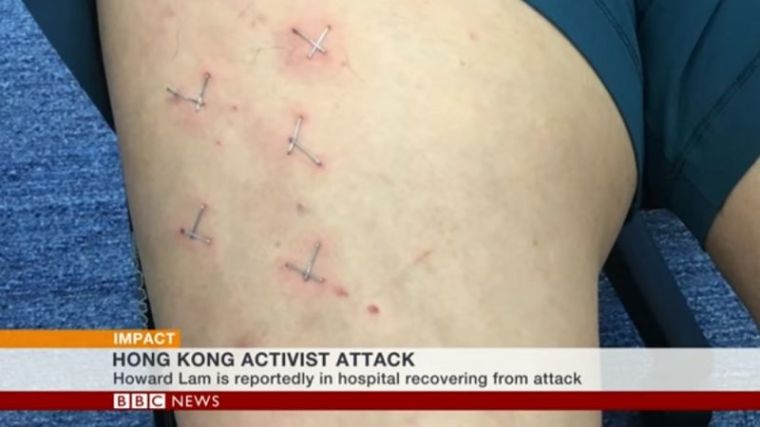 A pro-democracy activist in China claimed that he was abducted last Thursday and tortured by men believed to be government agents, who allegedly stapled 21 staples in the shape of crosses into his legs because of his Christian faith.
According to reports, Howard Lam, a member of the main Democratic Party in Hong Kong, showed reporters during a press conference in the city last Friday metal staples that he says were stapled into his thighs when he was abducted by unidentified men the day before.
Lam believes that the unidentified mandarin-speaking men who abducted him on Aug. 10 in the Yau Ma Tei area of Hong Kong's Yau Tsim Mong district were agents of the Chinese mainland government.
According to Premier Christian Radio, Lam explained that when he was kidnapped, he was hurried into a car and knocked out with a drug. After being beaten and tortured by his captors, Lam said that he was again drugged. He said he woke up the next morning lying on a beach in Sai Kung alone.
Lam claimed that the abduction came after he received a phone call warning him not to send an autographed photo of soccer star Lionel Messi to Liu Xia, the widow of anti-communist poet and Nobel Peace Prize winner Liu Xiaobo.
The 61-year-old Xiaobo, who was a Messi fan, died from cancer on July 13 while in Chinese custody. The whereabouts of his wife are now unknown.
According to the Hong Kong Economic Journal, Lam claimed that his abductors asked if he knew Xia.
Christian Solidarity Worldwide, a United Nations-accredited human rights organization, reported that Lam said he was beaten and rendered unconscious by his abductors.
There were 21 staples that were unloaded into Lam's thighs, as reported by CSW. According to Lam, the captors told him that the staples would be cross-shaped because he was a Christian.
"This shocking incident is a grave violation of Mr. Lam's rights under international law and, if the perpetrators were indeed agents of the Chinese Communist Party in mainland China, it is also an extremely worrying sign of the increasing boldness of mainland law enforcement operating in Hong Kong," CSW East Asia Team Leader Benedict Rogers said in a statement. "There appears to have been no legal basis for this abduction. As such, it is a severe violation of the principles of One Country, Two Systems and Hong Kong's Basic Law."
Rogers added that the "symbolic use of Mr. Lam's religion in his alleged torture" is an "alarming threat to freedom of religion or belief."
"We urge the Hong Kong authorities to launch a full and impartial investigation into the incident, and to guarantee the rights of all citizens, including the right to freedom from torture and freedom of religion or belief," Rogers added.
An official police investigation has been launched to substantiate Lam's claim. According to HKEJ, Hong Kong Secretary for Security John Lee Ka-chiu said during a press conference that no substantial evidence has yet been found in the investigation to support Lam's claim that he was abducted by mainland security agents.
The outlet reports that investigators are reviewing security footage of the scene where the abduction was said to have taken place. Lee said that investigators have also conducted street interviews and sent out questionnaires.
Lam's case has been listed under "false imprisonment, wounding and criminal intimidation."
HKEJ notes that many have questioned the veracity behind Lam's statements. Some have questioned why Lam did not immediately report the abduction to police when he woke up on the beach and why he damaged the evidence by washing his clothes.
However, Lam reportedly responded to some of the questions via his Facebook page on Sunday. HKEJ quotes Lam stating that he didn't initially give an oral statement to police because he didn't feel well. Additionally, he assured that he is not simply seeking fame from the situation.
According to HKEJ, Lam will leave China later this month in order to study in the United States.