Christian Grandma-Florist Fined $1,001, Ordered to Work Gay Weddings but Refuses, Says She Won't Betray Jesus; State Threatens to Take Her Home, Business Away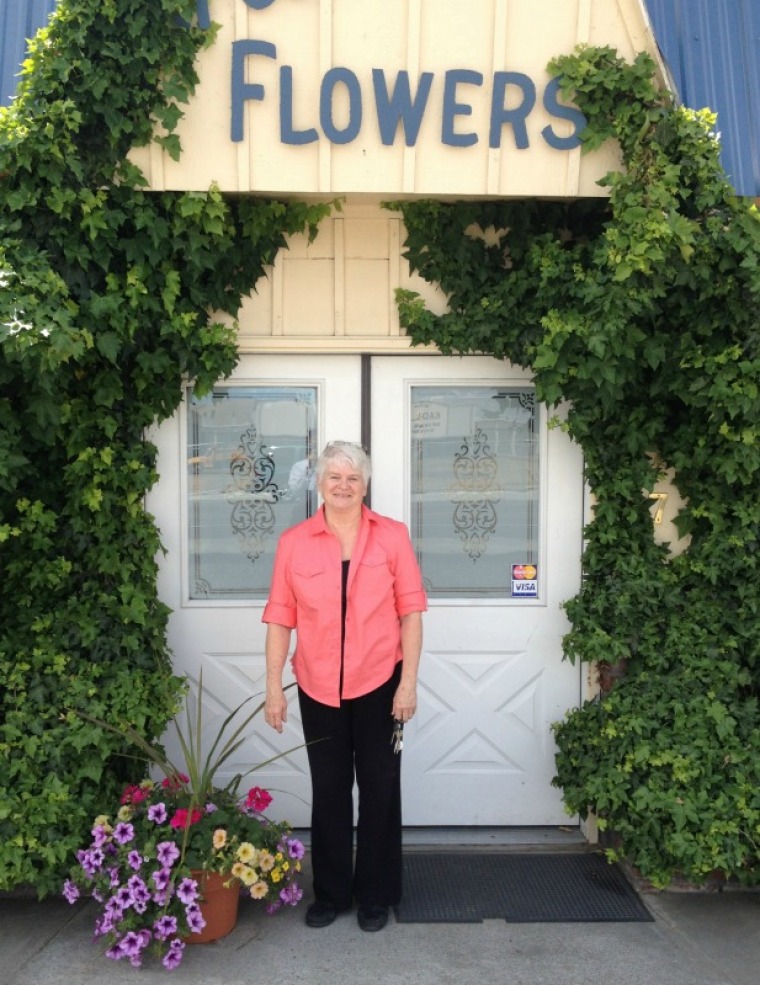 A Christian florist and grandmother who declined to provide flowers for a same-sex wedding because of her Christian belief in traditional marriage has been fined $1,001 by a Washington court and will be held liable to pay the legal fees incurred by the gay couple, which could "devastate" her financially.
As previously reported by The Christian Post, 70-year-old Barronelle Stutzman, the owner of Arlene's Flowers in Richland, Washington, was found guilty of violating the state's non-discrimination law in February, after referring Rob Ingersoll and Curt Feed to another florist when they asked her to provide the floral arrangements for their wedding.
Although Stutzman sold flowers to Ingersoll for nearly a decade and maintained a positive relationship with him, when he asked her to provide flowers for his same-sex wedding, she felt she could not act against her Christian conviction to serve her friend.
Afterwards, Ingersoll took to social media to voice his displeasure with Stutzman, which drew the attention of Washington Attorney General Bob Ferguson, who eventually filed charges against Stutzman, after she refused to comply with his demands that her shop serve gay weddings.
While Benton County Superior Court Judge Alex Ekstrom's Friday summary judgement orders Stutzman to pay a fine of $1,001, for now, and forces her to provide services for same-sex weddings, her lawyer, Alliance Defending Freedom senior counsel Kristen Waggoner, said that Stutzman is still at risk of losing her retirement savings and business as she will be responsible for paying the legal fees and damages incurred by Ingersoll and Freed, who were represented by the ACLU.
The court will hold off on making a decision on how much Stutzman will have to pay in legal costs and fees until after a ruling has been made on an appeal. ADF has indicated that an appeal will be filed. Additionally, the ruling will force Arlene's Flowers to uphold the state's non-discrimination law and serve gay weddings.
"Today's judgement affirms the court's earlier decision that Barronelle must pay a penalty for her faith and surrender her freedom and conscience," Waggoner said in a statement. "The penalty and fees imposed today are only the first punch. The ACLU, on behalf of the same-sex couple also suing Barronelle, has asked the court to award them penalties, fees, and costs, which will financially devastate this 70-year-old grandmother's retirement and personal savings. The message sent by the attorney general and the ACLU to the people of Washington is quite clear: surrender your religious liberty and free speech rights, or face personal and professional ruin."
Even though Stutzman faces the possibility of personal and professional ruin, she had the "option" to escape from her legal crisis if she had agreed to accept Ferguson's settlement offer, the day after she was found guilty in court, which was to pay a fine of $2,001 and agree to provide her services for gay weddings. Stutzman, however, felt she could not turn her back on Jesus in order to save herself or her business.
"Washington's constitution guarantees us 'freedom of conscience in all matters of religious sentiment.' I cannot sell that precious freedom," Stutzman wrote in a responding letter to the attorney general's settlement offer. "You are asking me to walk in in the way of a well-known betrayer, one who sold something of infinite worth for 30 pieces of silver. That is something I will not do."
"Your offer reveals that you don't really understand me or what this conflict is about. It's about freedom, not money," Stutzman continued. "I certainly don't relish the idea of losing my business, my home, and everything else that your lawsuit threatens to take from my family, but my freedom to honor God in doing what I do best is more important."
Attached to Eckstrom's judgement was a handwritten note further asserting that businesses that offer wedding-based services cannot refuse to provide goods to same-sex weddings, no matter what their religious beliefs are.
"All goods, merchandise, and services offered or sold to opposite sex couples shall be offered or sold to same-sex couples, including but not limited to goods, merchandise and services for weddings and commitment ceremonies," Ekstrom's note stated.