Christian High-Wire Artist Nik Wallenda Plans to Walk the Tight Rope Blindfolded in Windy Chicago Next Month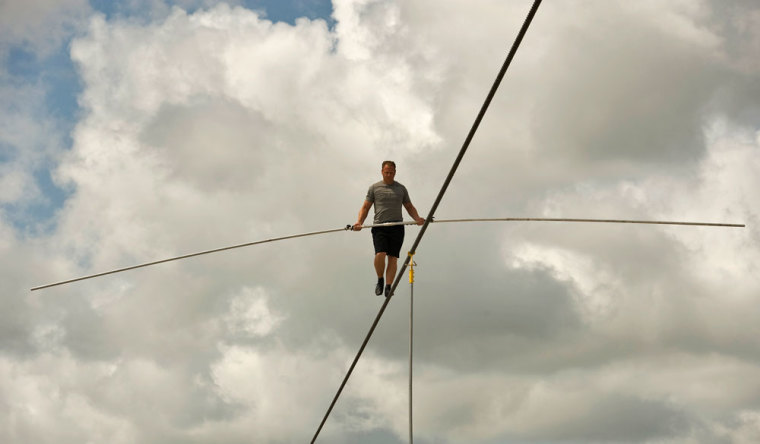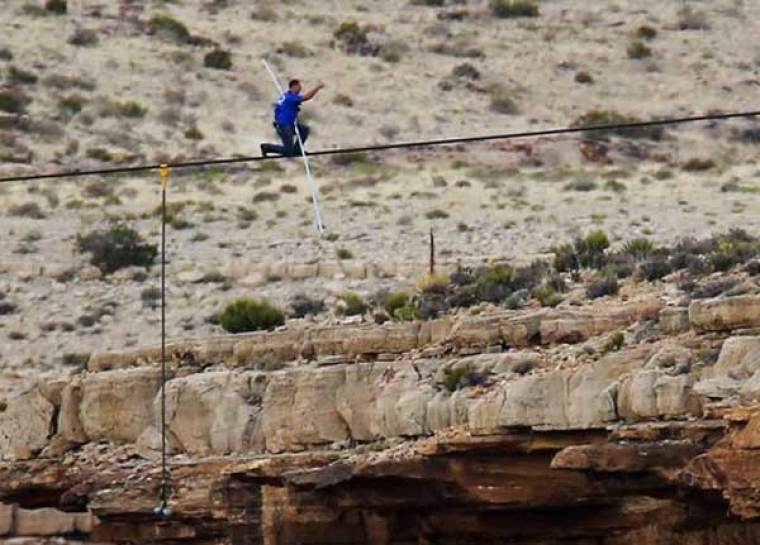 View Photos
High-wire artist Nick Wallenda said he plans to walk a tight rope 65 stories off the ground between the west and east towers of Chicago's Marina City building blindfolded next month in the hopes of encouraging others to challenge themselves.
Wallenda revealed the news on the Today Show Friday saying, "It's my passion. It's what I love doing and Chicago, the windy city that was very alluring to me. Most people think a wire walker doesn't want to go to the windy city but I enjoy the challenges. I enjoy challenging myself."
Wallenda, who tends to throw some surprises into his performances, is also planning a second high wire performance where he will walk uphill between Marina City's west tower and the Leo Burnett Building. He explained, "I'm walking from one building that's over 500-foot [sic] high across the river to a building that's over 650-foot [sic] high," meaning that Wallenda will be walking an incline of over 50 feet.
The married father of three has famously crossed the Grand Canyon without a harness. His great-grandfather before him, Karl Wallenda, was a high-wire artist who fell to his death in 1978.
Although he may seem like a reckless daredevil, Nik Wallenda told ABC that every performance is "extremely calculated." He explained, "I know that the wire is exactly the right tension and I trained on it. Also there are backup plans."
Wallenda is also propelled by three words: "Never give up." He told The Christian Post last July, "I believe that with persistence and with hard work and with that "never give up" attitude, you can accomplish anything … and with the grace of God."
Wallenda revealed in his book Balance: A Story of Faith, Family, and Life on the Line that he is a man of faith who often talks to God while walking the wire.
He told CP, "People often ask are you testing God. My answer is absolutely not. If I was testing God, I'd walk out in the middle of an interstate in the rain while a car was coming at me at 70 miles an hour and say 'God, if you're real the car will stop.' I don't believe God holds me on that wire in any way. I believe that God gave me a very unique ability to walk the wire and it's up to me whether I want to train properly or whether I want to prepare for it."
Wallenda will have to train for Chicago's wind gusts and cold weather. He hopes those watching will be inspired to challenge and push themselves to the limit.
Wallenda's high-wire walk will air live on the Discovery Channel November 2.