Christian High Wire Artist Nik Wallenda to Walk Across Grand Canyon Tonight
Christian high wire artist Nik Wallenda will attempt to cross the Grand Canyon on a tightrope, and this time without a harness, to make history. The Discovery Channel will air live his most daring feat yet on Sunday evening.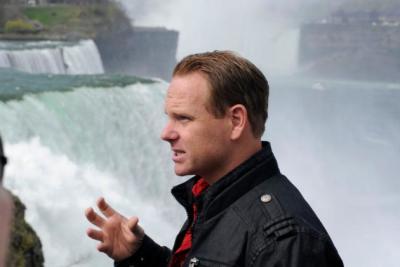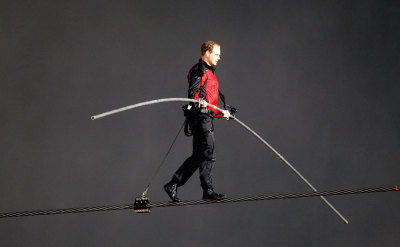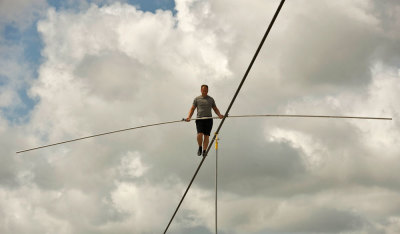 Wallenda, who is 34 and a married father of three, says he is looking forward to crossing the canyon. "Part of my Niagara dream was taken away because I had to wear a tether," he tells People magazine, referring to his feat last summer when ABC required him to wear a harness, though he still became the first man in history to walk 1,800 feet on a tightrope across the roaring Niagara Falls from the U.S. to the Canadian side of the waterfall.
"This one will be done the way I want to do it: just me and Mother Nature," he says while training in his hometown of Sarasota, Fla.
"I think the reason people think I have a death wish is that people can't relate to what I do," he adds. "What I do is extremely calculated. I know that the wire is exactly the right tension, and I trained on it. Also, there are backup plans. It's not as if I go, 'If I die, I die.' I train to stay on that wire. It's all about success."
At a height of 1,500 feet above the Little Colorado River Gorge, Wallenda will walk on a wire that is just 2 inches thick. While traversing the 1,400-foot-wide gap between the cliffs, he will have to adjust to sudden wind gusts of over 20 mph with no safety tether attaching him to his line, the Discovery says on its website about the live telecast, called, "Skywire Live with Nik Wallenda." "One wrong step could be his last."
It's not that he doesn't acknowledge the danger. His great-grandfather Karl Wallenda fell off a wire to his death in 1978. "Fear is a choice. It's funny, I say this all the time, 'fear is a choice but danger is real,'" he told The Christian Post earlier this month.
"I think of him (great-grandfather) on every walk I do," he tell People. "In order to carry on his legacy, I have to do it in a bigger and broader fashion."
About his preparation for the Grand Canyon walk, he told CP, "I visualize myself crossing the Canyon over and over again. I visualize myself making that first step, quarter of a way, half way, three quarters of a way and then finishing that walk. That's really a lot of the mental prep." For training, "I train all the time in Florida. Five days a week, I try to be on the wire three to four hours a day."
He is the seventh generation of the legendary Great Wallendas and began walking the wire at age 4.
Wallenda went on to say he often talks to God while he is on the wire. "I find that peaceful and relaxing and He's the only one up there listening to me."
The artist believes with persistence, hard work, "never give up" attitude "and with the grace of God," you can accomplish anything. However, he also believes in humility. "..I try to remain grounded and that's what a lot of the book's about – me being grounded with my family, with my faith and not letting my ego take over," he added, referring to his memoir, Balance, which was released on June 4.
Wallenda also told CP that his faith matters in what he does. "My life is based on my faith. I guess the biggest role that it plays is that if I do fall and die I know where I'm going."
He said he is often asked if he is testing God. But Wallenda stresses he is not. "If I was testing God, I'd walk out in the middle of an interstate in the rain while a car was coming at me at 70 miles an hour and say, 'God, if you're real the car will stop.' I don't believe God holds me on that wire in any way. I believe that God gave me a very unique ability to walk the wire and it's up to me whether I want to train properly or whether I want to prepare for it."
Nik Wallenda can be seen walking across the Grand Canyon on the Discovery Channel, Sunday, 8 p.m. ET.
Skywire Live: Nik Wallenda Walks Across Grand Canyon - Nik's Dad Interview
Skywire LIVE: Nik Wallenda Walks Across Grand Canyon - Technician Interivew