Christian Jack Phillips Hits Back Against Celebrity Baker Duff Goldman in Gay Wedding Cake Debate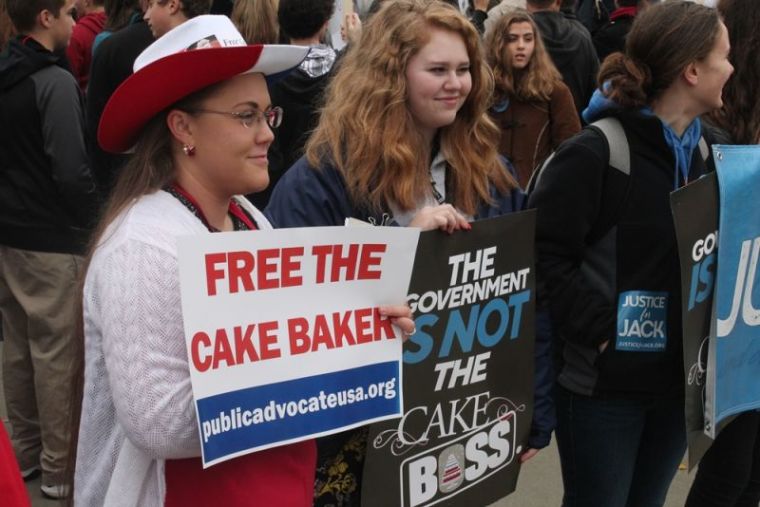 Christian baker Jack Phillips, whose religious freedom case was heard before the U.S. Supreme Court last week, has hit back against celebrity baker Duff Goldman and his argument that bakers must use their creative talents to serve gay weddings, regardless of what they believe.
Phillips, who has been backed and opposed by diverse groups, has argued that participating in a same-sex marriage goes against his religious beliefs that marriage is solely between one man and one woman.
Goldman, owner of the Baltimore-based Charm City Cakes shop, which is featured on the Food Network show "Ace of Cakes," argued in an op-ed in The Baltimore Sun last week that Phillips' case is about discrimination.
"We decided a long time ago as a society that it's fundamentally un-American to decline to serve someone because of who they are. That's what Mr. Phillips and anti-LGBT activists are trying to do. And if they succeed, it could have a devastating impact on the LGBT community and millions of others who unfortunately still find themselves at heightened risk of discrimination," Goldman wrote.
"Do we want a country where people can be turned away for their race, their religion, their sexual orientation or their gender identity? I don't — and I don't think most Americans do, either. We've had this national conversation before, and we shouldn't have to force our LGBT friends and neighbors to relive it now," he added.
Phillips wrote his response in the same publication on Thursday that he has respect and admires Duff's work, and that the two agree on important principles, such as serving everyone who comes through their doors.
"As a Christian, I have neither the liberty nor the inclination to discriminate. God calls me to love and serve all, and that's what I seek to do. While I am unable to express all messages or celebrate all events, all people are welcome at my shop, and I am happy and privileged to serve them," the Colorado-based baker wrote.
He explained, however, that he has declined cakes not only for gay weddings, but also some that "celebrate divorce, disparage LGBT individuals, celebrate Halloween, or contain sexual images or messages."
"In every instance, my choice not to create a cake had nothing to do with the individual and everything to do with the message or event," he wrote.
"If the sweetest little old lady entered my shop and asked for a cake celebrating divorce, I would politely decline. And if Charlie and David — the men who are suing me — came into my store tomorrow and asked for a custom birthday cake, I would be happy to sit down with them and design a cake to celebrate that occasion."
Phillips is asking the Supreme Court to overturn the guilty verdict he received from the Colorado Civil Rights Commission in 2014, which said that he discriminated against gay couple Dave Mullins and Charlie Craig in 2012 when he said he could not use his artistic talents to make them a custom wedding cake. Colorado did not legalize gay marriage until 2014.
Roger Erdvig, who heads Wilmington Christian School in Wilmington, Delaware, was one of many who spoke out following the Supreme Court oral arguments, telling The Christian Post in Washington D.C. that "this case is a watershed case."
Erdvig argued that there will be "downstream implications" for other people of faith if Phillips is "not affirmed in his right to say 'no'" when it comes to how he uses his artistic talents.