Christian-Killing Al-Shabaab Is Behind Somalia's Worst-Ever Bombing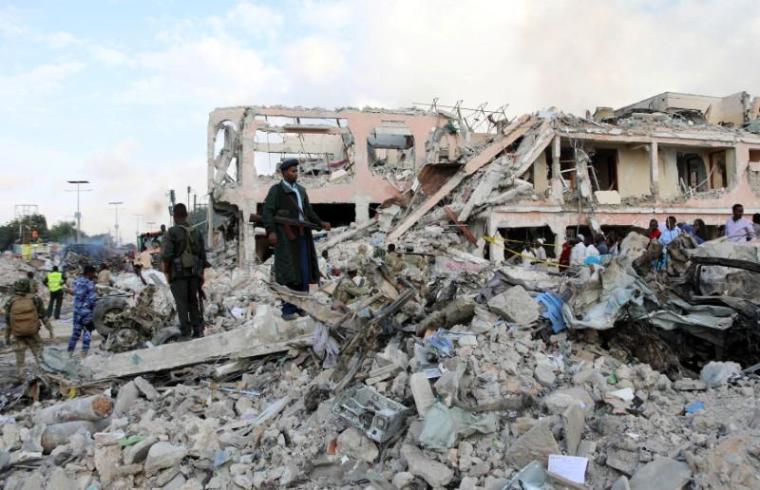 The Islamist militant group al-Shabaab, which is known for hunting down and killing Christians, carried out Saturday's massive bombing in Mogadishu that killed as many as 302 people, Somalian officials have said.
As The Associated Press reported, al-Shabaab has not yet commented on what is the single worst bombing attack in the nation's history, though government officials are insisting that the militants are responsible.
Al-Shabaab has been under siege by Somali and African Union forces, as well as from U.S. airstrikes on its bases, with hopes rising that the terror group is losing its hold over the country.
The Washington Post noted that the bombing on Saturday was a "demonstration of resilience" by the jihadists, however, who have also carried out attacks in neighboring Kenya over the years.
Pentagon spokesman Col. Rob Manning said the U.S. has close to 400 troops in Somalia, but refuted speculation that more soldiers will be sent in the wake of the deadly attack.
Manning clarified that sending more U.S. troops to the region "is something we would have to address based on a request."
Nairobi-based think-tank Sahan Research has said that 723 Somalis were killed in 395 bomb attacks in 2016, which was an increase on the 193 deaths from 2015.
The Islamic radicals began carrying out attacks in 2007, but Reuters reported that they have been steadily losing ground since they were driven out of Mogadishu in 2011.
Still, the terrorists continue to organize devastating bomb attacks and raids on villages. The radicals have beheaded, burned alive, and slaughtered a number of Christians in Kenya this past year, with witnesses affirming that the militants specifically hunt down and question followers of Jesus Christ.
Al-Shabaab took responsibility for the slaughter of 148 people, mostly students at Garissa University College in Kenya in 2015, where gunmen took over 700 students hostage, killing the Christians and freeing the Muslims.
Groups such as the The American Center for Law and Justice have warned that the beheadings and attacks on believers are bound to go on, as the Somali-based militants have an estimated 9,000 jihadis at their disposal.
"This heinous jihadist army must be stopped. Al-Shabaab's atrocities against Christians and brutal persecution of churches in Kenya can no longer be ignored or tolerated. We must be heard," the ACLJ urged in September.
"Al-Shabaab's actions are clearly deadly, demented, disturbing, and disgusting. We must defeat and destroy these Islamic jihadists."
Abdi Ismail Samatar, a Somalia analyst and geography professor at the University of Minnesota, pointed out that the jihadists have prepared ambush attacks on roads throughout the country, forcing troops to often use aircraft to move around.
"They are fighting with a bunch of guerrilla fighters who are exceptionally mobile, who are working in a huge territory in which there is no government, so they are able to do what they want at a time of their own choosing," Samatar warned.
A U.S. State Department official told WP under the condition of anonymity that despite the scale of the attack on Saturday, the U.S. still feels confident that it's driving out the radicals.
"As terrible as the individual attack is, the fact is we don't see this every day now in Somalia. This is extraordinary, and it doesn't change the overall positive trajectory we're seeing there," the official said.