Pakistani Christian Man Imprisoned for Praying to God, Healing the Sick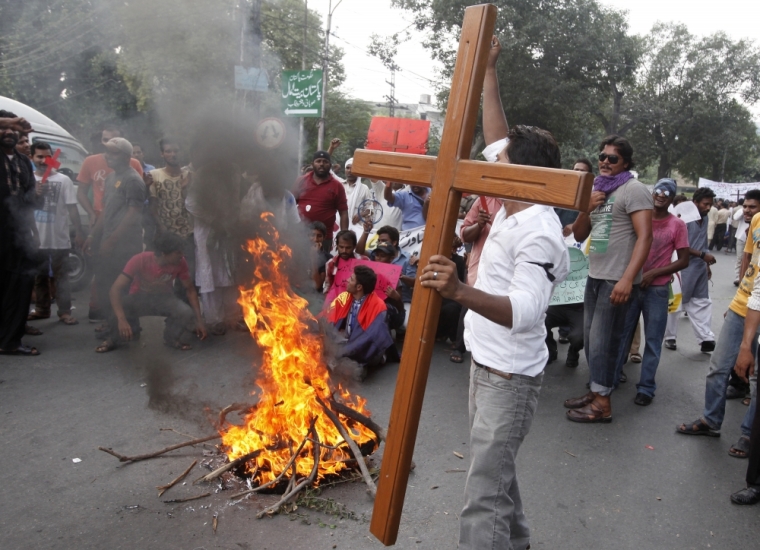 Policing authorities in the town of Sargodha in the Punjab province of Pakistan have arrested and charged a Christian man known healing the sick with allegedly committing the crime of blasphemy.
According to the British Pakistani Christian Association, Naveed John, a Christian resident from the Maryam Colony in Sargodha, was arrested on Oct. 8 and has been languishing in prison since his arrest.
The humanitarian agency's report states that John was arrested after police officers found a sword in his room that featured verses from the Quran inscribed into the blade. Family members told BPCA that police officials have demanded that they pay a bribe if they want John to be released.
But because the family refused to pay the bribe, the police have now accused John of blasphemy and have also registered an investigation report against him.
"The police First Incident Report states that police found a sword in Naveed's room inscribed with Kalma [Muslim proclamations]. It further states that a Christian should not be in possession of the Muslim sword and that knowledge of the sword in a Christian's possession could stir Muslims to violence," the BPCA report explains.
"The sword has been described as a gift from a friend that Naveed kept simply to show courtesy and avoid offence. He made sure it was kept safe and appropriately on a mattress off the floor to prevent any offence to Muslims."
It is likely that the motive behind John's arrest stems from the fact that he has prayed for many sick and "demon-possessed people," including Muslims, whom God healed through his prayers, according to BPCA.
Because of John's prayers and the "miraculous healing" that came from them, some Muslims he has encountered have given their lives to Christ, causing great tension in the community. The report states that many local Muslims constantly kept accusing him of crimes.
John's brother, Sakhawat Masih, explained to BPCA that even before his brother's arrest, police officers came to their house and demanded payment in order to provide the Christian family with safety from the Muslim community. The police promised the family members that if they did not pay, police would take action against them.
"Blasphemy laws are used to settle scores and are a mechanism to target Christians. Something must be done to change them," John's lawyer, Tahir Naveed Chaudhry, said in a statement. "Here we find another innocent young man accused of a crime that could cost him his life."
Blasphemy charges, which in Pakistan means insulting Islam or the Muslim prophet Muhammad, can carry serious legal consequences, including the death penalty. But unlike most blasphemy cases in the country, which are usually brought against religious minorities by members of the local Muslim communities, John's blasphemy charge has been propagated from the state police itself.
"This latest blasphemy allegation sets an awful precedent that police can now enact such cases on a whim after being denied a bribe [and] places Christians in a very dangerous position," BPCA officer Shamim Masih said in a statement. "A thorough examination of this incident is required and a police review of their own practices. If not, I predict many more Christians are going to lose their lives to the draconian blasphemy laws."
The next hearing in John's case will be held on Saturday. The BPCA has begun a fundraising effort to help pay for John's legal fees, which the organization estimates will cost the equivalent of roughly $600.
"I hold grave concerns about this most recent blasphemy arrest, state policing authorities are meant to protect the communities they serve, but something has been amiss in Pakistan from the outset of their establishment," BPCA chairman Wilson Chowdhry said.
"Bribery and corruption in Pakistan have demeaned their international status and is well documented regarding their police force. However, this latest act that has no doubt destroyed a young man's life is an alarming precedent that illustrates [that] the quality of lives for Christians in Pakistan has hit rock-bottom."
In the U.S. State Department's 2014 International Religious Freedom Report released on Wednesday, it was acknowledged that blasphemy laws and apostasy laws in countries like Pakistan, Sudan, Saudi Arabia and Egypt are used largely to discriminate against religious minorities. In Pakistan, blasphemy laws are used by Muslims to settle feuds with religious minorities.
"The United States uniformly opposes such laws which are used to oppress those whose religious beliefs happen to offend the majority," State Department Ambassador at-large for International Religious Liberty David Saperstein said. "The existence of such laws has been used in some countries as pretext to justify violence in the name of religion to create an atmosphere of impunity for those resorting to violence and/or leads to false claims of blasphemy."