Christian Medical Pot Shop That Gives Patients Bibles, Prays Away Demons, Fights IRS Over $875K Tax Bill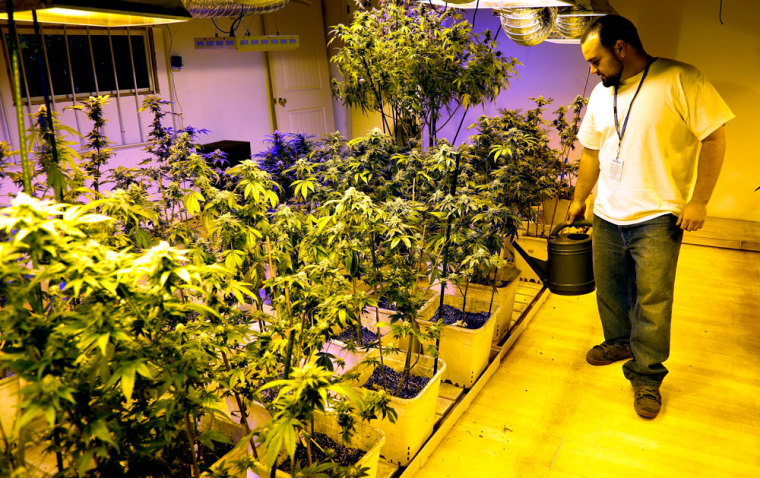 A Christian couple in Sacramento, Calif., who say God told them to "open up a pot shop" where they administer prayer to customers, are now locked in what could be a history-making fight with the Internal Revenue Service over a nearly $875,000 tax bill.
The couple, Bryan and Lanette Davies explained in a TIME report, that they are refusing to pay the bill because Canna Care, their legal "Christian-based" medical marijuana dispensary, is being penalized under a 1982 law that was designed to stop drug traffickers from deducting business expenses.
This law should not be applied to Canna Care or any other legal medical marijuana dispensaries in California, argue the couple, because they are not criminals.
"For me this is like a David and Goliath case where we've thrown one of those stones up and yeah, they could stomp on me. Literally, I could be gone," said Lanette in an interview with KCRA News.
She explained that she made tax deductions any "normal" business is allowed to make under tax laws but the IRS says she can't.
"Employees, electricity, rent, the normal everyday expenses is what they disallow," she said.
Barring that argument, Canna Care is also eligible for a big discount on the hefty tax bill as well, if they can demonstrate they are involved in two trades.
Over the course of two days this week, said TIME, the couple tackled that angle, explaining in the San Francisco branch of the United States tax court, "what, exactly, constitutes a Christian cannabis business that claims to spend as much time serving the community as it does selling weed-infused lollipops."
During testimony, the couple said that marrying marijuana with ministry was a prayerful decision. They explained that they were first introduced to the drug after a doctor recommended that Lanette's daughter use it to help symptoms of a bone disease. Bryan's conversion followed after marijuana helped with an arthritic condition which affected his spine.
At the time, said Bryan, he was struggling to live on Social Security benefits and he asked the Lord for help. God replied with a vision for Canna Care, he said.
"I got on my knees, and I prayed to the Lord," he told the court. "And God said … 'Open up a pot shop.'"
So since 2005, the couple has been in business in a neighborhood called Del Paso Heights where they offer pamphlets on using medical marijuana right next to Bibles they give away for free.
But free Bibles are not the only thing the business gives away. They administer prayers to patients suffering from Lou Gehrig's disease or terminal cancer who sometimes show up at the shop in a state of distress.
"They've been told they have so much time to live … and they're angry with God," said Bryan who explains that he and other Canna Care employees often prayed with those patients to bring them back from the "precipice."
Bryan also said during testimony that he could exorcise patients who "don't realize they're hosting a demon."
Canna Care's disputed tax bill comes from $2.6 million in business expenses that the IRS has disallowed under that federal tax code 280E. The Davies' lawyer argue that the code should be revisited and should no longer apply to medical marijuana dispensaries.
Testimony ended on Feb. 25 and a ruling from the court is not expected for at least six months, according to TIME.