Christian NBA Superstar Kevin Durant Chooses New Nickname for Himself, 'The Servant' (VIDEO)
Christian NBA Superstar Kevin Durant Chooses New Nickname for Himself, 'The Servant' (VIDEO)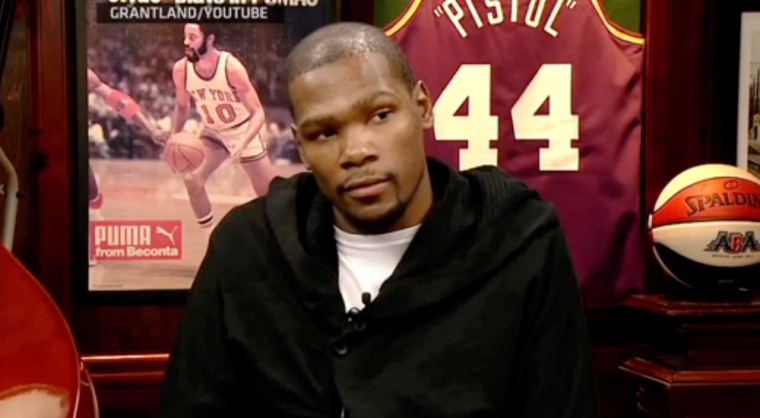 He doesn't wear Scripture-laden eye black like Tim Tebow or the WWJD? bracelets his Oklahoma City Thunder teammate Derek Fisher used to sport, but NBA superstar Kevin Durant makes his faith in Jesus Christ no secret.
"I go to chapel before every game and I have a spiritual coach I talk to and he's helping me out a lot in my walk with the Lord," the five-time All-Star said in a Beliefnet interview.
God has blessed Durant with astonishing talents with a basketball. His long arms enable him to shoot over defenders with little worry of them blocking his shot, which he delivers with stunning accuracy. At the same time, his wingspan can ruin the night of any player trying to overcome his defense. The 25-year-old was named Rookie of the Year in 2008, and in the three seasons from 2010 to 2012, he won the NBA scoring title, given to the player who scored the most points per game.
The Washington, D.C. native is known for his humble demeanor on the court, but no one's ego can withstand that much acclaim, right? Right. However, he recognizes the struggle and turns to the Bible for help.
"In the Bible, (it says) the Lord exalts humility and that's one thing I try to be all the time—when I'm talking in front of people or when people tell me I'm great," Durant said.
"I've just got to be thankful to the Lord for what the gifts He's given me.""
Last weekend, Kevin Durant talked with ESPN analyst Bill Simmons and revealed a new nickname he chose for himself. In contrast to "The King," the honorific favored by his rival Lebron James, the OKC superstar chose a name that seems much more fitting of his quiet resolve, and of the Bible he so depends on. He wants to be called "The Servant" because he just likes to "serve everybody," including teammates, ushers and the fans.
He explains the choice in this Grantland video.