Christian QB Aaron Rodgers Says 'I Don't Think God Cares' About Football After Russell Wilson Credits God With Win Over Team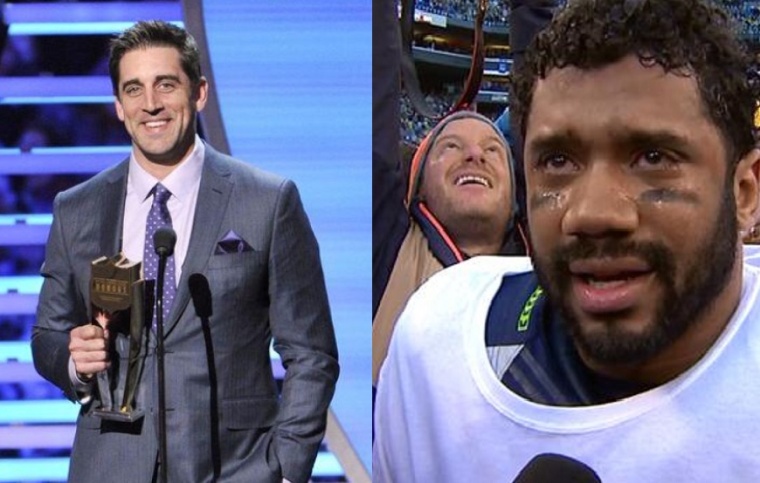 Outspoken Christian Seattle Seahawks quarterback Russell Wilson, 26, gave high praises to God for helping his team to a scintillating 28-22 overtime victory over the Green Bay Packers in the NFC Championship Game on Sunday, but his Christian counterpart on the losing team, Aaron Rodgers, doesn't think God had anything to do with it at all.
Responding to listener questions on his weekly radio show on Tuesday, Rodgers said he doesn't think God cares about the outcome of football games during a discussion with ESPN Wisconsin's Jason Wilde.
Reading a question from a listener of the show, Wilde noted: "[The reader] says, 'I always find it a little off-putting when athletes, actors and anybody says, 'This is what God wanted,' or 'I want to thank God for helping us win today,' anything along those lines when a game or award is won. I'm paraphrasing here, but you get the gist. Personally, with all the chaos in the world, I'm not sure God really cares about the outcome of a game or an awards show. What do you think of statements such as these? You've obviously got your faith. Does what happens on Sunday impact your relationship with God or your faith at all?"
Rodgers quickly responded: "I agree with her. I don't think God cares a whole lot about the outcome. He cares about the people involved, but I don't think he's a big football fan."
After the improbable comeback against the Packers on Sunday, Wilson credited God with the win.
"God is too good all the time, man. Everytime," he declared in an interview with sideline reporter Erin Andrews shortly after the win.
For all but two of the 60 minutes of regular play, the Seahawks looked like they were about to lose to the Packers. Wilson was sacked four times and threw four interceptions. His team also trailed 16-0 in the third quarter until an incredible fake from punter Jon Ryan who converted what was supposed to be a field goal into a touchdown and made the score 16-7. Wilson impressively rallied the team in the final two minutes of the game to tie the score then slammed the door shut with a 35-yard touchdown pass in overtime to win the game.
"That's God setting it up, to make it so dramatic, so rewarding, so special," Wilson said of the dramatic finish in post-game comments to Peter King of TheMMQB.com. "I've been through a lot in life, and had some ups and downs. It's what's led me to this day."
According to hollowverse.com, although it is unclear what denomination he supports, Rodgers is a devout Christian.
"I grew up knowing what a stable relationship was by my parents' example and how it centered on Christ. When our family had its ups and downs, I knew my parents relied on God for everything and He always got us through those rough spots," the website quotes him saying.
"I feel like my stance and my desire has always been to follow a quote from St. Francis of Assisi, who said, 'Preach the Gospel at all times. If necessary, use words.' So basically, I'm not an over-the-top, or an in-your-face kind of guy with my faith. I would rather people have questions about why I act the way I act," he added.