Christian Rocker Brian Welch of Korn Says Linkin Park's Chester Bennington Chose 'Cowardly Way Out'
Christian Rocker Brian Welch of Korn Says Linkin Park's Chester Bennington Chose 'Cowardly Way Out'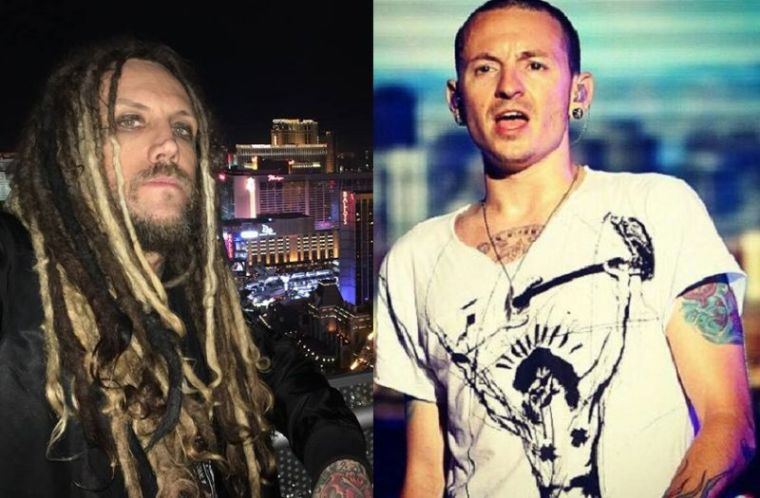 Brian "Head" Welch, 47, Christian guitarist and co-founder of the nu metal band Korn, said Linkin Park singer Chester Bennington, 41, chose "the cowardly way out" when he committed suicide at his home last Thursday.
"Honestly, Chester's an old friend who we've hung with many times, and I have friends who are extremely close to him, but this is truly p*ssing me off! How can these guys send this message to their kids and fans?! I'm sick of this suicide s**t!" he wrote in Facebook post last Thursday after news broke that Bennington had taken his life.
"I've battled depression/mental illness, and I'm trying to be sympathetic, but it's hard when you're p*ssed! Enough is enough! Giving up on your kids, fans, and life is the cowardly way out!!! I'm sorry, I know meds and/or alcohol may have been involved, I'm just processing like all of us and I know we are all having some of the same thoughts/feelings," he continued.
"Lord, take Chester in your arms and please re-unite him with his family and all of us one day. Be with his wife and kids with your grace during this difficult time."
Welch later followed up the post with another, apologizing to some fans who felt his comments about Bennington who was married with six children from two marriages were "insensitive."
"I didn't mean to sound insensitive about Chester. Just dealing with a range of emotions today. Love you Chester. I'm p*ssed that you did this, but I know this could have been me back in the day after getting wasted one night," he noted.
Ten years ago, Welch published his first memoir, Save Me from Myself: How I Found God, Quit Korn, Kicked Drugs, and Lived to Tell My Story, in which he explains how he found God and escaped a life of drug addiction and struggles with suicide and depression. He later went back to his music but not the lifestyle that he said could have killed him.
"I was at a last resort. Doctors couldn't help me. My willpower couldn't help me. I was in the gutter, and I needed help. And this family fell into my lap at the perfect time. They ended up inviting me to go to church with them. And like I said, I had made fun of this stuff before, but I found out that this guy Jesus came around and said he was the son of God. They put him on a cross and he was crucified for all our sins," Welch told AZ Central last summer. "...he proved to me that he's the son of God. And that's what got me going.
Also responding to Bennington's suicide, Greg Laurie, senior pastor at Harvest Christian Fellowship in Riverside, California, encouraged those struggling with suicidal thoughts to remember that there is hope in Jesus.
"This is tragic, another rock star, another lead singer," Laurie said. "This is on the heels of Chris Cornell, the lead singer of Soundgarden. As it turns out, Chester Bennington and Chris Cornell were close friends...Chester was devastated when Chris took his own life, but then he goes and does the same thing."
Bennington's death was confirmed Thursday morning by the L.A. County coroner. He reportedly hung himself at his Palos Verdes home in California. He had struggled with drug and alcohol addictions, according to Billboard.
The singer's band catapulted to stardom in 2000 with their album Hybrid Theory with Bennington's signature angst-filled vocals. He would later reveal that after his parents divorced when he was 11, he started smoking pot then graduated to cocaine and methamphetamine. He also said he was sexually abused by an older man as a child.
"When I was young, getting beaten up and pretty much raped was no fun," he told The Guardian in 2011. "No one wants that to happen to you and honestly, I don't remember when it started."
Laurie noted, "There can be clinical depression but sometimes people are just depressed because they have no place for God in their life. Then you add drugs to that, and that's like pouring gasoline on fire."
In a tribute to Bennington released Monday, Linkin Park said demons, which Bennington often referenced in his music, finally took him.
"We're trying to remind ourselves that the demons who took you away from us were always part of the deal. After all, it was the way you sang about those demons that made everyone fall in love with you in the first place. You fearlessly put them on display, and in doing so, brought us together and taught us to be more human. You had the biggest heart, and managed to wear it on your sleeve," the band said.