Linkin Park Bandmates Say 'Demons' Took Chester Bennington Away (Read Statement)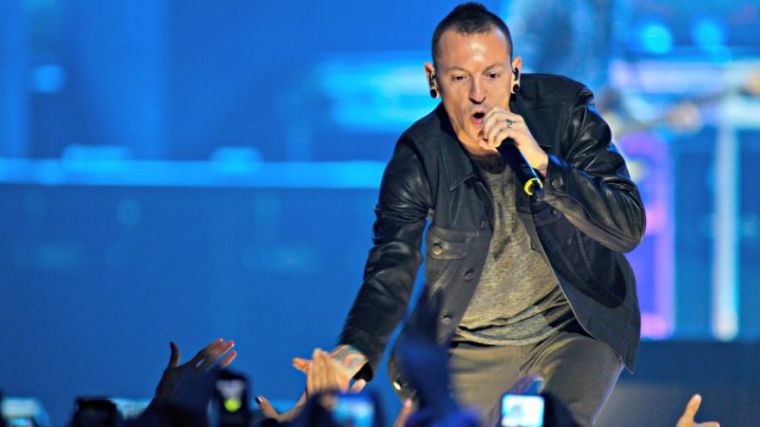 Following the death of lead singer Chester Bennington, the remaining bandmates of Linkin Park issued a statement expressing their grief and revealing that they always knew the demons that "took him away" were always part of the deal.
Bennington's death was confirmed Thursday morning by the L.A. County coroner. According to Billboard, the father of six had a longtime struggle with drug and alcohol addictions and reportedly hung himself at his Palos Verdes home in California. Linkin Park issued a joint statement on the band's Facebook page Monday morning with a heartfelt tribute.
The statement can be read in its entirety below:
"Dear Chester,
Our hearts are broken. The shockwaves of grief and denial are still sweeping through our family as we come to grips with what has happened.
You touched so many lives, maybe even more than you realized. In the past few days, we've seen an outpouring of love and support, both public and private, from around the world. Talinda and the family appreciate it, and want the world to know that you were the best husband, son, and father; the family will never be whole without you.
Talking with you about the years ahead together, your excitement was infectious. Your absence leaves a void that can never be filled—a boisterous, funny, ambitious, creative, kind, generous voice in the room is missing. We're trying to remind ourselves that the demons who took you away from us were always part of the deal. After all, it was the way you sang about those demons that made everyone fall in love with you in the first place. You fearlessly put them on display, and in doing so, brought us together and taught us to be more human. You had the biggest heart, and managed to wear it on your sleeve.
Our love for making and performing music is inextinguishable. While we don't know what path our future may take, we know that each of our lives was made better by you. Thank you for that gift. We love you, and miss you so much.
Until we see you again,
LP"
Linkin Park released its most recent album, One More Light, at the beginning of this year and it topped the Billboard 200. The lyrics of their single, "Nobody Can Save Me," spoke of the alleged demons mentioned in the above statement.
"I'm dancing with my demons/I'm hanging off the edge/Storm clouds gather beneath me/Waves break above my head/ At first hallucination/ I wanna fall wide awake now/ You tell me it's alright/ Tell me I'm forgiven/ Tonight/ But nobody can save me now/ I'm holding up a light/ Chasing up the darkness inside/ 'Cause nobody can save me," the song lyrics that Bennington sang reads.
Linkin Park catapulted to stardom in 2000 with their album Hybrid Theory, introducing their signature sound of a fusion between rock, hip-hop and pop music that was graced with Bennington's both soft and grungy vocals. Bennington was often vulnerable in his music and spoke out about his brokenness.
He told The Guardian in 2011 that after his parents divorced at age 11, he began his dark journey using light drugs that eventually led to stronger drugs such as cocaine and methamphetamine. He also confessed to being sexually abused by an older man as a child.
The death came as a shock to many music lovers and came just two months after his close friend, Soundgarden and Audioslave frontman Chris Cornell, committed suicide in May. Linkin Park members said the loss was difficult for Bennington.
The day Bennington took his life would have been Cornell's 53rd birthday.