Christian School Teacher, Youth Pastor, Accused of Producing Child Porn
A Florida-based Christian school teacher and former youth pastor has been accused of possessing and producing child pornography.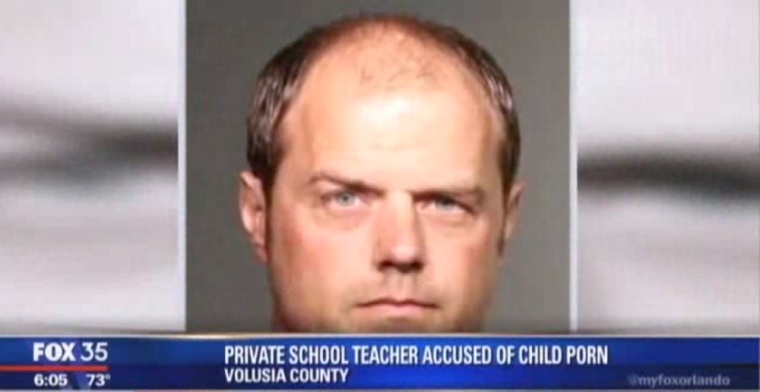 Matthew Graziotti, 42, was arrested Monday by FBI agents following their alleged discovery of child porn on his laptop, reported the Orlando Sentinel, according to a criminal complaint filed in Orlando federal court.
Following his arrest, Warner Christian Academy, where Graziotti has taught fifth grade, announced it would suspending the teacher without pay. Graziotti has also driven the school bus on several occasions and is a summer camp director.
On Tuesday, Harr Law firm filed an intent to initiate litigation against Warner Christian Academy, with attorney Jason Harr saying that he represented the legal guardians of a boy who they claim was inappropriately touched by Graziotti last week, reported News 13.
"The incident happened at a waterpark during a field trip last week," said Harr, adding that Graziotti was the only adult present on the trip.
Agents first investigated Graziotti in May, after an undercover agent downloaded 140 child pornography images and six videos from him using peer-to-peer file sharing software.
When police arrived on Monday, agents found thousands of images of boys on Graziotti's computer, including one folder labeled "personally known," which included 41 subfolders all seemingly named after different boys.
Court records indicated that included in these photographs were photos of Graziott sexually abusing a child in his living room.
"Warner Christian Academy and White Chapel are in full cooperation with the authorities," school spokesperson Stacey Parsons told MyFoxOrlando. "Due to the fact that this is an ongoing investigation, we are unable to make any additional comments at this time. We are committed to being as transparent as possible during this process and will release any additional information as it becomes available."
Mark Tress, the superintendent at Warner Christian Academy, noted that Graziotti had worked at the school for nearly 10 years and asked school staff following the teacher's arrest if parents had ever complained about his behavior.
"The answer is no," Tress said to the News Journal Online. "There are no issues whatsoever that we've had to deal with administratively."
Tress added the school had done a background check on Graziotti within the last two years which had turned up clean.
"That's what really makes it so difficult," Tress said. "There was nothing that would have led us to believe that there would have been something like this going on."
Graziotti is accused of alleged production, distribution and possession of child pornography. If convicted, he "faces a mandatory minimum penalty of 15 years in federal prison, up-to 30 years for the production charge. For the receipt and distribution charges he faces a mandatory minimum of five years, up-to 20 years for each."
The former pastor is being held in Seminole County Jail on a no bond status and will have a preliminary hearing on July 24.